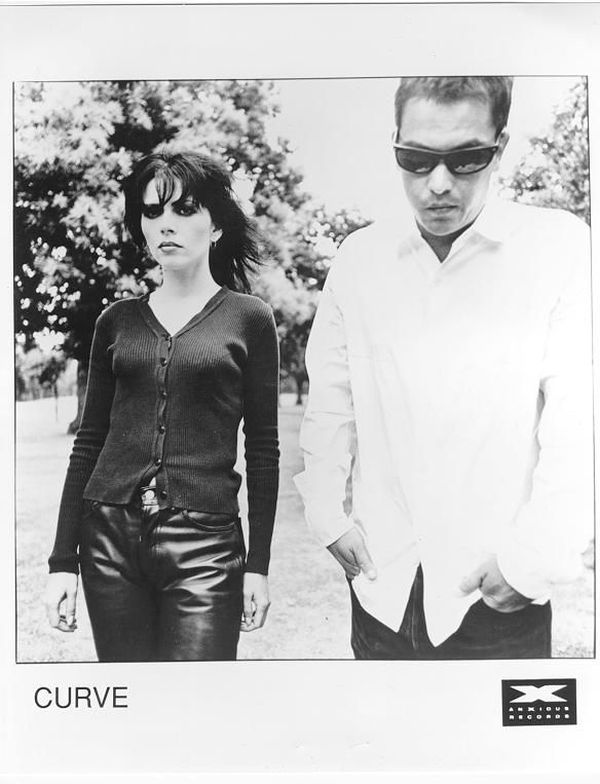 26 March 2020
Curve – Photo courtesy of Anxious Records
Another site I used to contribute to, Delusions of Adequacy, sadly closed its doors in 2019 after a 20-year run. I had published a series called Guide To The Recordings Of where I picked a band and went into detail about their discography. I'm re-printing the one I had done on Curve below.
I originally wrote up this article in 2008 (Yikes!), I think, but the info and descriptions should still be sound. I have updated the Biography a bit to include the latest happenings from the members of Curve.
My feature is not a total dive into Curve's discography; just the main studio albums and three compilation albums, with one that kicked off their run and the other that encapsulated their career.
You can purchase all of Curve's output at their official Bandcamp
Official Curve Facebook
Official Curve Instagram
All of Curve's music videos on YouTube are posted unofficially, so I won't be adding them here (but I found at least one official clip at Vimeo), but definitely check them out by searching for "Curve band" at YouTube for your immense viewing pleasure.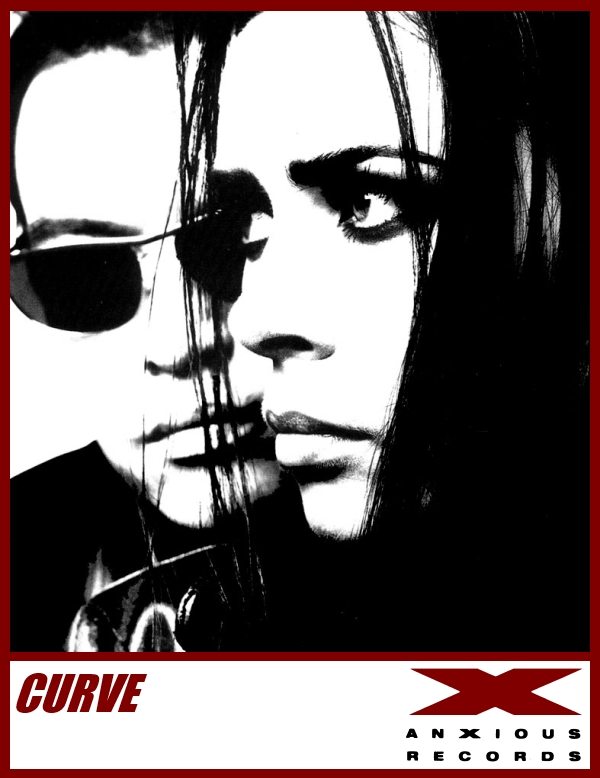 BIOGRAPHY:
Curve was an electronic rock/guitar-rock band that formed in 1990 in England and disbanded in 2005. The core of Curve was comprised of Toni Halliday (vocalist, songwriter) and Dean Garcia (programmer, guitarist), with the deep collaboration of producer Alan Moulder. During their tenure they were also joined in the studio and/or live by Debbie Smith (Echobelly, Blindness, Snowpony), Steve Monti (Ian Dury and The Blockheads, The Heart Throbs, Recoil), and other musicians.
The band released three EPs in rapid succession in 1991 on Anxious Records to great acclaim from the British music press, and Curve was summarily tagged with the "shoegazer" label due to the band's rise during the heyday of this musical genre, and because early songs featured lengthy, richly-layered, guitar-driven soundscapes.
Curve distinguished itself from the shoegazer style by creating songs that melded varied musical influences, from electronic and dance beats and loops, to darker gothic shadings, to catchy dream-pop hooks, to intense industrial noise. An onslaught on guitar distortion seamlessly rubs up against tumultuous, coruscating electronics, with Toni's glacier-cool, but vivid vocals, alternately menacing and beguiling, flowing through the dense sonic mesh.
Curve released five studio albums (two of which were internet-only releases), one compilation album, one retrospective album, and a score of EPs, and over the course of the band's career, its style subtly shifted from layered, wall-of-guitars dynamics to an electronics-saturated sound.
Curve officially split up in 2005. Toni resurfaced with a new music project called Chatelaine, releasing one album, Take A Line For A Walk in 2010. She continues to create music and sing, collaborating with artists like Louise Dowd and licensing out songs for video games, other entertainment companies, and compilation albums.
More details about Toni can be found in my Whatever Happened To…: Toni Halliday? article that was published at The Record Stache
The ever-active Dean has released a lot of music over the ensuing years, collaborating on several different projects, including the ongoing projects SPC ECO with his daughter Rose Berlin, S T F U with Preston Maddox of The Bloody Knives, and Inkraktare with Vasko the Pig (AKA Mark Wallbridge).
Keep up with what Dean is doing at SPC ECO's Facebook
DISCOGRAPHY: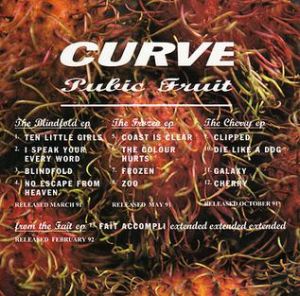 Pubic Fruit (Anxious / Charisma, 1992)
This is a compilation of Curve's first three EPs, the Blindfold EP, Frozen EP, and Cherry EP, plus an extended version of the song "Fait Accompli", and was released in the U.S. a few months after the debut studio album Doppelganger. It's a heady sonic brew of dynamic beats, restless electronics, stormy, but crisp guitars, catchy choruses, and layered, melodic vocal phrases – the template for all of Curve's output. "Ten Little Girls" flows with a smoothly propulsive beat, brightly scraping guitars, the boastful-rap delivery of guest vocalist JC001, and Toni's silky, but anxious vocals. "Coast Is Clear" is a stunner with Toni's wistfully caressing vocals mirroring mournful, hollow-sounding flute notes amid pummeled drums and churning guitars. Spiraling, piercing guitar lines elevate "The Colour Hurts", with Toni's emotionally fragile delivery creating an uneasy, but enthralling listen. "Die Like A Dog" is more dance-oriented, with an expansive-space sound, undercurrent of bass, burnished guitars, and Toni singing sweetly on the verses, and replacing the "guitar solo" spot with a spoken word segment. The band takes a breather on the ambient-leaning "Cherry", with its tranquil backdrop of pattering electronics and several threads of floating, wordless vocals, which then builds up to a densely whirling wash of abrasive guitars and distorted, sing-talking vocals.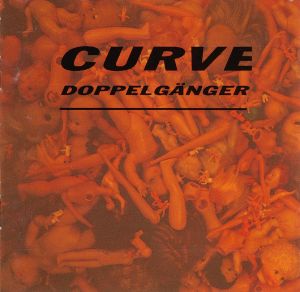 Doppelganger (Anxious/Charisma, 1992)
The band's first "proper" studio album is a continuation of the sound found on the early EPs and it also shares a couple of songs with them, "Clipped" (from the Cherry EP) and "Fait Accompli" (the extended version is on the "Fait Accompli" single). The plush "Horrorhead" drapes soft melody over dreamy, sinuous, guitar-line loops and Toni's erotic, breathy, sing-talking and wordless sighs. "Lilies Dying" comes close to the "3-minute pop song" format with its concise verse, chorus, verse structure, and it strikes a balance between ascending and descending guitar lines, with Toni alternating between lighter, cooing vocals on the verses and sharp, defiant cries on the chorus. "Fait Accompli", the band's signature song, crackles with cool menace, opening with a knocking, warped-metal sound, then plunging into a winding, astringent guitar line, growling bass tone, and Toni vocally stalking with the sleekness of a black panther. A multitude of guitars circle on the verses, like birds of prey in the sky, and then swiftly strike on the fiercely buffeting chorus. "Clipped" kicks up a smoothly propulsive tempo with biting, aggressive guitars, and Toni sliding between low, velvety vocals on the verses and a stark, emotionally impassive delivery on the chorus.
(Not sure if this music video is from an official source…)
CURVE – Fait Accompli (music video 1992) from H. Mayer on Vimeo.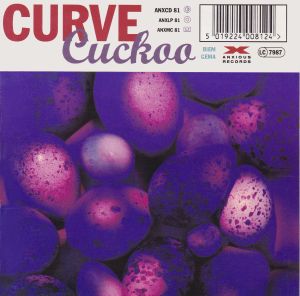 Cuckoo (Anxious, 1993)
Curve's most thematically and aurally cohesive album suffered from lackluster sales, despite of, or perhaps because the bulk of the songs casts a mesmerizing spell, with a dense and dreamy web of guitars, lush wash of electronics, and lulling rhythms, where each song flows fluidly into the next, sustaining a contemplative mood. The break-neck pace of rock opener "Missing Link", however, is an exception to this theme, with its muscular, relentless beat, high-whining and serrated guitars, and gritty, industrial accents. "Unreadable Communication" switches gears with a spacey sound, submarine-blip electronics, flute notes, and Toni singing in an airy, but hushed tone, but by the end of the song, a drowning pool of raw, shearing guitar wash takes over. "Superblaster" masters the art of the pop song at half speed, with slinky, drawn-out vocals by Toni and serpentine guitar lines on the verses, and an elegantly catchy, vocally self-assured chorus. The understated "Left Of Mother" is a delicate change of pace of strummed guitar with fingers glancing over the strings, violin lines, subdued electronics backdrop, and Toni's soothingly murmured vocal delivery.
Curve – Missing Link – Directed by Richard Heslop from Richard Heslop. Film Maker. on Vimeo.
Curve performing "Missing Link" and "Turkey Crossing" on The Beat – London – August 29th, 1993: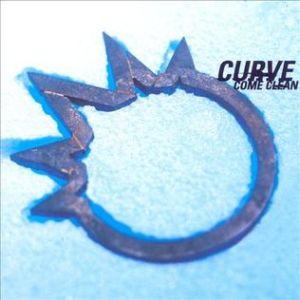 Come Clean (Universal, 1998)
The band went on hiatus for a few years before returning to the fray with the "Pink Girl With the Blues" single in 1996 and this album, a possible bid for mainstream success, with its cleaner, more rock-oriented sound, plainer, upfront vocals, and an edge of noise to many tracks that tempers the aural pleasure. "Chinese Burn" quickens the pulse with a barrage of sound, including siren wails, a marauding beat, slicing industrial noise, rough bass line, whistling and bleeping electronics, and Toni sing-talking in a disdainful, cutting voice. The graceful, polished sweep of "Something Familiar" comes as a relief, with a brooding, softer tone, distorted, but controlled, arcing guitar lines, and Toni sounding more mellow and pensive. The super-cool, suave "Alligators Getting Up" could come from a 1960's spy film score, with its tingling reverb guitar riff and Toni in femme fatale mode, all aching, smoked-glass allure. "Come Clean", a short and fast number, is a rock wake-up call with a banging beat, rumbling bass, and riotous vocals. "Recovery" is the morning after, a revelation of slowly building, attenuated keyboard line and Toni's blunt main vocals contrasting against high, breathy, wordless vocals, until a sudden blasting loop of excoriating, but cathartic guitars whips up and continuously pushes forward, scouring away what has come before.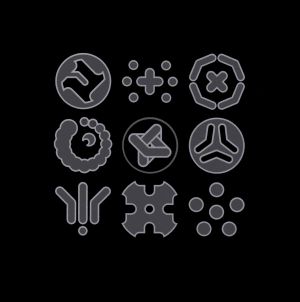 Open Day At The Hate Fest (2001 – internet-only release)
Curve released several songs as downloads on their official site and this album collects the band's output from 1996 to 2001, containing the downloads, plus a few previously unreleased tracks, and the result is a remarkably cohesive, internet-only release. The opener "Nowhere" can be found on director Greg Araki's soundtrack for his film of the same name, and a dangerous vibe permeates the song, from the fiery cymbals, to the scorching guitar discord, and sinister, sharply clipped, manipulated vocal phrases from Toni. "The Birds They Do Fly" slows down the pace, but continues the tension with propulsive electronics, space-laser sounds, a refrain of guitar afterburn, and Toni's deftly coquettish vocal inflection. "Backwards Glance" starts off with a restrained, slow-thump beat, grumbling bass, and unperturbed vocals from Toni, with quiet guitars underpinning the vocals and electronics, but, by the end of the song, the guitars and noise impinge with galvanizing intensity. The unsettling "Caught In The Alleyway" is an electronic number with a pulsating rhythm of dirty electro-blips and Toni's vocals high and coy on the verses, which change to a detached tone on the chorus, and nary a guitar within earshot.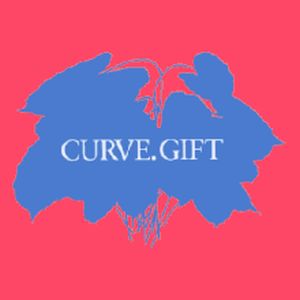 Gift (Hip-O, 2001 – released in U.S., and 2002 in U.K.)
An output of all new material, the release of this album was long-delayed by record company Universal Records, which decided to release it only after witnessing the brisk online sales of Open Day At The Hate Fest. The album has a more lush and languorous sound overall, but it starts off with "Hell Above Water", a speedy rock song that was featured in the trailers of the Spiderman and Iron Man films. Following the blueprint of Curve's previous album openers, the tune has a mercilessly pounding beat, stabbing-dagger guitars, runs of electronics and industrial noise, a grinding guitar chorus and manipulated, hard vocals by Toni. "Hung Up" is a balm of slow, submarine-blip and squiggling electronics, with Toni's romantic vocals starting off on an enticing high and gliding their way to a lower, seductive register. "Chainmail" contrasts a darker, sparser musical tone of harsh guitar lines with Toni sing-talking in a flirtatious, but aloof manner on the chorus. "Polariod" is a rapturous return with dialed-down, circling guitars, and rich, laid-back, sing-talking vocals from Toni, where she sinks into a sultry, low tone at the ends of chorus phrases. "Bleeding Heart" is an apt album ender, with its loop of clanging metal, sullied electronic blips, deep guitar lines, and Toni hushed and whispering. Tension pervades the track until it fades away to a false ending, and the song returns with a sudden explosion of distorted vocals, rumbling bass, and overwhelming guitar fracas.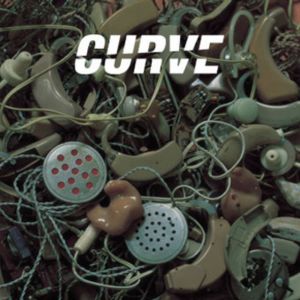 The New Adventures Of Curve (2002 – internet-only release)
The band's final studio album, an internet-only release, is a foray into electronica and dance floor-based beats with brusque industrial accents. On some tracks Toni sounds more emotionally distant than usual, but her vocal delivery is still compelling enough to hang on to her every word. "Answers" takes it to the dance floor with an unstoppable techno beat, violin synth lines looped into a pattern, and Toni's slightly muffled, steadily serene, but manipulated vocals flowing through a mix of electronic bleeping, chirping, and skritching notes. "Nice And Easy" brings back the rock with a jagged guitar edge breaking through the dense sphere of sound, with Toni's vocals coming across manipulated and bracing. "Signals And Alibis" is a more placid song with some electronic knob-twiddling and Toni's vocals lofty, but wanly resigned, hovering just beneath the clouds. "Sinner" is a melancholy lament, continuing the measured pace with a stately, spare tone of circling keyboard and guitar notes and a downcast, regretful Toni singing higher than on any other Curve song.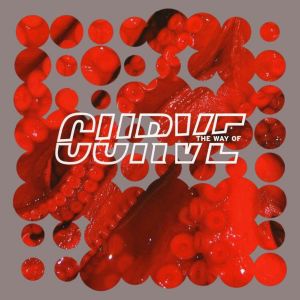 The Way Of Curve – 1990-2004 (Anxious / BMG, 2004)
A 2-CD retrospective that includes re-mastered album tracks, scores of non-studio album numbers, and one new song called "In Disguise".
Disc one lines up all the usual suspects like "Fait Accompli", "Coast Is Clear", "Horrorhead", "Die Like A Dog", and "Superblaster", plus the faster, rock-oriented songs like ""Missing Link", "Chinese Burn", and "Hell Above Water". There is also the single "Pink Girl With The Blues", a stomping-beat tune filled with clanging metal, percolating electronics, buzzing guitar lines, and Toni's expressively sing-song, defiant vocals.
Disc two collects the B-sides from Curve's early EPs and singles, among other rarities, including a duet with Ian Dury on "What A Waste", the Aphex Twin remix of "Falling Free", the Kevin Shields mix of "Coming Up Roses", and the previously unreleased tune "In Disguise". The exhilarating industrial assault of "On The Wheel" was featured in director Greg Araki's film The Doom Generation, with its metal-pipe beat, coolly sullen vocals by Toni, pushy, breathy, wordless backing vocals, and saturated, layered vocal fragments, guitars, and noise on the chorus. "Sigh" is an erotic miasma of Toni's airy, drawn-out vocal phrases and engulfing swirl of guitars and electronics. "Mission From God" trumps (Damn, I hate looking at/hearing that word now in 2020, even if it has no political association!!) My Bloody Valentine at its own sound with a repetitive, warped loop of brightly sinking notes, reverb guitar lines, organ notes, and Toni's pellucid vocals buried deeply in the layered mix. "I Feel Love", a structurally-faithful cover of the disco hit by Donna Summer, zips along with a quick electro-beat, angelically high, sighing singing by Toni, an uplifting female backing choir, and ends on an ecstatic high.