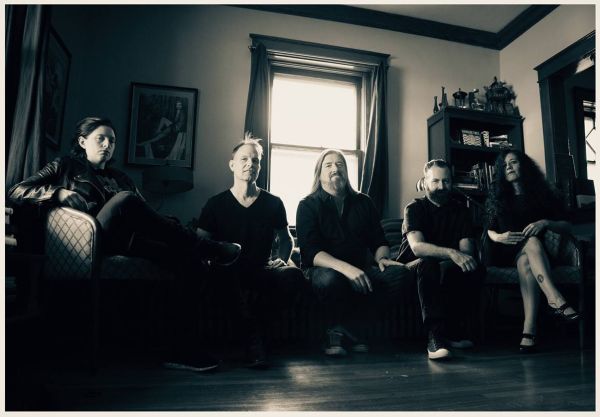 19 July 2021
Emmaline Twist – Photo Credit: Shaun Hammontree
Music has texture. It may seem like an obvious statement, but it's also mind-blowing. Like an artist mixing hues on a palette, musicians change the timbre of their instruments to achieve a proper balance. When you hear a band that has mastered the subtle art of texture, the songs have an unparalleled weight and depth.
And Kansas City's Emmaline Twist prove they have mastered creating sonic landscapes on their newest single, "Drugs."
Emmaline Twist burst onto the Midwestern rock scene with their 2018 record Dissimulation.
Their lineup complete with Meredith McGrade (vocals, guitar), Jonathan Knecht (drums), Kristin Conkright (bass), Krysztof Nemeth (baritone guitar), and Alex Alexander (keyboards), these five musicians managed to make an art-rock record that felt heavy, dark, and brooding.
Songs like "The Call" from their debut record showcase the band's knack for writing melancholy pop songs. While they are masters of texture, the band knows how to write a melody as well. Emmaline Twist attempts to capture the particular anxieties of the age of influence.
On the newest single "Drugs," the band is expanding and reimagining the sounds they captured on Dissimulation.
"Drugs" inhabits a space that feels familiar, but also drips with modern sensibilities. The song sounds as if members of Joy Division, The Cure, and Sonic Youth formed a supergroup. The post-punk bones of the song provide the perfect home for McGrade's haunting melodies. The repeated question "if drugs / which drugs" speak to total escapism.
The performances here are spectacular, as well. Knecht and Conkright play together so well, with the bass and kick creating the stabbing heartbeat of this song. Alexander's thick, syrupy synth pads are reminiscent of early '00s bands like The Killers or Keane. Guitarists McGrade and Nemeth play well together, and flesh out the song with really textured sounds. McGrade's vocals also provide the urgent melody, giving the song its finished feel.
When listening to "Drugs," you can tell that this is a band that, in the words of Dylan, knows their song before they start singing. They sound tight as hell, and ready to take on the world as COVID restrictions are lifted and shows resume. If "Drugs" is any indication of what to expect from their next record, I think we're all in for a fantastic listening experience.
Krysztof Nemeth kindly took part in a Q&A, where we find out more about the outfit's atmospheric sound and what they've got planned next:
Hello! It's really cool to hear your new track and watch the accompanying music video. How does the song "Drugs" compare to the material from Dissimulation?
""Drugs" was the first song we wrote after we got back into writing post-Dissimulation. We knew that that record had a real standout track with "Desperate Measures", and of course the age-old story is "how do we follow up to such a strong statement in that song?"
"The answer really was just that we knew that we needed to have a folllow up single that would compare, so we worked on "Drugs" a lot in the live setting and saw from audience response that it was just as strong as "Desperate Measures", so we went to record it, and….the pandemic hit."
"So, it sat there for about a year, and when we revisited it, recently, we had to honestly ask if it was still up to snuff as a follow up. We tweaked the mix and held it up against the work we'd done on Dissimulation and we knew that it definitely felt like a proper evolution from what we did on Dissimulation."
You released "Drugs" with Kansas City label Black Site Records. What has it been like working with them?
"Black Site is amazing. Part of what makes them so great to work with is their enthusiasm for DIY projects, and especially those that are doing their own take on good ol' rock-and-roll. They are punk-rock in spirit, so part of their vibe is that if you're a great live band, have good songs, are simpatico in philosophy, and have your act together in that same DIY spirit, they'll make things happen as a partnership. They don't want anything other than to see your band succeed, and are truly a family…which is absolutely what any band wants in a label as a partner."
There's a real nice blend of influence in your work – shoegaze, post-punk, art-rock, etc. How did those influences inform the mix on "Drugs?"
"Really, our whole goal as a band is to take the intensity of post-punk and meld it with the texture of shoegaze. Post-punk to us means that a song has to have that angular, tense groove to it, where you can dance to it but also drive your car down the road to it in the dead of night off to some nefarious adventure. This is also reflected in the lyrics, where the themes sound dark and foreboding in word and delivery, helping convey that mood of intensity."
"The shoegaze comes in with all the textures (especially in the bridge) where all the instruments go into full-on space-groove mode to launch the whole thing into orbit. When working up this song (and all our songs), we try to balance that, to make something moody and beautiful, but also have a big hook and beat to it."
Do you have any shows lined up in the near future? What will it be like for y'all returning to playing live?
"Yeah, the pandemic's made that interesting! We've been lucky enough that Kansas City has a great outdoor venue that's safely allowed bands and audiences to have low-risk shows when the weather allows. Our first indoor show will be in August, supporting another great KC band Monta at Odds for their album release party."
"We are actually very eager to get back to performing more, as there seems to be an even greater interest in us through the pandemic and with our new song. As a band, we've grown so much through the past year, and the scariness of the Pandemic and the urge to get past it has infused our music with a new purpose and energy. Plus, we've got other new songs we're needing to test out, and playing them live is really the best way to do so!"
When can we expect more music from you?
"We are currently recording more material as we speak. Paul Malinowski (Shiner, Season to Risk) has been eager to capture our new songs over at his studio Massive Sound (where we recorded Dissimulation), so instead of waiting to go into the studio with 8 songs to record all at once, we're doing one or two at a time to keep it fresh (and cost effective)."
"Right now, we've got 4 songs recorded (including "Drugs") that will go on a full length, and as we get more done in the next few months, we'll release another single from that batch. Ultimately, we'll release another full length, but that probably won't be until next year. Singles on their own are perfectly fine, but we're also excited to do all the design and production on another full-length vinyl release, as we're all design and music nerds in the band, so we want to have the fun in exploring that again."