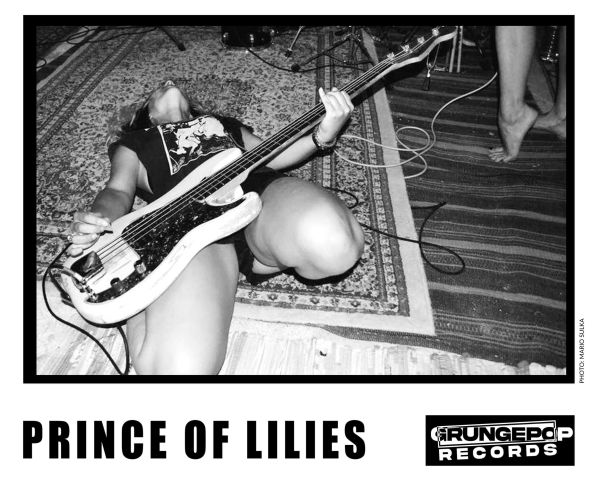 15 July 2021
Prince Of Lilies – Photo Credit: Mario Sulka
Sounding like they could have come out of Seattle in the '90s on Sub Pop, grunge band Prince Of Lilies recorded their forthcoming debut album Vent with Nirvana-noise guru Steve Albini at his Electrical Audio studio in Chicago, Illinois in just two days and all on analog tape.
Being described by the UK press as "Nirvana meets Hüsker Dü" and "The sound of Kings Of Leon being abused by Nirvana," Prince Of Lilies fuse grunge, punk, and thrashing garage rock and takes indie rock and gives it a well deserved punch in the face leaving it bloodied, raw and stunned – replacing the smug self awareness with an injection of rock 'n' roll spirit.
Prince Of Lilies write dynamic pop songs with a hardcore edge, replacing slickness for a gritty live feel and punk attitude, managing to sound like they're actually playing in the corner of your bedroom threatening to tear a hole in your speakers.
Vent releases on September 24th via Grunge Pop Records.
The band's lead-off single, "The Year I Broke" comes out today, July 15th, and its accompanying music video features vintage and rare, never-before-seen Z-Boys of Dogtown-style footage from the '70s and '80s of former World Champion skateboarder Kenny Mollica in his youth.
Prince Of Lilies' singer gives some details about the track, commenting, "I was depressed. I sat down one night to write a suicide note. As I wrote it, I felt inspired to pick up my guitar and I spontaneously added some chords to the words I was writing. Then I started singing the words. And then the melody came. Next thing I know I had written the song that I decided to call The Year I Broke."
"Yeah, I had just watched the documentary film The Year Punk Broke. Immediately, I called my band mates and set up a rehearsal. We jammed it. It rocked. Then I called Steve and set up a date to record it plus a few others we already had worked out. Well…we ended up doing a full album's worth of music and to this day I have never wanted to end my life again. Music truly saved me and this song was the sirens call."
Grunge Pop Records are bringing music lovers who miss the Seattle grunge sound of the late '80s and early '90s, modern bands that have that new grunge noise: loud, distorted, underground rock.
For more information on Grunge Pop Records, go to:
Website
Instagram
Facebook