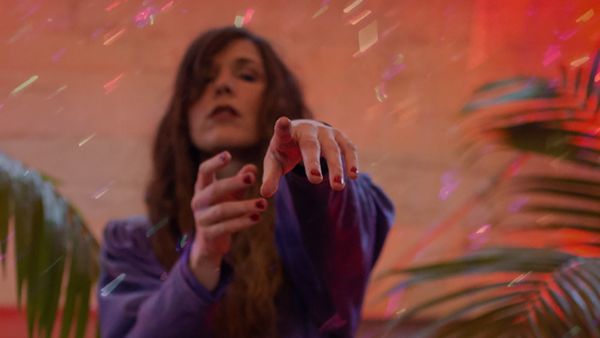 29 June 2021
Reb Fountain – "Beastie" video still
Reb Fountain's new single "Beastie" is cool and intriguing with a moody minimalism that's shrouded in mystery. The award-winning songwriter, born in San Francisco, but raised in Christchurch, New Zealand, follows up her 2020 debut album with a sound that draws listeners in with a mesmerizing croon.
At first glance, Fountain's lyrics seem cryptic, but they touch upon her grief-stricken feelings after the massacre of worshippers in her hometown of Christchurch.
This ties to larger themes of systematic racism and injustice that exist throughout the developed world and have cropped up in a country known for its idyllic peaceful nature. The chorus phrase "Is that us?" is a calling card to fight against dehumanization and 'othering' that tends to happen during a polarizing cultural climate.
"Beastie" aims to resist the 'beasting' of humans that are different from us.
The accompanying music video further serves to highlight various voices in a 'one-shot' style that offers the chance to witness these other selves, roles, and choices. It's a balancing act, with the press release stating, ""Beastie" doesn't take itself too seriously AND everything is deadly serious…"
Needless to say, these themes are heavy, like Fountain's music. She carries a dark weight that prompts the listener to investigate a little deeper.
Big Takeover caught up with Reb Fountain to hear more about what inspired the song and her forthcoming album IRIS, due out October 1st on Flying Nun.
Hello Reb! How did you connect with the renowned Flying Nun label?
"I was touring with my friend Finn Andrews (The Veils) in Europe and Flying Nun got in touch to stay they'd heard my then unreleased album and were really keen to work with me. It was huge – Flying Nun Records is an iconic label with bands that I grew up believing in – I never imagined that I would be part of the their family and feel very honored to have been welcomed into the fold."
"When I returned to Aotearoa we met up and so began the journey. We released my self-titled Flying Nun debut in May 2020. At home, unable to go out, share, or tour the record, I didn't know if anyone would ever hear it … but it turned out folks were listening and it's been an incredible year – not what we ever expected but a gift none the less. I am super excited to share IRIS and celebrate my second release with Flying Nun; we're playing at their 40th Anniversary shows in July and August … its gonna be very special."
"Beastie" is full of mystery and minimalism from the sound to the lyrics. Can you talk about the lyrical themes and how they relate to the new album?
"IRIS was an opportunity to speak my unspoken … to reflect what I have seen and experienced from within and to bear witness. There's a line in "Beastie," "If you say nothing at all, nothing comes to light." I needed to do that, both to honor myself and to stand in solidarity with those voices – often silenced or marginalized – that we need to hear for healing, justice and transformation to occur."
"In "Beastie" I wanted to explore and disrupt tales and tropes that separate 'others' from our 'selves.' It's easy to relegate evils to the 'shameful past'; harder to confront our own current inhumanity, especially if one's identity comes with benefits or losses. I wanted my eyes open and to speak in solidarity with resistance . . . and to give folks a chance to join in chorus . . . for in the absence of resistance we are complicit — rather than revert to a destructive default, I want to make a conscious choice for equity, justice, community, and love."
"The mechanics of the world stopped long enough for us to catch a glimpse of ourselves. Finding truths amidst the rubble of our civilization we – like anthropologists – dug through the dirt uncovering fresh fossils, live specimens, clear and present suffering, hope and love, and more dirt."
"All was revealed for the moment and those of us fortunate to have space for reflection could open to the madness, the beauty, the truth of us all. IRIS is an opportunity to embrace and explore our selves and "Beastie" provides the space for us to wonder who we want to choose to be; "Is that us?""
"IRIS was born of the global mythos of collectivity; wrestling with the uncomfortable fusion of our insufferably independent selves we united, as much as we could, in an ethos of togetherness. Even the tension from those afraid of the power of our union added to the great swell of communion. Grief-stricken and courageous we stepped forward into our own light …"
"I felt such solace and strength in our collective embrace and immense vulnerability and unsteadiness in our desolate closeness. These songs are about loving, fearing, rejoicing, and rejecting the cavernous connections we made. They are a reminder of a map to a place we all know. They are a vision of our past, a memory of our future, and high beam headlights whether you're behind the wheel or staring down the barrel of their glare. They are a story of endless unrequited love and the hunt for tethering to a kindred spirit."
Describe the recording process. Were you able to track the record in a studio or was it a home-based production?
"We've been so fortunate in Aotearoa. Our government's strategy was (and continues to be) one of elimination; yes, that meant we weren't able to go out of the house bar for essential work, exercise, or to the supermarket but once the virus was gone we could get back to our lives in a relatively 'normal' way. As restrictions slowly eased Dave Khan and I were able to work on pre-production of the record and as soon as we reached level 2 and were able to get together as a band and travel we set in motion plans to record IRIS."
"In September 2020, my band, along with co-producers Dave Khan, Simon Gooding, and I, all headed down to Sublime Studios in Waitaki for 2 weeks of full immersion recording. Sublime is a destination studio in an isolated part of New Zealand – you wake up in the morning to sheep nibbling grass at the foot of grape vines, sprawling country side and crisp air, dog walks up the river where the dogs chase, and often catch, a rabbit or possum before heading back to fresh chook eggs, homemade sourdough, and one of the most unique studios in the country to record in."
"We all needed to get away and focus on our work but we also needed connection and togetherness after such an isolating time. The stillness of the countryside and the intense focus we had making the music was just what we needed; a sweet oscillation in opposition to our journey thus far in the pandemic. The space we found at Sublime and the tight-knit connection that we held was intricately woven into the fabric of IRIS during the writing, production and recording process."
So how much or little did the pandemic affect the creation of the album?
"I was staring down the barrel of an album release amidst a global pandemic; out of pocket and purpose. Bandmate and producer Dave Khan suggested I "do like Woody" and write a song a day. At 10:30pm on the eve of lockdown I realized I hadn't written a song yet and sat down at the piano to pen … and so began the journey of writing a song a day during New Zealand's 'level 4 lockdown.' Writing every day kept me grounded – I never intended to write an album, only to practice my craft and help me feel productive and sane at a time of such uncertainty. However, as we emerged out of lockdown I knew I had music I wanted to share."
"IRIS was born out of that surreal time; where the tension between isolation and connection reverberated in our homes and around the world. Disunity and inequities were amplified to new levels and their antithesis – community and care – became antidotes worth fighting for. There's no way this album could have developed outside of this environmental and cultural context … yet my aim with IRIS is that it resonates at both a personal and universal level that exists before and after this fleeting moment in history. It's born of, but not about the pandemic."
"The sense of urgency to write and record IRIS was definitely a result of the shifting landscape for our creative arts sector. I wanted to do everything I could to create work for myself, my team, my community and make meaning out of this surreal time by developing music to share. So I decided to make a new album out of songs I had been working on . . . before I'd even had a chance to tour my last record. It's been a gift to participate in the production of IRIS with my community … music is our life and livelihoods, it keeps us sane and connected … I'm grateful to be sharing our work with you all and I hope it in some small way can help you feel connected too."
Pre-Order IRIS HERE
Website
Facebook
Twitter
Instagram
Spotify