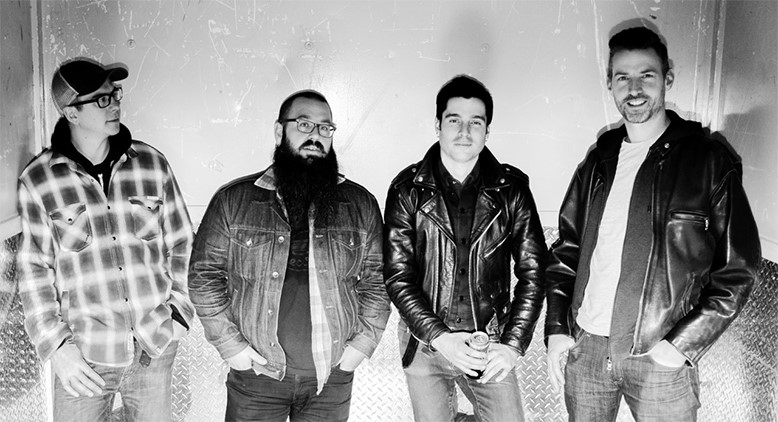 3 December 2019
In response to ongoing youth violence shootings within schools, newly formed punk group Territories has partnered with Pirates Press Records to lead a grassroots campaign to discuss and develop positive ways to address the tragedies. The Canadian group comprising of former members of Knucklehead found the issue especially alarming due to their new roles as parents and active members of their communities. Recognizing the severity of school shootings and youth violence, Pirates Press has issued and distributed 50,000 free copies of the Territories song The Lockdown Has Got To Go, with the ultimate goal of keeping the issues alive within communities and facilitating effective dialogue.
"The sad thing is that the multi-faceted issue of youth violence and school shootings is not going away. What sparked this for me is when my oldest child returned home from school after a lockdown drill. I could see the fear and concern and I don't think it should be acceptable in any way to grow up having to endure drills and prepare for tragedies because of the violence that continues in our world," stated singer and guitarist Kyle Hegel.
Despite hailing from Canada, Hegel and his band mates are not immune to the ongoing tragedies occurring in the United States though his country has experienced youth violence with fatal outcomes.
"I don't think that we should stop practicing safety drills but I want to continue having important discussions focused on why we have to have them in the first place. Work with each other toward bigger solutions and address how the issues begin and what measures we can take to prevent them from escalating. We have fire drills and practice them but we also have preventative things in place, and education dedicated to preventing fires from happening in the first place," said Hegel.
Pirates Press Records, known for its dedication to preserving vinyl-based releases issued in unique, limited runs finds youth gun violence especially problematic in its California communities. Label founder 'Skippy' related his personal experiences with youth violence.
"We have seen our share of shootings over the years with schools being a component of it. As parents, many of us are seeing our children get old enough to start school, and hearing the experiences that other parents have had talking to their children about the issue, and about lockdown drills, has been something that has taken us all a bit by surprise. As much as were all familiar with the issue and the drills, once you experience it for yourself, it changes the dimensions and dynamic about how you see the larger issue," he said.
Both Hegel and Skippy were quick to state that merely distributing free records centered on youth violence would not ultimately produce a solution, but their partnership and ongoing efforts are working to keep the issue fresh and discussed, perhaps long after the media shifts its collective focus to other topics.
"I'm proud to say the song continues to resonate with people because after we play, a lot of people have approached us, mainly older fans saying that they were obviously aware of the issues but now felt compelled to think about them even more. None of us have a hard view on what the solution should be but we have to agree that it's multi-faceted and none of the causes are singular; It has to get better and everyone should agree this is not an acceptable way for youth to grow up," stated Hegel.
With youthful fans arguably being the foundation of rock & roll, its logical to feel that lyrical content resonates if themes can be related to the audience embracing the music. For Territories, each member's personal evolution hasn't dulled rock's rebellious nature, but with a newly found ability to transform anger and passion into action.
"Being a parent has given me more 'a-ha!' moments, where I can see things clearer and be more patient and empathetic. We all still love music and writing together so it flowed naturally to start a new group and continue. We've been around the community for so long so people still know us and we're thankful Pirates Press threw their weight behind us in support and it's great keeping the momentum going," reflected Hegel.
For Skippy and Pirates Press, there is no timetable to end the campaign. Territories and Skippy are in full agreement that the issue is multi-faceted, with each component moving in different directions. For Skippy, he believes mental health and access to weapons are possible root causes.
"Mental health is taken care of differently by different societies and countries and I would say that our country has a long way to go. The issue of access to guns and gun control is a very politicized one in the U.S. that many people (even within the punk scene) have different opinions on. Through releasing this song and these flexis we are not trying to take one side or another on that highly politicized gun control issue, but to simply try and spark conversations and dialogue about the problem we all face. You can't fix a problem without an open dialogue," he stated.
Pirates Press Records will continue to offer a free pack of 10 flexi-discs of The Lockdown Has Got To Go, with the intention of copies being distributed as widely as possible. Asked what kind of response the campaign has earned, Skippy proudly said school district members have been in contact with the label.
"The amount of people coming to us to help with the project has been truly astounding. Everyone from students to teachers, even principals and PTA leaders have reached out asking for flexis to pass out in their communities. The grassroots nature of this project speaks to the importance of the message, and how prevalent an issue it is in today's society. We could not be more proud, both from the record label standpoint, the bands, or even just all of us as human beings that care about the communities we live in."
For Territories, utilizing their well-earned visibility in their respective Canadian communities has made the campaign gain international momentum. Though launched only in October, Hegel remains proud of the positive reception it has earned.
"Everyone continues to say they're aware of the issues and we certainly have our challenges in Canada but empathize with what is happening in the U.S.; everyone's heart breaks with the news of every shooting and violence. We're not naïve in believing we're the ultimate solution but this campaign is to make people understand that shootings and violence should not be an accepted, normal part of growing up," stated Hegel.
https://piratespressrecords.com
https://www.facebook.com/territories.punkband
https://www.youtube.com/watch?v=EMOzr0Prxhs
Photo: Pirates Press