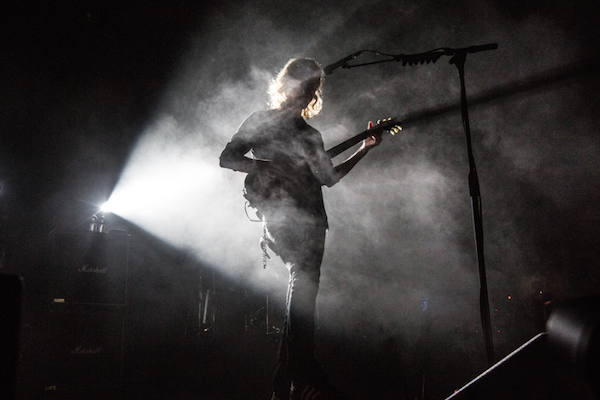 14 August 2019
Photo: Tim Bugbee
Every music festival spurs the publication of purportedly definitive lists detailing the bands concertgoers "must see" at the event. But more often than not, those lists are generated by critics laser-focused on the hot bands of the moment, or fans or bloggers who goose their personal favorites over those of the larger audience.
We're taking a different approach with our list of most-anticipated bands at Psycho Las Vegas 2019, which kicks off unofficially today with a daylong pre-party. Headquartered at the Mandalay Bay Resort and Casino and running until the wee hours of Monday morning, there are about 70 bands participating — so, a lot to choose from when assembling a "must-see" list.
For our part, the Big Takeover spoke with members of 59 of those bands over the past two and half months, so we're bringing some added credibility to our list. (Scroll down for the full rundown of those interviews.) We scoured the conversations, in which we asked each interviewee which bands they are most excited to see play, and put together what we believe is the most authoritative most-anticipated lineup. After all, it was determined by the participating artists themselves.
(A couple of notes: We did not include Megadeth or the Original Misfits because the headliner change involving the two occurred about halfway through our cycle of interviews. We also cut Oranssi Pazuzu and Rotting Christ, since they recently bowed out of the festival due to visa issues.)
We granted one vote to each band noted by the interviewee, regardless of how many bands they said they are excited to see. But if an interviewee mentioned a band more than once, we only gave that band one vote. If a band earned fewer than five votes, we did not include them on the list. Just about every participating band notched at least one vote, but only 19 earned more than four.
And now, with all that out of the way, we bring you the Most Authoritative, Definitive, Ultimate, Unquestionable, Undeniable List of Most-Anticipated, Can't-Miss Bands to See at Psycho Las Vegas 2019. Get ready: Some of the results may surprise you!
1. Opeth – 13 votes
2. Carcass – 11 votes
3. Godspeed You! Black Emperor – 11 votes
4. Beach House – 10 votes
5. Vio-lence – 10 votes
6. Triumph of Death – 9 votes
7. Electric Wizard – 8 votes
8. High on Fire – 8 votes
9. Mark Lanegan – 8 votes
10. The Black Angels – 7 votes
11. Uncle Acid and the deadbeats – 6 votes
12. The Crazy World of Arthur Brown – 5 votes
13. Bad Religion – 5 votes
14. Black Mountain – 5 votes
15. Cold Cave – 5 votes
16. The Obsessed – 5 votes
17. Old Man Gloom – 5 votes
18. Power Trip – 5 votes
19. Yob – 5 votes
Bored between sets? Take a crack at our Psycho Las Vegas 2019 Word Search.
[Watch our YouTube playlists for videos from each band playing at Psycho on Thursday, Friday, Saturday and Sunday.]
For previous installments of the Big Takeover's Psycho Las Vegas preview series, check out our interviews with:
• Archaon, longtime guitarist for Norwegian black-metal vets 1349
• Colin H. Van Eeckhout, vocalist for Belgian post-metal purveyors Amenra
• Jason Shi and Scott Key, singer/guitarist and drummer, respectively, for melodic hard-rock masters ASG
• Jay Bentley, founding bassist for politically progressive punk pros Bad Religion
• Alex Mass, frontman for Austin psych-rock princes the Black Angels
• Stephen McBean, singer/guitarist of long-running psychedelic-rock project Black Mountain
• Zak Quiram, vocalist for hardcore newcomers Candy
• Jeff Walker, vocalist/bassist for extreme-metal behemoths Carcass
• Jean-Paul Gaster, drummer for "the quintessential American rock band," Clutch
• Pepper Keenan, frontman for North Carolina metal stalwarts Corrosion of Conformity
• Greg Meleney, vocalist/guitarist for Portland psych-rock mainstays Danava
• Jason Simon, singer/guitarist for perennial psych-rock Psycho participants Dead Meadow
• George Clarke, vocalist for shoegaze/black-metal powerhouses Deafheaven
• DJ Painkiller, an L.A.-based metalhead who will be spinning between sets
• Darkest Prince, lead guitarist for black-metal punks Devil Master
• Victor Vicart of Scottish progressive-metal quintet Dvne
• Laura Dolan, vocalist for Cincinnati rock 'n' roll purists Electric Citizen
• Philip Anselmo, whose new project En Minor is making its live debut at Psycho
• Todd Fink, frontman for electro-pop punks the Faint
• Scott Hill, singer/guitarist for desert-rock demigods Fu Manchu
• Dylan Walker, frontman for brutal grindcore quartet Full of Hell
• Zack Simmons, drummer for blackened death-metal demigods Goatwhore
• Emil Amos, drummer for experimental post-rock band Grails
• Julien Chanut, guitarist for French sludge-doom band Hangman's Chair
• Tim Macuga, one-half of experimental "doom-gaze" project Have a Nice Life
• Tony Campos, guitarist and founder of thrash revivalists Hell Fire
• Nashville cosmic-riff connoisseurs Howling Giant
• Gabriel Franco, vocalist/guitarist for gothy post-punks Idle Hands
• Joshy, drummer for crusty death/doom-metal outfit Ilsa
• Tiger, drummer for German psych/stoner throwback trio Kadavar
• Irita Pai, bassist for all-female punk-rock trio L.A. Witch
• Julian Porte, frontman for L.A. psych-rock collective Levitation Room
• Johanna Sadonis, vocalist for "heavy magic rock" band Lucifer
• Invincible crooner and former Screaming Trees frontman Mark Lanegan
• Stuart Braithwaite, founding guitarist/vocalist for beloved post-rock legends Mogwai
• Kelly Finnigan, frontman for Bay Area psychedelic-soul quartet Monophonics
• Thomas Eriksen, centrifugal force behind true Norwegian black-metallers Mork
• Teddi Tarnoff, frontwoman of "Vegas-based dirty rock 'n' roll band" Mother Mercury
• All-female Motörhead tribute band Motorbabe
• Justin Anthony Maranga, lead guitarist for L.A. hard-rock quintet Night Horse
• Wino, godfather of doom metal and frontman for the Obsessed
• Mikael Åkerfeldt, frontman for Swedish progressive-metal kings Opeth
• Ben Bloom, frontman/guitarist for funk-soul octet Polyrhythmics
• Riley Gale, vocalist for Dallas crossover-trash specialists Power Trip
• Ethan Lee McCarthy, frontman for blackened-doom trio Primitive Man
• Mlny Parsonz, singer for Atlanta hard-rock diehards Royal Thunder
• Tobias Grave, frontman for shimmering post-rock trio Soft Kill
• Kirpatrick Thomas, vocalist/guitarist/conceptualist for acid-rockers Spindrift
• Joey Dalo and Mario Rubio, vocalist and guitarist, respectively, for L.A. metal quintet Thrown Into Exile
• Experimental rock, alternative hip-hop and dance music guru Tobacco
• Derrick Vella, guitarist of death-metal arsonists Tomb Mold
• Niklas Källgren, guitarist for Swedish fuzz fanatics Truckfighters
• Los Angeles Satanic doo-wop duo Twin Temple
• Kevin Starrs, frontman of British fuzz royalty Uncle Acid and the deadbeats
• Sean Killian, vocalist for cult-favorite Bay Area thrash band Vio-lence
• Mike Hubbard, vocalist-drummer for reunited Massachusetts doom-metal band Warhorse
• Bruce Lamont, frontman for experimental heavy-jazz project Yakuza and Led Zeppelin tribute band Led Zeppelin 2
• Aaron Rieseberg, bassist for Oregon doom-metal dealers Yob
Also, don't miss our special feature in which Deafheaven's Clarke and Mogwai's Braithwaite discuss their mutual affection for each other's bands, whether Deafheaven should play their Mogwai cover at Psycho Las Vegas — and the possibility of a collaboration between the two projects.