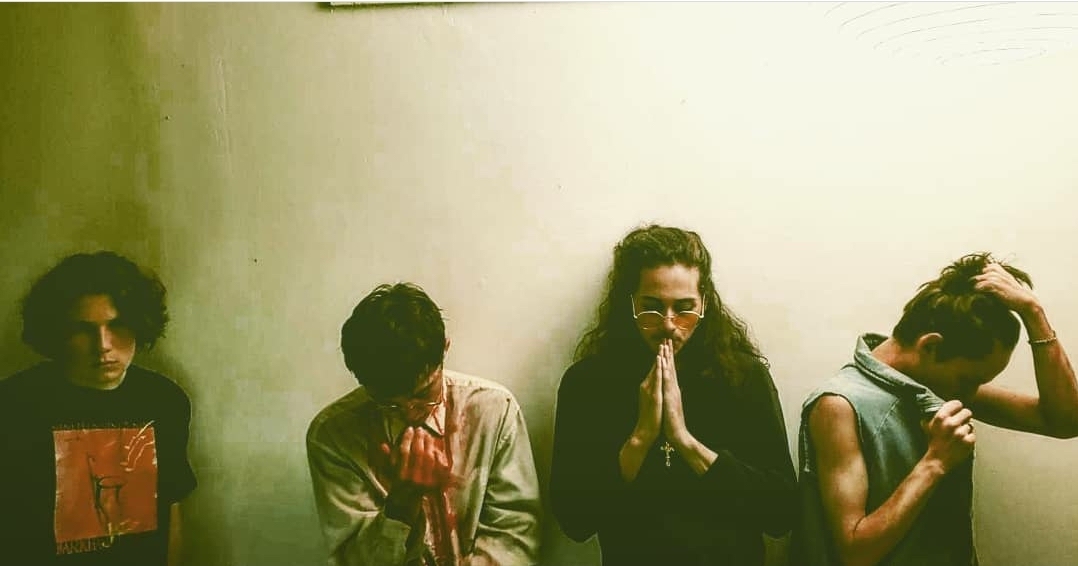 24 March 2021
Photo by Abe Churko
Okay, so you're a band, possibly THE band, from Nowheretown. Or Everytown. Any way you slice it, you've just put out your first album, the world's yer slippery oyster and then The Big Question rears its stupid ugly head: Now What??
There are many answers to that question; some examples might be: 1) Hit the road – Pandemic be damned!; 2) Scramble to put together enough songs and cash for the highly-anticipated second album; 3) Let the stardom go to yer heads and implode; 4) Think of greener pastures.
If you answered #4, you might just be a member of The Bones Of Jim Jones.
TBOJJ is a four-piece gang, with drummer Braeden Sharp, Cam Espina holding down bass/guitar, Lane Brohm on guitar and Seamus Lynch handling vocals and most lyrics, with all band members contributing to the sonics. Although just recently out of high school, The Bones Of Jim Jones have been making music together in one form or another for several years. Because the world works in strange ways, they of course took their name from inspiration from a random design made on a pumpkin during a high school Hallowe'en pumpkin carving contest. TBOJJ have since then been thrashing their way through the folk-drenched backwaters of Haliburton County, Ontario, creating a sound that leans more towards Metallica or Ministry with just a sprinkle of Tom Waits for flavor and that would incinerate Jim Reeves at forty paces.
The band released their first single Loverboy in 2019. With new songs in tow, they relocated to Montreal for several days this past August to record their first full-lengther, The Mess We Made. According to Lynch, The Mess We Made works lyrically as an allegory for small-town life as having cult-like structures, in that everybody knows your name, secrecy is a sham and very little goes unnoticed. The album follows the story of Wallace, a fellow caught up in the madness of a cult and his eventual escape/redemption. A follow-up project, Mad Dogs & Bed Bugs, is just now starting to come together.
Haliburton County is a mostly rural area that covers approx. 1570 square miles and has a population density of a whopping 11 folks per sq. mi., so it's a good bet that if you were a band that lived there you just might encounter some, er, issues: limited pool of like-minded individuals for real-time feedback, lack of access to equipment, minimal media exposure, the bare minimum (if that) of live music venues. And even though home is indeed where the heart is, sometimes the head needs to go elsewhere. When you're a band or a solo musician, one of the most scariest yet exciting times one can have is the moment when The Big Question arrives. Discussions of a band relocate to Montreal or even possibly Europe are in the cards, but for the next several months, the band will be holding tight, waiting for Covid to take a back seat to life, and for the rest of the world to catch up and take notice and say, "They's loud, but in all the right ways."
The Bones Of Jim Jones-Instagram
The Bones Of Jim Jones-Website