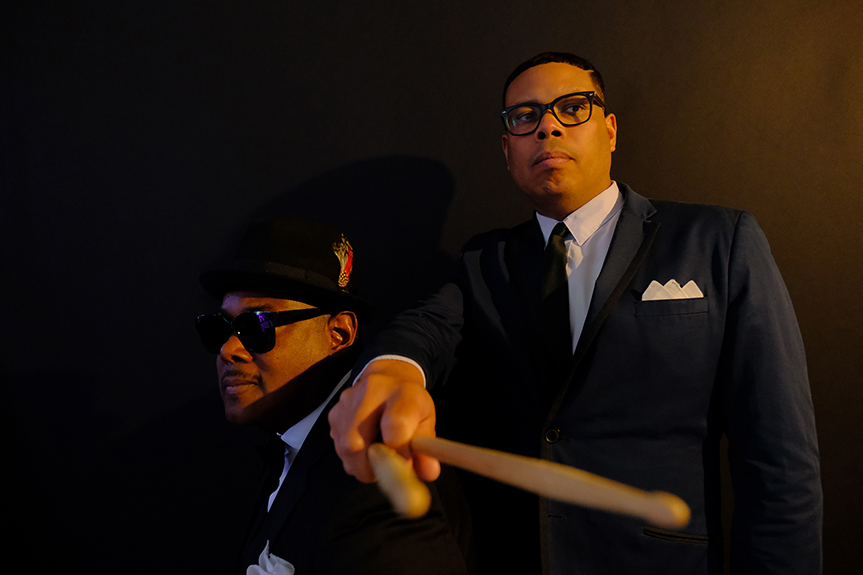 18 February 2021
Drummer Korey Horn maintains every one of us is born with a natural rhythm. His approach remains versatile and authentic and within Shuffle & Bang, Horn successfully infuses Jamaican reggae, dub, and ska under the banner of jazz.
"From the moment we're born into this world we have a natural, rhythmic beat; Our heart. The pulsing rhythm is just like drums," affirmed Horn.
Korey Horn has been playing Jamaican music since he was 12 and credits his family for creating a melting pot of music culture. Horn's father, Pops Horn was a working jazz singer and introduced Korey to classic artists like Coltrane while his grandfather passed down his inspirational music to Pops.
"My mother is Puerto Rican and introduced me to countless Latin sounds that made their way into my playing style. We always had music playing in my house growing up," reflected Horn.
Growing up in California, Horn also embraced the rich punk history and quickly discovered staples such as Dead Kennedys, as well as being introduced to the versatility of Bad Brains. Horn loved their reggae and dub infused tracks, ultimately inspiring him to mix up his approach behind the kit. Horn joined the punk/reggae group The Aggrolites and worked to create a new generation of crossover music. The group's debut, Dirty Reggae was released in 2003.
"Well, my father wasn't the biggest fan when I first got into punk. Looking back, you have to realize that jazz was the 'punk' of my father and grandfather's era because it was not immediately embraced and many musicians were judged and had to seek alternative means to share their music and gig, stated Horn."
Shuffle & Bang boasts a stellar lineup of collaborating musicians, veterans from Brian Setzer Orchestra and The Original Wailers. Even their pianist plays organ for the San Diego Padres baseball team! The duo began in 2018, when Korey and Pops would merely sit-in for each other's recording sessions. For Horn, the cross-generational influences slowly took shape, and one song begat another, leading to the urgency to finally release an album.
"Whatever the songs took shape to become, I knew they had to be authentic. Even my punk background came out with regards to my attack on certain parts. People have been asking me about my style and I say it's the opposite of rock & roll, where a rock fill can have 16th notes and end with a crash. Reggae asks you to begin with a crash. I love all my influences and they're many people that embrace theory and reading but I always say, you have to feel it. If you can't feel it, you can't play it," said Horn.
To further reinforce Shuffle & Bang's diversity, their debut Island Bop was released by Pirates Press Records, a notable punk label that didn't feature a single jazz artist on its roster.
"What can be 'more punk' than going against the grain and releasing a jazz record on a punk label?," laughed Horn.
He added, "It actually didn't start out with us shopping our record to them or anywhere else for that matter. We wanted it to be a total DIY thing so I contacted Pirates to just ask them about pressing it for us but their founder, Skippy reached back out and really liked it and said we should talk about having them formally release it."
Their debut exceeded even the most modest expectations and all initial pressings sold out. For Horn, it reinforced his conviction that despite contrasting styles, people realized the connection between the genres, such as the early connection between Punk and Reggae with Bob Marley, Lee Scratch Perry, and Mikey Dread.
"I know Pirates Press would respect our desire to keep things authentic. Looking back, some of those Aggrolites records were recorded tape-to-tape! There's still such an organic, warm feeling to recording that way and pressing it on vinyl. I'm sad to say that a lot of the feeling of running out and buying a new record, putting it on the stereo and just diving into all the liner notes is getting lost. I feel we got all the right people together for this record. Passionate, working musicians that I go back a long ways with," said Horn.
Additionally, Horn shares his passion for the drums with Drum Brigade, an organization he founded in 2013 to counter the ongoing loss of music and the arts within schools. Offering lessons and work shops for even the most seasoned musicians, Horn sees a child's interest in music as something undeniably worth growing.
"I would see too much unhealthy competition and not camaraderie with musicians. I was surprised that so many talented drummers wouldn't be playing out because they feared the judgment from their peers and I don't see anything good about that. With the kids, I think the ongoing push to just outright eliminate music and arts in schools will have negative consequences. There are still a lot of kids that express interest in music and if schools won't provide programs, I will provide opportunities after-school," said Horn.
As Shuffle & Bang continue earning interest, the group remains hungry to share their sound in live settings. The ongoing restrictions due to the pandemic has only increased their goal of booking steady shows and growing a diverse audience of fans.
"Obviously things are up in the air and nobody can predict how things will play out. We've been getting a lot of serious interest in Mexico and we want to support this record, internationally as well. Right now, my ongoing focus is Drum Brigade and sharing our core values of support, team work, and camaraderie. I want to continue to grow the musical interests of the kids," concluded Horn.
https://piratespressrecords.com/shuffle-and-bang-island-bop-available-now/
http://koreykingston.com/drum-brigade