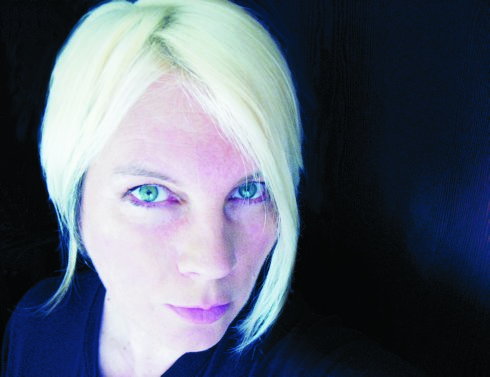 12 April 2012
Penelope Houston's seventh solo record, On Market Street boasts themes of redemption, heartache, and empathy. Houston continues to detour from her Punk roots with intense lyricism coupled with folk arrangements, ultimately creating a hybrid fan base. The Avengers front woman doesn't view her artistic growth as a duality, but rather a continuance of her songwriting journey.
"In these new songs, there is anger, sadness, falling in love, feeling duped. It can happen to anyone at any time. In Vienna, there was one girl who had tears flowing during my set. The song had meaning and it certainly resonated with her. You can never second guess what other people will get out of a song," reflected Houston.
After The Avengers first split in '79, Houston developed her songwriting and sought to carve a new audience for her art, despite facing resistance from the singer & songwriter community as well as her Punk peers. She reflected on her early solo gigs.
"The folk community did not accept us at all. Someone once said I did not have a folk voice. There were some people that liked what I did. Those people now come and say things like '5 or 6 albums into your solo career, I like it,' laughed Houston.
She recalled some early folk performances and pressures she faced when stepping out of her comfort zone.
"What I realized back in '79 and when I first started doing this kind of music in 1983 is that I'm drawn to lyrics. Tom Waits was one of my heroes and I realized my lyrics were very important. Sometimes I'd scream at the top of my lungs and nobody could make out what I was saying. I started focusing on lyrics. I remember a show, my first performance after Avengers broke up and with just my voice and lyrics, I just felt naked out there. I had an acoustic, mandolin, bongos and cello. I remember feeling in my mind that I was stepping out onto a tight rope with a light on me and I had to do it. I was taking a step forward with all eyes on me, walking from the lyrics to the melody on the other side," said Houston.
She added, "There were some punks there and they were like, 'What is she doing?'
Jagged guitars and frantic rhythms have given way to intricate melodies and Houston's vocal style is now more controlled, with a newly refined intensity no longer reliant on sheer volume and swagger. Lyrically, On Market Street comes across as poetic, but the woman that penned the furious Avengers track The American In Me can still embrace her anger. Houston admits she wasn't sure of what political goals she had in mind during The Avengers, but felt there was some positive action.
"I'm really not sure what expectations I had back then. We wanted to stay positive but also express our outrage. Now, I still feel it's important to express outrage but just as important to have compassion. I'm not so willing to point a finger to others as I was back then. I was a little more righteous," laughed Houston.
Houston has not abandoned her convictions, but her targets are now more focused.
"Now, I'll sing a song and point out some shit but not single out individuals and judge. I do judge ideologies that are selfish and I will point that out. Back then, we were shouting out to a world that paid no attention to us at all. It's not like at that time we felt we were changing the world, just setting out to tell about some of the fucked up things we saw."
The Avengers have enjoyed a renewed interest throughout the years but fans struggled to access their limited catalog. The recordings commonly referred to as The Pink Album were released after the group broke up but remained out of print for years. Houston had sold it as a CD-R while touring but stated fans had trouble tracking down material. Originally, The Avengers had only a single and EP to their name before breaking up in 1979. Fans gravitated to the group that worked to give the voiceless a platform of self-expression, but the lack of access to their catalog threatened to push them into obscurity, even though they had the honor of supporting the Sex Pistols' chaotic swan song at the Winterland Ballroom.
"We have always been able to play the songs. The label ceased to have contact with the band and the label did not print the record anymore. There were bootlegs coming from various labels that claimed to have the rights. We wanted the recordings to come out again but we weren't able to come up with an agreement for quite some time," said Houston.
Houston reconnected with Avengers guitarist Greg Ingraham and in 1999 Lookout! Records released Died For Your Sins , which boasted three newly recorded tracks and a rare compilation of live and studio recordings. Houston added Joel Reader and Danny Panic and the group briefly returned to the stage under The Scavengers moniker. Houston recalled how much time and resources she dedicated to collecting various studio outtakes and live tracks from fans in preparation for the release. At the time, the record stood as the most thorough audio document of The Avengers. Houston remarked it was the first time she heard certain recordings in years.
"That was very interesting for me. People had recordings of us that I didn't even remember! I was grateful there were people that were into it and it showed me that this audience was still there and even new people who heard us became great fans. I also learned about bands that had covered us. It became harder and harder to get a hold of recordings and that is why I put out that compilation with the new rhythm section."
The reactions were very positive and The Avengers continued with the odd live gig. Houston stated that despite her new direction as a songwriter, the previous material was always inside her and felt no reservation when revisiting the songs of her youth. The Avengers reunited again in 2004 with Reader and drummer Luis Illades. A second compilation titled The American In Me was released by DBKWorks and featured live performances from the group's final show at the Old Waldorf back in '79. Houston stated the new shows were successful and faced no challenges when working to perform the material. In 2007 the group organized its first ever cross country U.S. tour.
"There was nothing fake about doing them and I was able to sing them perfectly. I'm still really comfortable with those songs. Seeing people's reactions and people knowing your songs and singing along; you're riding on top of their wave of enthusiasm!" she exclaimed.
The Avengers will be touring Europe after the May 15 release of Avengers , a two-CD set of studio outtakes, live performances and the official re-release of The Pink Album. Water Records will release the cd set and 4 Men With Beards will release a vinyl edition. Houston said the conclusion of the legal battle surrounding The Pink Album finally offers the group the ability to broaden its fan base and satisfy the demand for material.
"It was a very positive outcome but it took years. When you file in federal court, it can take like 8 months. It was a long ordeal but it did involve me and Greg getting in touch with Danny Furious and Jimmy Wilsey It got all the original Avengers speaking again and coming together. It took 2 years of my life but it was finally settled out of court. There were compromises but the important thing is obviously the band."
In addition to music, Houston continues exploring art and is currently pursuing a studio art and printmaking degree at San Francisco State College.
"I'm planning on graduating at the end of December. Touring and being in school is close to impossible but there are ways to balance it out. I do have an art show going on right now and I have pieces in a gallery in Denver. The museum will be flying me out to do a talk with the curator in May."
With the releases of Avengers and On Market Street, Houston has the unique ability to intrinsically view her growth with two audio documents capturing very distinct periods of her life. The isolated world she grew up with during The Avengers is now side by side with her newest recorded chapter.
"The newest songs become like telling a story. The pain that originally inspired them has faded but I'm grateful that people feel connected to them. I'm really proud of this new record," said Houston.
www.devotedruins.com
www.penelope.net