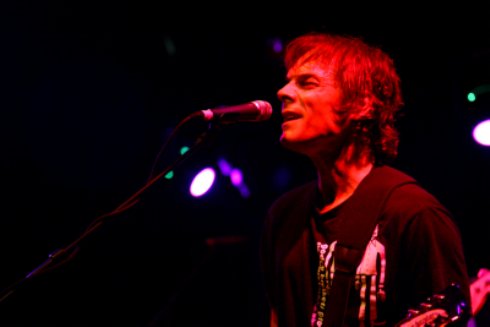 22 March 2012
Radio Birdman guitarist Deniz Tek has always been able to rise above genre barriers and craft songs invoking passion and frenzy, despite keeping a low public profile before emerging as a compelling solo artist. The Citadel Years, a new collection of his material serves as a broad overview of his extensive recordings.
"I spent some time in aviation, via the US Navy, did a lot of traveling around. Eventually my wife and I settled in Montana. All during this time I never stopped playing and writing tunes, but with a very low public profile, so I guess it would seem, from the perspective of a Birdman fan, that I had disappeared. I had some good songs, and decided to try to do my own songs," said Tek.
The Citadel Years presents Tek as a diverse songwriter, but listeners are still able to recognize his style, making the extensive collection easy to embrace. Tek expanded further on his emergence as a solo artist.
"I knew that it would be impossible to replicate Radio Birdman, a product of a unique combination of energies which created a new entity, much bigger than the sum of the parts. My goal was to come across as a good solo songwriter, but I knew that I could always get the energy level up there. It was never going to be "folk music" or acoustic pop," said Tek.
He continued, "I don't feel the need to restrict my writing or playing to any particular style, and it's fun to experiment. Some of it depends on who I'm working with. If it's Dave Weyer, there is going to be found sounds, noise, and elements of music konkret. If it's Masuak, there will be traditional rock and roll sounds and even some country blues elements. If it's Kent Steedman it's gonna be hard. Clay Green will use Latin poly-rhythms etc, etc. But it will always end up generally sounding more or less like me."
After Radio Birdman's demise in 1978, Tek pursued a career in the demanding world of medicine, but gigged and recorded sporadically with the likes of Ron Asheton and Dennis Thompson, raucous musicians hailing from his former Michigan residence who were responsible for shaping rock n' roll and Punk with The Stooges and MC5.
"*Pip Hoyle*( Radio Birdman's keyboard player) and I went to Newcastle to do our internships in medicine, which we had put on hold because of the band(Radio Birdman). We hung out, wrote songs, and eventually put The Visitors together. I moved back to Detroit for more advanced training. During that time I continued to play sporadically, usually filling in with Destroy All Monsters and Sonic's Rendezvous Band. I returned to Australia in 1981 to join the Angie Pepper Band, and at her suggestion, we did the New Race project, with me, Rob Younger(Radio Birdman's singer), Warwick Gilbert, Ron Asheton and Dennis Thompson," recalled Tek,.
Radio Birdman enjoyed renewed interest after Sub Pop released a retrospective compilation back in 2001. Their diverse brand of rock n' roll successfully utilized other genres to create a passionate sound that wasn't explicitly linked to a singular definition. Tek believed Radio Birdman was ostracized from their peers and the recording industry. He reflected on their beginnings.
"We were total outcasts in 1974 and '75. Then we began to identify with the role and became outlaws even more. We hated authority and did everything ourselves with no industry support whatsoever. Finally, we began to be successful in 1977 when the quality of our first album was
recognized and thousands came to see us play. Punk had happened and we were provided with a label, which although inaccurate, allowed some acceptance of what we were doing all along."
Tek remains well-traveled, having grown up in Michigan before relocating to Europe, and eventually Australia where Radio Birdman came to fruition. He reflected on his journey.
"I had spent most of 1967 in Sydney with my parents, and I knew I liked it, so I headed in that
direction. I actually left Ann Arbor in 1971, went to the UK and Europe Turkey and Africa first before going to Australia."
Tek grew up in parallel times with Ron Asheton, Iggy Pop, and MC5 guitarist Wayne Kramer while in Michigan. He crossed paths again with each of them during his travels, leading to memorable live performances and studio releases.
"I went to the same school as the Ashetons, and Scott Morgan. Iggy went to a different school across town. I didn't get to know them then as I was a few years younger. Ronny(Asheton) was a close friend and I miss him greatly. I think of him every day. He was a true original, he pointed the way to a new kind of electric blues that had never been heard before, and of course he influenced thousands or millions of players around the world. But for me he was a best friend. Simple as that. He spent quite a bit of time with our family, and was like an uncle to our kids," Tek reflected.
Tek was able to secure playing with Kramer during the DKT-MC5 reunion tour back in 2003. While the experience was memorable and positive, he recalled the work involved to pull off the performances, but he was able to rise to the challenge.
"The thing foremost in my mind was the enormous amount of work I had to do to get ready. I asked Wayne for a set list, he said "we might play anything, so you have to know all of the back catalogue … plus all of the covers we did, including the songs we didn't record" !! Talk about work for an already busy person; I was going through my first spine surgery then as well. Of course I didn't mention that to Wayne. I felt honored and lucky to get the gig. The goddamn MC5, for cryin' out loud!!"
Tek's high-profile appearances were parallel to the renewed interest surrounding Radio Birdman and the group reunited to play Australia's Big Day Out festival in 1996. The performance was well-received and other festival appearances followed. A live record, Ritualism was self-released in 1997 and captured the band in a pure setting, with no industry backing whatsoever.
Radio Birdman reunited once again in 2006 for a highly anticipated U.S. tour.
"We did some fairly large venues, such as the Great American Music Hall in San Francisco, The Wiltern Theater in LA, the Bluebird Theater in Denver, Magic Stick in Detroit. In NYC we played at Irving Plaza and the Blender Theater. We did play some very small clubs also. Peter Davis did a great job putting those tours together. The appreciation in the USA matched the enthusiasm of the crowds we were seeing in Australia in 1977, often quite over the top," Tek recalled.
He said the reunion wasn't marred by any tension or unresolved issues.
"I personally did not experience any animosity when we reunited, but then I had maintained good relationships with the other guys after the split anyway."
The reunion produced Zeno Beach in 2006, Radio Birdman's first new record in over thirty years. The record sounded fresh and urgent and proved skeptics wrong by avoiding creative pitfalls storied artists usually make: attempting to recapture the past without working to creatively move ahead. Zeno Beach capitalized on their signature sound and expanded it which made the record a welcome surprise. Singer Rob Younger's trademark yelps complimented Tek's edgy playing and Radio Birdman did not sound like songwriters barely holding on to memories, they sounded more like they had unfinished business.
"The main challenge was to integrate the creative input of band members who had moved on, done other things, and in some cases, changed substantially in the way they approached music. In the early version of the band, I wrote 90-95% of the material. Now, we had other songwriters, and at least half the songs were co-writes. Rob and Chris Masuak had become accomplished and prolific songwriters and producers. Often, the initial ideas had to be reworked over time to turn them into songs that we could all be comfortable with as "Birdman songs", while trying to avoid tired old formulas," said Tek.
The "industry outlaws" were even formally recognized by Australia with their induction to the Rock N' Roll Hall of Fame, decades after their initial breakup in 1978.
"We never had a hit, so why did we get into the Hall of Fame? Rob originally blocked it, but later on his family pressured him to go along with it. Personally, I could have lived without it. The good thing was, when we played at the ceremony and cranked it up, all these industry types ran for the exit of the ballroom of the Regent Theatre. It showed we still had something," recalled Tek.
The reunion shows were well-received and fickle fans didn't dismiss Zeno Beach. The band seemed poised for future challenges, but once again were here and gone when Younger resigned in 2007.
"He announced that he was quitting after the last tour in 2007. I found out about it in the media rather than directly from him. There were irreconcilable differences between Rob and Chris. No further band activity is currently being planned. There can be no Radio Birdman without Rob," stated Tek.
The reunion resulted in two U.S. tours and two new records, Zeno Beach and Live In Texas. There appears to be no hard feelings between Tek and Younger, who maintained a positive relationship after Radio Birdman's initial breakup. Tek said plans are in the works for another collaboration with Younger.
"I have a gig with Rob coming up in April, a festival in Sydney. This will be the first time we have worked together since 2007," he said.
Tek continues writing on his terms and anticipates a new solo record by summer.
"I'm working on finishing a new solo album this summer and hopefully touring in the USA and Europe with Art and Steve Godoy. I am also painting and sculpting."
His dedication to medicine remains unquestioned and says he's currently doing part-time work.
"I am still doing part time clinical work and teaching emergency medicine to junior doctors."
The recordings of Zeno Beach and Live In Texas have demonstrated Tek's insatiable creativity and energy. Radio Birdman didn't appear hampered by failing to live up to unreasonable expectations nor did the songwriters sound trapped in nostalgia during the reunion performances. What sets Tek apart from his peers is his impressive versatility that allows him to successfully collaborate with diverse players, while continuing to release material boasting his hallmark style.
If Zeno Beach proves to be Radio Birdman's final record, then the album could stand as a testament to resilience and creativity, no matter the circumstances.
"www.deniztek.com"
"www.Radio-Birdman.com"