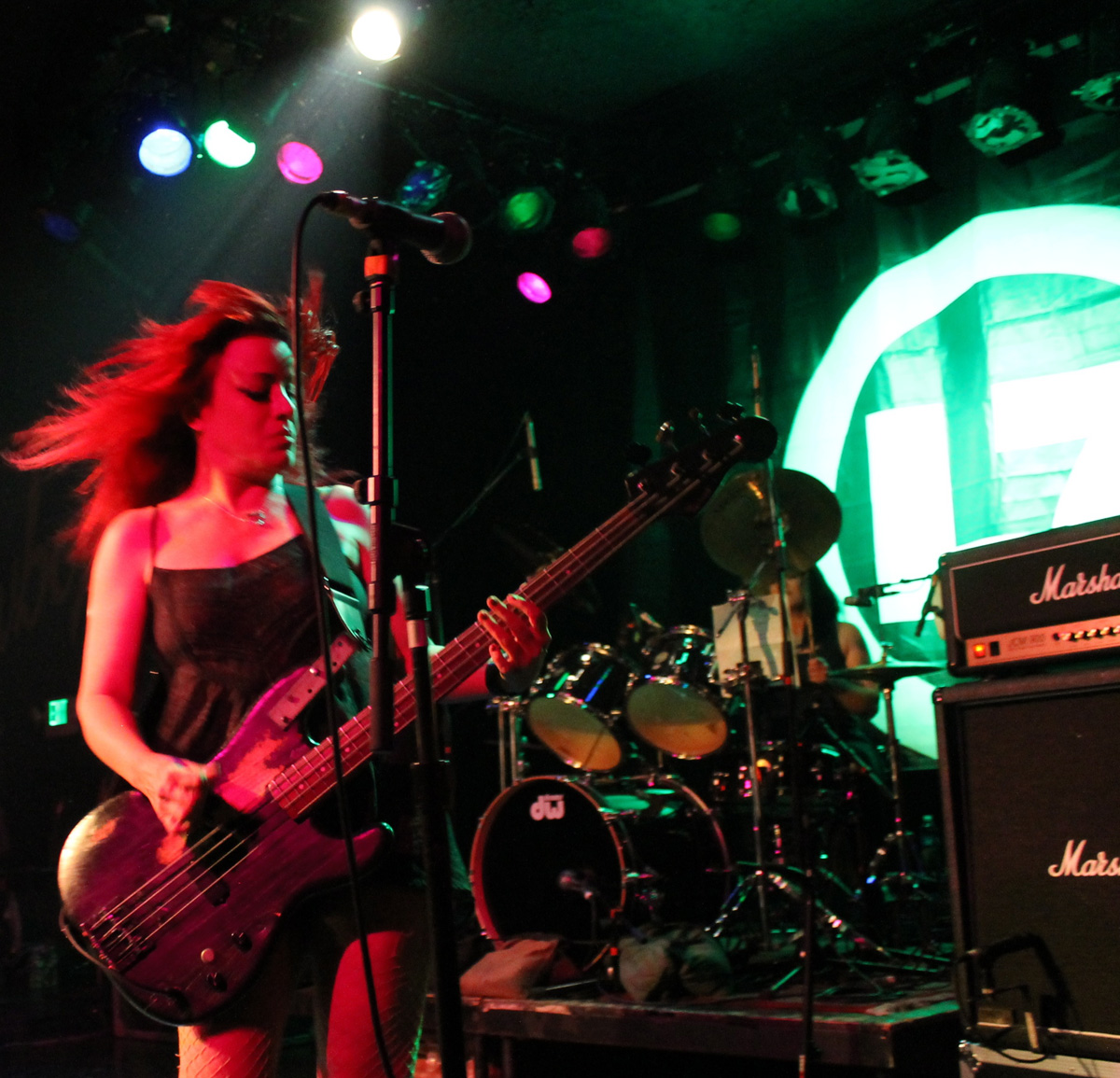 22 November 2015
Photo by Ari Rosenschein
From the late 80s to the mid-90s, L7 reigned over the underground. The band personified the ferocious new face of feminism. Bassist/vocalist Jennifer Finch of the Los Angeles-based quartet was there for both the hard slog and the dizzying ascent.
After the decade's close, however, a post-millennium blues set in. Sure, there were milestones. Finch's first photographic exhibition made the LA Weekly cover, and an essay she wrote was archived in the Rock n Roll Hall of Fame. Yet, while significant, neither achievement was a career game changer. In particular, a book deal for her acclaimed photos remained frustratingly out of reach. Then her health took a turn. "My body was going nuts," Finch remembers. "I was one of those people who had mysterious illnesses that nobody could really figure out. When my doctor said it was cancer, it was weird because it was a relief."
By 2011, on the other side of her illness, Finch began to rally. This wasn't her first experience overcoming adversity. Finch's extraordinary life has been filled with dramatic reinvention, and she has never been from the center of the counterculture.
Hot on the heels of a series of triumphant comeback shows with L7, these are far better days for the rock icon. Speaking via Skype from her light-filled home in Culver City, Finch is upbeat despite nursing a cold. Her brightly dyed red hair, cat eye glasses and loose floral top create a look that could be described as "rock casual". She bounces out of the room to grab a fresh cup of coffee before offering some impressions of the reunion gigs. "I cannot lie. They have been awesome," she says, visibly moved. "The people showing up, the range, the age. Unbelievable."
Yes, after a 14-year hiatus, the trailblazing all-female grunge act reformed at the insistence of their rabid fanbase. The Kickstarter campaign to fund a documentary about the band overshot its goal and raised $130,000. That outpouring of support sparked a full-fledged tour, highlighted by sold-out shows across North America and Europe.
L7's original lineup of Jennifer, Donita Sparks, Suzi Gardner and Dee Plakas were everywhere during the heyday of 90s rock. They founded Rock For Choice, toured the world, and became staples of MTV and alternative radio. Along the way, they gained infamy for their shocking onstage antics (see the Reading Festival tampon incident) and intimidating collective persona. Onstage, with her low-slung bass guitar and trademark bare feet, Finch epitomized grunge era cool.
But it was the feral spirit of the late 70s LA punk scene that initiated her into the worlds of music and performance. She recalls punk rock in Los Angeles as being "a symbolic expression of purging, self-interests, self-centeredness" but is quick to mention the "exploitive marketing of rebellion" which soon followed.
In the mid-eighties, Finch shared both a house and band in San Francisco with kindred vagabond Courtney Love. Their group, Sugar Babylon, included future Babes in Toyland frontperson Kat Bjelland, making it a breeding ground for powerful female voices. Returning to Los Angeles, Finch joined the nascent L7 in 1986. They toured doggedly for years and eventually achieved fame alongside peers like the Smashing Pumpkins and Nirvana.
Finch's proximity to the Nirvana camp and brief relationship with drummer Dave Grohl resulted in a slew of stories and candid snapshots. She is willing to revisit the heavily documented era, but only up to a point. Finch isn't in a hurry to view the recent Kurt Cobain documentary, Montage of Heck. "I have my own memories of those times," she states plainly, "and those memories are at a point where they are fading. I don't want someone else's ingrained into my brain."
After leaving L7 in 1996, Finch carved out a career in the tech sector. A pioneer in web design, she eventually became an early Word Press expert. This move wasn't as far from her punk rock roots as it sounds. "We have this movement in tech," Finch opines, "the open source community. It's one of the most powerful, unrecognized, subtle DIY movements in history. People say there is no punk rock, no place to go. In tech there was."
Of the renewed interest in Sleater-Kinney, Babes in Toyland and L7, Finch speaks with characteristic directness. "What people are really longing for are authenticity and integrity," she maintains, "and I think that L7 brought authenticity and integrity to the table." She could be describing herself.
Today, her cancer remains in remission and L7 is wrapping up a victory lap of shows through the Pacific Northwest. Onstage in Seattle, Finch is a blur of motion, flipping her crimson mane in front of the capacity crowd. Afterward, she entertains friends, fans, and contest winners backstage with her unique combination of swagger and deadpan wit. With health restored and the band receiving retroactive accolades, what is next for her and L7? About the future, Finch calmly states, "I've learned that you never know what is going to happen next, so I'm not planning or expecting anything."