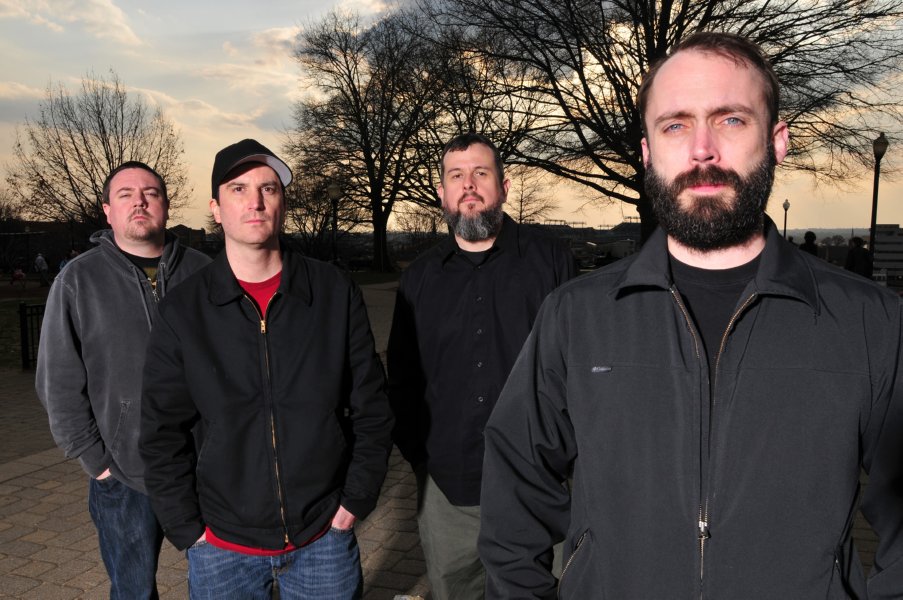 2 September 2015
What sets Clutch apart is the inability for even the most ardent fan to pinpoint their style. Combining hard rock with elements of jazz and blues, Clutch has successfully created a diverse sound that has blessed them with longevity.
"We never had a problem making it sound cohesive. I agree Clutch is hard to classify. In Europe we actually play a lot of Metal festivals and I love their crowds. We're not a Metal band but we have some influences. People can categorize whatever they want, that's ok with me," laughed guitarist Tim Sult.
Psychic Warfare, the band's 11th studio record is due in October and Sult stated it continues featuring Clutch's passion for diversity. Released via their own WeatherMaker outlet, Sult agreed that Clutch is creating on their own terms, which has energized the group.
"We've been going DIY for the past couple of years now and there's a lot of luxury of releasing it yourself. It was the best creative and business decision we've made. With social media growing we're working to get the word out a little better. The responses for the record have been positive," said Sult.
Clutch rose to prominence in the '90's and earned deals with Atlantic and Columbia Records. One can argue that the decade wasn't dominated by a single sound yet Clutch's success ebbed and flowed, ultimately having Sult believe the band wasn't promoted enough to continue their rise. Without any reservation he clarified that stints on major labels did not automatically create financial stability. Sult reflected on how Clutch was impacted.
"When we were signed it was a totally different world. Bands were expected to sell a few million records and if they couldn't they were deemed a failure. We were young when we were signed and we believed we would be taken care of but that changed quickly," laughed Sult.
Major labels undeniably had more power during Clutch's time, from studio scheduling to promotions artists were expected to follow directives or face repercussions. Sult believes touring is the best option for bands to capitalize on opportunities yet in his experience major labels were not supporting tour expenses.
"When we were on majors we wanted to tour as much as possible but they did not bankroll many of the tours, we had to fund like 90% of the time. This killed a lot of other bands. Mostly they worked to get our records in stores but it wasn't until our time with Columbia did our promotion get better," reflected Sult.
As early as 1999-2000 was when Sult and Clutch realized that a major industry shift was on its way. The idea of bands going DIY was nothing new but terms like 'success' were highly subjective.
"We knew self-releasing music was the direction things were headed. We felt the bigger labels were out to solely make a profit. We had thought things were moving toward a more 50/50 kind of arrangement but that wasn't the case," said Sult.
The advent of music file-sharing and streaming services created further discord between artists and labels. Divisive court battles ensued and artists were split on how their respective careers would be impacted. Debates reached a fever pitch in 2000 when Metallica sued file-sharing company Napster for alleged copyright infringement. Metallica was awarded with an injunction after a yearlong battle but the floodgates were opened and set major precedent. Just this year, Taylor Swift's open letter to Apple forced the tech. juggernaut to reevaluate its music services. Her public distaste for Spotify has been well documented within the media.
"We think the whole music streaming idea is a pretty gray area at this point. We've heard of some artists creating their own streaming services where people pay a fee. That could be a viable option. If you look at the whole thing it could be viewed as glorified radio as in how does one spin from a station compare with one play off Spotify? I don't know and it's something we've been thinking about," said Sult.
Despite all the shifts within the industry and how fans access their favorite music, Clutch has consistently released records and toured. Graduating to bigger and bigger festivals, Sult undeniably displays a sense of gratitude for Clutch's longevity and the ability for his band to inspire him.
"I'm happy to be in a band with people that can still surprise me. I'm always intrigued by Neil's (Fallon, singer & guitarist) lyrics because he doesn't use typical rock clichés. He utilizes different words than other singers and some people have compared him to Frank Zappa," complimented Sult.
Clutch's approach remains agenda-free, an approach that has served them well. For Sult, he stated Clutch is not about politics but all about the music, a conviction that has the group continuing to retain its diverse fan base.
"Personally, I'm all for the music aspect. I love blending different styles. We're about music and inspiration and hopefully inspiring others to start creating. We have a long way to go as far as being a big band in my eyes. I'm always happy to play out for people who haven't seen us before and it's always an incredible feeling up there," stated Sult.
Clutch will make a special appearance at this year's Food Truck & Rock Carnival festival. The event begins September 18th in Clark, New Jersey.