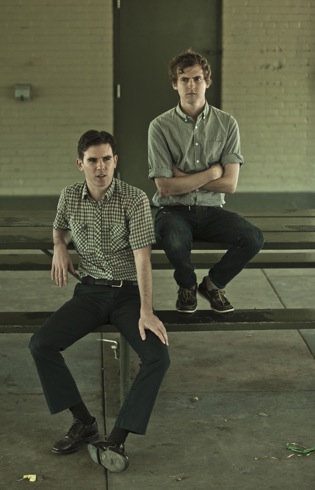 4 April 2011
As a general rule, it's not wise for writers to make predictions about a band's potential for success. It would be easy to give into hype, or to let a consensus cloud your judgment. But in the case of New Orleans-based duo Generationals, refraining from such impulses proves to be hard, for heir second album, Actor-Caster, is a record that is instantly likable, utterly refreshing,and uplifting. The songs are jaunty, bouncy, and catchy—hinting at influences but betraying absolutely none of them.
Comparisons to Motown and Goffin-King aren't inappropriate, nor would comparisons to The Shins, Billy Joel, Firefall or even Norman Greenbaum be inaccurate. But don't expect to hear any one of those sounds, or make the mistake of thinking that they sound like any of the above. What you will find on Actor-Caster are songs that can swing like a lovelorn 1950s pop ballad, with a crunch of 1960s-era garage pop, the bite of 1970s singer-songwriter fare, the danceable 80s era new wave, with a gentle taste of more modern indie-pop.
Generationals is a core duo of songwriters and mult-instrumentalists Ted Joyner and Grant Widmer. "Sometimes we play as big as a seven piece," says Joyner, 'but normally it's me and grant and a backing section with two or three guys. We do have times when we have a horn section on stage, but that's only when we can get them together. Lately, by and large we've been a five piece."
Despite its larger live incarnation, Joyner says, "Songwriting-wise, it's been just me and Grant and I kind of think that that's what the band is, just me and Grant and our ideas. I don't see us sharing duties. We had a drummer for a long time, and we collaborated with her on the Trust EP, but she's doing her own thing now."
Actor-Caster, like 2009's debut Con Law, was recorded in Washington DC with producer Dan Black."We made both records with our friend and producer Dan Black. We like working with him because he's got tons of analogue tape machines and things like that. They're both recorded in the same way, but I think they are different because on the first one, we spent a lot more time on it. It was the first record together that Grant and I had made. When we came in this time, we had our ideas ready and spent about a month. Previously, we'd come in and out of the studio. This time we knew what we wanted to do, how we wanted to do it, so we just focused intensely on what we wanted the record to sound like."
It's no surprise, then, that the band has seen its share of positive reviews from such luminaries as NPR, The New York Times, The Onion, and the online world in general. Actor-Caster is a record that is multi-layered in its sound—thanks in part to the warm analog-tape recording—yet simplistic in its accessibility. Generationals span generations, reach across genres, and are one Natalie Portman quote away from changing your life, I swear.