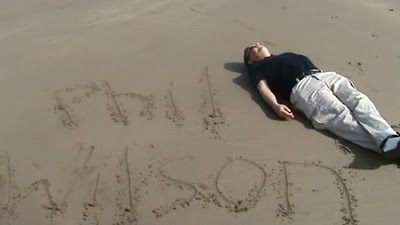 14 February 2011
One of the surprise releases of 2010 was God Bless Jim Kennedy. Not only was this the first proper solo album from former June Brides mastermind Phil Wilson, but it was also the first original material from him in twenty years. Though Wilson had released a few limited-edition covers EP's and singles over the last two years, those singles felt merely like diversions, and not the work of a man whose role in inspiring bands such as Belle and Sebastian and Teenage Fanclub (as well as most of the current bands on his label Slumberland) cannot be denied.
The affable Wilson, however, is as humble as his music as he reflects on his return. "It's good to be back," he says with a smile. "For a long time, it felt like the June Brides had been forgotten—that nobody really cared—but then I saw more and more mentions of the band as being an influence on people. I'd been very down about myself and my songs, but seeing positive mentions gave me a renewed feeling of worth. Around the same time, I got very ill at work with stress, and some people I loved—John Peel, Grant MacLennan, Joe Strummer, as well as some friends—died. It all added up to some sort of massive mid-life crisis! It just seemed to me that being a miserable civil servant in London was maybe not the best thing for me, and that maybe I should have one last rock'n'roll fling before it was too late. So, we sold up, moved to the country, and I got my poor, neglected guitar out of its case."
Though after the band's split in 1986, he recorded three singles for his friend Alan McGee's Creation, but by 1989, he was done. His first few forays into music came in 2008, when he released three cover EPs—Pop (which featured covers of songs by The Cure, Felt, The Field Mice, and Belle & Sebastian), New Wave, and, most interestingly, Industrial Strength, which features covers of Faust, Throbbing Gristle, Kraftwerk, and S/T.
Of course, this direction begs the question, "Why?" "After I stopped doing music in 1986, I really did stop. I felt like a failure, in some ways," Wilson says. "No one seemed bothered at all that there would be no more songs. So I made a conscious decision not to write any—and I stuck to it. I could write the beginnings of a song just about every time I picked up a guitar, but I never followed up on any of them. After a time, I practically stopped playing the guitar, too. So…no more songs. When I came back, it seemed to me that I had to relearn the art of songwriting, and doing a whole bunch of cover versions seemed to be the way to go about it. I really only recorded them as exercises, but, for various reasons, most ended up being released! I'm very happy with most of them—and proud of some of 'em."
Considering the June Brides' sudden import as an inspiration to an eager new generation of musicians, one also wonders why he chose the solo route. "It would have been absolutely easy, and made absolute sense, to come back as The June Brides. So, naturally, I went the other way! I absolutely believe in honesty and integrity, and I felt that I could not call the band "The June Brides" without all the core members being involved. Simon Beesley, the Junies guitarist, was a core part of the Junies' sound, and d he was not involved in this. He has his own band, Municipal. Without him—in my mind at least—it can't be The June Brides. Also, when I started again, it was just initially completely solo, and then with Arash Torabi (bass) and Andy Fonda (drums) who had had nothing to do with the June Brides. Only later did Frank Sweeney (viola) and Jon Hunter (trumpet) start turning up and becoming part of the new band. Even with them on board, I still felt that I would be lying to people by calling it The June Brides, even though it would be 10 times easier to do this if I called the band The June Brides! Sometimes, I am just daft," he says, grinning.
In twenty years, much has changed in the music world he left behind. Upon returing, "finding that the indiepop scene is so vibrant across the world has been a real delight. The connections possible because of the internet have made things a lot easier in terms of finding those kindred spirits dotted round the world. I get emails and letters from people from every corner of the globe, which is fantastic! File sharing seems to have been a huge part of making this music spread—which has been great. Not so great is the fact that file sharing makes it damned hard to sell actual records!"
But when asked what his plans are now, he says wistfully, "I try not to make too many! Let's see what happens. To have an album out after all this time, and to get the chance to play for people in new and exciting countries has been more than I hoped for. I'm just loving the now!"