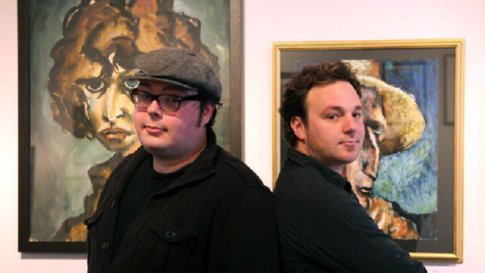 15 January 2013
Few bands have been able to capture diverse influences and produce a consistent and instantly recognized sound such as Mudhoney. The Seattle group continues crafting Stooges inspired punk riffs while bridging the gap between the blues and 60's garage noise. I'm Now, a documentary filmed by Adam Pease and Ryan Short present Mudhoney's beginnings on legendary label Sub Pop and chronicles their brief stint on Reprise and ultimate return to Sub Pop. I'm Now succeeds in showing how the death of grunge rejuvenated the band that some believe are the very definition of the genre.
"Looking back at their story, they really were the first kind of grunge band to get major attention in Europe. They were super nice guys to work with. We started filming in 2009 and in Japan off and on for two to three years," recalled Pease.
The documentary is well paced despite its ambitious attempt to cover Mudhoney's 25- year- history. Featuring contributed archival footage and Pease's intimate interviews, I'm Now allows each member equal input as opposed to other films that merely focus on one musician.
"One thing I was surprised with was their drummer Dan Peters. If you look at a lot of interviews he never speaks. Ever. With us he was very talkative and opened up. He really was just a funny, nice guy. He even said 'Nobody ever wants to talk to the drummer,'" laughed Pease.
Forming from the remnants of Green River in 1988, singer Mark Arm and guitarist Steve Turner have continued to pay homage to their roots without sounding like a mere carbon copy of their sonic forefathers. The moniker suits them perfectly; scenes of debauchery complimented by fuzz infused riffs and Arm's bluesy sneer. Their debut single, Touch Me I'm Sick may have paid more than a nod to The Sonics, but Turner's trademark "anti-solos" were a refreshing change from the arena rock trend.
"I think musically and personally they play by their own rules. They've been able to stay together for so long because they're friends and they are one of those bands with a lot of integrity," reflected Pease.
While Pearl Jam and Nirvana cracked the mainstream and helped spawn "Grunge" as dubbed by the media, Mudhoney soldiered on crafting their own brand on their own terms. As major labels dominated artists and dictated strict contract terms, Mudhoney was seemingly the last Seattle band to get caught up in the singing frenzy.
"I really think Mudhoney's overall integrity will draw people to this documentary. Even when they were on Reprise their music was still high quality," said Pease.
Tomorrow Hit Today was Mudhoney's major label swansong in 1998, but the record boasted slide guitar riffs mixed with haunting imagery and plenty of contempt to go around. Perhaps other bands would have been disillusioned with being dropped by a label but Mudhoney's return to Sub Pop provided creative freedom and rejuvenation.
Pease captured the band's enduring relationship with Sub Pop and dug deep in the archives to reinforce how friendships were preserved during the label's well-publicized financial strains.
"I think Mudhoney's music on Reprise didn't really stray from their style. They seem to get better with each release," said Pease.
Today, there appears to be a healthy respect between Sub Pop and Mudhoney. Pease took the time to highlight that Mark Arm is a dedicated employee with Sub Pop's warehouse and how Turner stated the group was initially very reluctant to leave Sub Pop for Reprise.
Pease agreed that music documentaries often follow careful scripts of a group's humble beginnings, rise to fame, and ultimate downfall. He said he was conscious not to overly focus on any drama and let the band tell its own story.
"Mark was saying how he really hated how most documentaries followed that kind of formula but I think it's really easy for people to play up the drama and dedicate half a movie to the death of a band member or something," laughed Pease.
Mudhoney has been fortunate enough to come out unscathed but Pease was able to capture Mark Arm recalling his drug use, a subject many have been unable to delve into.
"He was really apprehensive at first. After the first time we spoke about it he wanted to just get everything out there in the open about the rumors and stuff. He approved of what we filmed and we just took it from there," said Pease.
Drug use within the "Seattle Scene" was not uncommon. Andrew Wood from Mother Love Bone fell victim to drugs and Kurt Cobain's heroin addiction has been well-documented. Rumors surrounding Mudhoney grew due to a Spacemen 3 cover that appeared on an early EP shortly after their self-titled full-length record. One line in the song made reference to heroin paraphernalia. I'm Now shows Arm reflecting on his usage but Pease doesn't appear to press the issue and all that is left is a viewer gaining confirmation of abuse and an understanding that Arm shows no desire to return to the lifestyle.
In retrospect, Mudhoney appears to have outlasted their peers, creatively and spiritually.
Nirvana ended under tragic circumstances and Soundgarden have only recently re-formed after a long absence. The Fluid recently lost guitarist Rick Kulwicki which prompted Mudhoney to perform a benefit concert and sparked Mark Arm to comment to local press that his death "was a tragedy". The Fluid was the first non-Seattle band signed to Sub Pop but they performed regularly with their peers.
Pearl Jam has recorded new material but this has gone largely ignored by mainstream media. Perhaps Mudhoney's 2008 record, The Lucky Ones is their return to normalcy after the spotlights and cameras have finally left their city.
"Looking back, that whole grunge thing was a phenomenon. It really was a big moment in time but eventually people may have gotten tired of it and it just faded. Nowadays, you have bands that keep doing what they do, no matter what but I think it could happen again in any city under the right circumstances," laughed Pease.
Mudhoney is currently recording a new album due out on Sub Pop this spring. An unofficial live radio broadcast highlighting new material is available online and shows Mudhoney's affinity for down n' dirty rock n' roll to be stronger than ever. Songs such as I Like It Small boast Arm's trademark wit and sly sexual references complimented by Turner's ever-present guitar fuzz. Mudhoney continues to get stronger with time as each member embraces their individual style that has ultimately reminded fans of what rock n' roll should comprise of.
www.mudhoneymovie.com