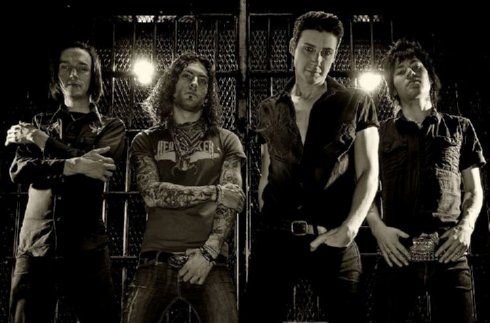 22 December 2012
The LustKillers newest record, That Which Does Not Kill Us is aptly titled due to the challenging circumstances that caused release delays and the ultimate departure of lead guitarist Bryan Wilkinson.
"The record was recorded at the end of a tour my brother did with us on bass. We'd worked up a batch of tunes on the road and went for it in four days. There were endless, nightmarish reasons for the delay I care not to relive," said singer and guitarist Adam Becvare.
The loss of Wilkinson has forced Becvare to takeover all guitar duties, forcing The LustKillers to command the stage as a three piece.
"My bassist Corsh and I have been knocking it out as a three piece. Finally working that out has made things more available. LustKillers did a lot of 3 piece playing leading up to Black Sugar Sessions (previous album) but That Which Does Not Kill Us was arranged with two guitars in mind. It took a bit to sort out but really lets the ears breathe live. I just don't get to connect as much with the crowd as I'm putting so much into the playing," said Becvare.
That Which Does Not Kill Us sounds urgent and tough but ballads such as Throw Away highlight Becvare's ability to craft a memorable melody. He reflected on his newest offering.
"I really used to like how Hanoi Rocks weaved ballads into their albums. A lot of these songs got refined on the 10,000 mile acoustic tour Bry and I pulled off (as Lust N' Daggers). LustKillers is just becoming more of what it already is in each direction. To me, all the great bands could do it all. Strangely, I don't even here the new songs as ballads."
That Which Does Not Kill Us stands as a testament to Becvare's resolve. Having triumphed over the well-publicized split of his previous outfit, The Black Halos, The LustKillers have released a memorable record highlighting all the reasons why they're able to expand on their success and refine their songwriting without pandering to audiences.
"I've been fortunate enough to realize early on, that I play for myself. I play because I love playing. I don't seek admiration or acceptance. I enjoy myself at rehearsal as much as any show. Playing is sacred to me. I can take a lot but if anything messes with my chance to play, I lose it. Any hostility I still harbor stems from those who've messed with that," said Becvare.
In addition to fronting The LustKillers Becvare joined surviving members from Lords Of The New Church for a much-anticipated reunion back in 2003. The UK shows were not always sold out events but one can't argue playing opposite of Brian James to be anything less than an honor. Becvare once stated there may be a second reunion in the works, but progress has been slow.
"Music is a gift and a privilege. All I can do is protect that and surround myself with those who respect it. I'm very protective of doing The Lords again. Brian James and Dave Tregunna deserve it. It's been very frustrating for us to insure it's proper."
He added he has an album's worth of material set aside for James.
That Which Does Not Kill Us won't be released on vinyl proper, but digitally. Becvare expanded on the group's decision to release the record online.
"We were in the process of deciding whether to record the next album now or press product. Since we only make merch for tours, we decided that's the only place people really buy cds or vinyl anymore. Merch is like a trophy. We want the physical cd product to be an interactive trophy. That Which Does Not Kill Us is a collection of songs and stories. That's expressed by its book cover art. The finished product should incorporate that."
The LustKillers have benefited greatly from their strong Internet presence but Becvare expressed drawbacks to society's blind embracing of technology and how creativity can ultimately suffer.
"Technology has lured an entire generation to live in a fictional realm. People seek and settle for false gratification rather than contributing and taking risk in the real world. Its easier and safer to pretend and people get high on the potential rather than soaking up a true experience. Everyone's concerned they're missing something somewhere else rather than making where they are the place to be."
For Becvare and The LustKillers, the stage is the only place they want to be. Extensive U.S. tours has Becvare ready to forge new journeys and share his music with those unable to attend shows.
"At this point I've toured North America and Europe relentlessly. I hope to share the next two LustKillers albums live and get to Japan/Australia/China/Russia, see the places and people I have not seen."
If anything can be learned from the challenges The LustKillers faced, the best way to triumph over negativity is to put the positive in motion and That Which Does Not Kill Us may serve as the group's mantra.
"As for transcending the negative, finally getting my Triumph 955 Triple has been my salvation. Unlike many, I have a lot to sacrifice and I've done so again and again to play. Many got nothing to lose. Doing it and seeing things thru is the best revenge," concluded Becvare.
http://www.lustkillers.com/