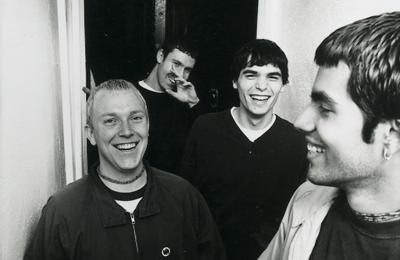 4 March 2013
"Our development as a band was premature and unfortunate," says Texas Is The Reason guitarist Norman Brannon. "At our first show, which we had hoped to be a small gig in the Equal Vision record label's loft, a ton of people showed up, including three major label A&R guys, which only compounded our stress."
It's not surprising that teen culture makers were paying attention to this new band; in the time since the band broke up, Texas Is The Reason earned the dubious honor of being recognized as one of the founding fathers of the then-nascent "emo" scene. When the scene broke at the beginning of the Twenty-first century, it was not uncommon to find the band's sole album, Do You Know Who You Are?, named as an essential record and influence of the genre. Melodic yet retaining the punk spirit, it certainly sounded different than much of what was coming out from the punk scene. Bands like The Promise Ring, Mineral, Joan of Arc and Cursive appeared, and the attention they garnered ensured that something new was developing.
When Texas Is The Reason formed in 1994, their collective members felt tired of the East Coast hardcore scene. They felt ready to do something new, something different, something a bit more substantial. "We found ourselves coming back to the same point: we were playing in bands that had nothing to do with the kind of music we liked, and we weren't making the music that we all preferred to listen to. What's interesting to me is that at the time we're talking about doing something different, we started to notice an emerging scene. We'd talk to our friends we'd met on the road, and they started to say the same thing about how they felt, and how their friends felt. So within the hardcore scene, a subculture started to develop, and they wanted something more than the conservative, rules-driven hardcore scene."
Yet a Sword of Damocles hung over the young band. In the waning post-Nirvana era, major labels were looking for something new, clean, wholesome—something that wouldn't be associated with darkness, drug culture, and the bloody mess of suicide. "When you get three A&R guys talking about the same band, everyone else in the industry will start coming to see you. Here we were, just after our first show, and already it had started to turn into a thing that none of us were prepared to deal with," sighs Brannon." On some level, that really hurt our development as a band, because suddenly we had other things to think about. As a band, we were perfectly happy with where we are. We told ourselves, 'Life's great, we're going to sign to Revelation, and be done with it.' That was our idea, and yet there were people from these major corporations flying in from all over the world, throwing themselves at us, buying us dinner, buying us groceries, paying for hotel rooms when we were on the road. We went through this for two and a half years, listened to their spiels, told them, 'Sorry, we're not going to sign, we're not going to sign,' but after a while, we were worn down, and so one day, we just said, 'Okay, okay, we're gonna sign!' (Laughs) It was a long, protracted decision, an emotional roller coaster, and we were a young band. We were still trying to figure out who we were; it would have been nice to not have such interference with our development."
This constant pressure led the band to the doors of Capitol Records, a label that sensed a forthcoming sea change; while courting the band, the label signed Jimmy Eat World, the band generally considered the Nirvana of the emo movement. "When we were in the bidding war era, I specifically remember telling Capitol president Gary Gersh that the difference between us and Nirvana is that their songs were short and compact and have loud choruses, whereas our songs don't have choruses and are all over three and a half minutes long. He said to me, 'Oh, that doesn't matter, we'll compromise. Give us a three and a half minute song without a chorus and I'll make it a hit!' So when we wrote 'When Rock and Roll Was Just a Baby,' I wrote it thinking, 'okay, Mr. Big Shot Major Label President, I see your challenge!' (Laughs) Then we went and said, 'Okay, here ya go, here's your three and a half minute pop song with no chorus!'
Gersh's response? "When we played LA on that final tour, Capitol was there, and so we played it live. I somewhat smugly asked Gersh what he thought of our song. He said, 'Oh, I think that is the best song you guys have ever written,' which shocked me," laughs Brannon. "I was taken aback; this joke challenge was something they loved. It made me feel really good, it showed that he really believed in us and it gave us a confidence that signing with Capitol was the right decision for us."


What happened next was a shock. In a oft-repeated story, the band created a unique ultimatum: they could sign to Capitol, or they could break up. Considering that one of their favorite bands, Jawbreaker, had been in the same position but chose to sign to Geffen, only resulting in disaster; not only had they created a bitter rift within the punk scene, but the three members found themselves no longer friends.
"I once read an interview with Scott(Winegard, bassist) and the interviewer asked why we broke up, and he said, 'We split because I started to hate my best friends." I thought that was great, because, ultimately, that was true. Things were getting tense, and though at the time we gave the cliched answer of 'creative differences,' which was certainly part of the story, ultimately, that wasn't the case. We cherished our friendships."
After the split, the four members held sacrosanct the legacy of Texas Is The Reason. "It goes back to the integrity factor. We were influenced by Dischord, not only in sound (Note: J Robbins produced almost all of their recordings, including their rerecorded material from last year), but in philosophy. We were protective of the band. Interestingly enough, as time passed, we discovered that both our fans and people in the industry were protective of us as well. Integrity was important, not just to us, but to the people who liked us. So after we broke up, we decided that whatever we do, we would scrutinize it before making a decision." The band would turn down offers for reunion shows, simply because it didn't feel right. The members enjoyed a one-off reunion show in 2006, for the tenth anniversary of the album's release."
Which brings us to 2013, and Do You Know Who You Are has been remastered, reissued, and expanded to include the band's entire recorded output, including two songs slated for their Capitol debut, It Is Happening Again. Two songs, the aforementioned "When Rock and Roll Was Just A Baby" and "Every Little Girl's Dream," were recorded. "We felt like it was unfinished business. We had started working on new material, and had three songs; 'Blue Boy' appeared on a split single with The Promise Ring, but we had never recorded those other two songs."
How, then, was the recording process? With a chuckle, Brannon declares, "The experience was oddly tense!" Having not worked together in a recording studio in a decade and a half brought back some of the concerns that had split the band. Adding to the tension? "Our weekend of recording was right in the middle of Hurricane Sandy, so we weren't sure we'd even survive the session!" Brannon laughs. "We recorded in the hurricane and had to take a day off because we were afraid we would be trapped. That's the ongoing legacy of Texas Is The Reason—there's always drama involved!"
Fortunately, though, the band's recent reunion tour has been an enjoyable experience. "It's different now. We have no pressures on us, so we can go out and play shows and not have these weird things hanging over our heads. We're all adults now, we have adult responsibilities, and we just can't devote our time like we used to."
Those fans may be saddened to know that they consider this to be their final act as a band. "We felt like we had a chapter to close, and recording and reissuing the album closed it for us. Like other bands that split, only to become popular after their breakup, we also felt like we owed it to our supporters to give them one last tour. So many didn't get to see us, and playing for them felt like the right thing to do. It's been a good experience, we've enjoyed ourselves, and when we go home, we'll be content. We've said our goodbyes, we've made peace with our legacy, and we're happy to enjoy ourselves."