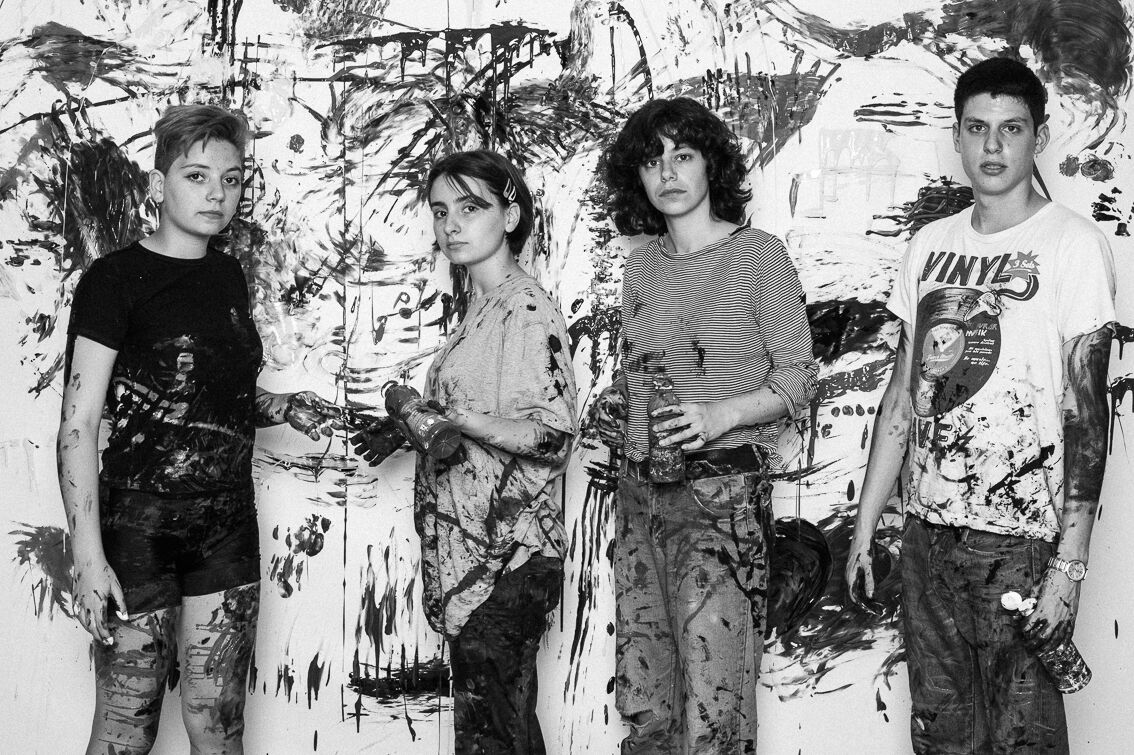 6 September 2017
Photo by Noemí Elias
Since this Catalonian band's debut (2015's self-titled LP on Captured Tracks), it has seen its share of triumphs (several festival appearances including Primavera, La Route du Rock, Pitchfork, etc.), and tribulation. With a new LP in the can, trouble surfaced in the form of a legal entanglement with its Spanish label/management company. According to social media outlets, the band's official statement at the time concluded, "Today should be a very exciting day for MOURN, as we have a new LP ready to release that we are all very proud of. We should be premiering a new track, sharing the album art, talking about our new tour plans and generally all the aspects of working on music that you look forward to as a band." The statement continues, "Unfortunately, we can't share this record with you or with our international label Captured Tracks, as our label here in Spain, who were also our management team, have left us in a position where we legally can't proceed and the LP is effectively held up in litigation. Because (the label) has held all income from us, including advances and royalties paid by Captured Tracks, all performance income from shows as well as merchandise money, we've had to pay for our new record out of our own pocket. Even so, we're not able to send it to our label to press or release and effectively the LP is held hostage, despite the fact that they haven't paid anything to create it and in fact have withheld money expressly paid to us for the purposes of making it. We understand (they have) costs which need to be recouped, but the balance is well out of order."
The repercussions of such a predicament meant no touring while the release of their sophomore album, 2016's Ha, Ha, He. was delayed for almost a year or so. Catching up with band co-founder, guitarist and vocalist Jazz Rodríguez Bueno offers her reflection, "At the moment we cannot talk about all the issues we had to deal with last year, but we can say it all ended in court. We went on a trial against our Spanish label and now we are waiting for the sentence. Captured Tracks supported us a lot during those days, so there's still hope in the music industry. It's true that there are many labels treating their bands like shit, I know some of them here in Spain. This experience made us realize not everyone is here because of music, but it also let us see who were our true friends and that there are still good people in this world." You would be forgiven for thinking the title of the record came as a result of thumbing their noses at their troubles. Jazz concedes, "The album title is more or less related to the problems we had, we wanted to face them positively because they were directly affecting our daily life. So the title comes from William Blake's poem "The Laughing Song". This poem is about innocence and joy and that was what we lost and needed back. So why not 'Come live, and be merry, and join with me, to sing the sweet chorus of 'Ha, ha, he!'"
She references innocence and joy because MOURN came about while all four were incredibly young (between 15 and 18 years old), when they formed. "Carla (Pérez, vocals/guitar) and I met at high school and started playing together." Jazz continues, "We decided to make a band and I told my sister (bassist) Leia (Rodríguez) and my old friend (drummer) Antonio (Postius) to join us. A couple rehearsals later we were at the studio recording our first album." A first album recorded entirely live in the studio with plenty of nods to their '90s alternative rock and punk influences. "Our music comes definitely from our emotions and our daily experiences. One band that inspired me a lot are Throwing Muses. I didn't know about them until I read Kristin Hersh's book "Rat Girl" (Penguin Books). I was curious about her and I searched the band on the Internet. It blew my mind. I didn't know it, but I had been waiting for this band my whole life! I don't think I can experience this sensation again, it felt like once in a lifetime", she confirms.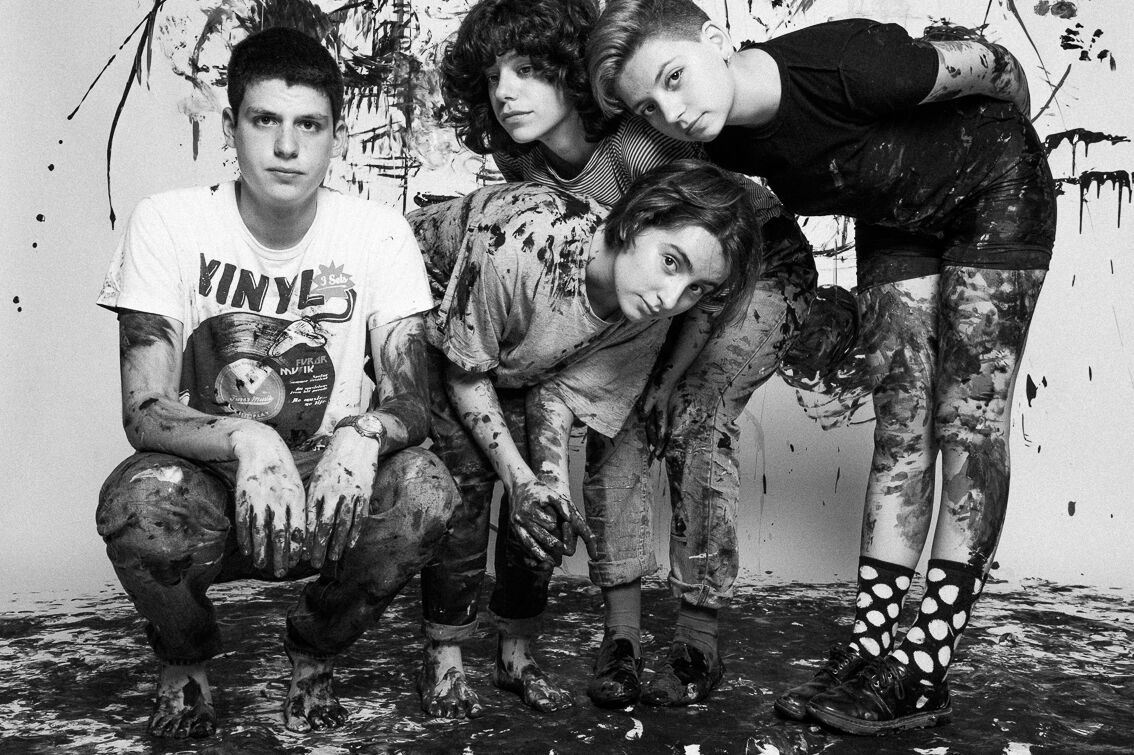 Photo by Noemí Elias
Like their debut, 'Ha, Ha, He.' finally saw the light of day last summer on the Captured Tracks label. Patience was a virtue for both band and label though Jazz cannot contain her excitement at its eventual release. "It's been amazing working with them (Captured Tracks), they are a very good team and we are very grateful. We never thought we would have the opportunity to tour and release our music in the U.S." Upon signing with the label, she confesses, "(Founder) Mike Sniper saw a video of us playing live at the studio and he wrote us an email asking if we were releasing our album in the States. We said we weren't so he said he was glad because he wanted to do it himself. We saw he was from Captured Tracks and we couldn't believe it!"
The summer of 2015, MOURN had their first opportunity to tour the states and her enthusiasm about coming back this month for a handful of dates is hardly containable! Seeing the band in Cleveland and Cincinnati on that first tour, it was evident MOURN would be a band to keep an eye on as, despite circumstances, they left it all on the table. Jazz relates, "You were in Cleveland?! Oh man it was so fun, I think there were like … 10 people? Less? But it was amazing! People were so fun, a guy even offered to bring us fried chicken. We always remember that sign on the door 'Don't feed the crackheads'! We never in our lives saw a sign like that! We found the whole experience very bizarre. The U.S. is awesome to tour, people there have this culture of going to shows, checking (out) new bands, buying records … in some cities we had bigger crowds, in others we had 10 people, but we enjoyed every show we played. We can't wait to go there again, we're super excited!! We've forgotten everything we went through last year; it's all worth it if we can tour again."
MOURN has a cassette EP of covers (and one Ha, Ha, He. holdout), being released this month entitled "Over the Wall" containing selections that exemplify the young band's taste in music. Jazz elaborates, "I always loved The Sound, so we thought it would be cool to play one of their songs ('The Fire') and also Echo and the Bunnymen (you guessed it, 'Over the Wall'). We realized they were two related bands (by genre) so we thought of playing another pair of songs of bands that had also a connection. So we came up with The Replacements ('Color Me Impressed') and Hüsker Dü ('Whatever'). We loved the final result! It was a very interesting experience, we learned a lot through the process. We would listen to the song together and then try to guess what was going on there. With Hüsker Dü it was tough to learn the guitars, we could barely differentiate the chords, so we made it a little bit our own way."
MOURN has surmounted tremendous difficulty over the past couple of years but maintain its angst and sense of humor. With a supportive label here in the U.S., the band continues to persevere against the odds with no hint of stopping any time soon. "We want to keep writing songs and touring, keep playing and learning. I like to record and edit videos as well, Carla is a photographer, Leia loves acting and Antonio is only 100% devoted to music." Lucky for us!
U.S. tour dates
09/06 – Brooklyn, NY – Knitting Factory
09/07 – Washington, DC – Songbyrd
09/08 – Raleigh, NC – Hopscotch Festival
09/09 – Atlanta, GA – Masquerade (Purgatory Room)
09/10 – Knoxville, TN – Pilot Light
09/11 – Columbus, OH – Double Happiness
09/12 – Chicago, IL – Beat Kitchen
09/13 – Detroit, MI – Marble Bar
09/14 – Toronto, ON – The Smiling Buddha
09/15 – Montreal, QC – Pop Montreal (La Vitrola)
09/17 – Los Angeles, CA – The Regent