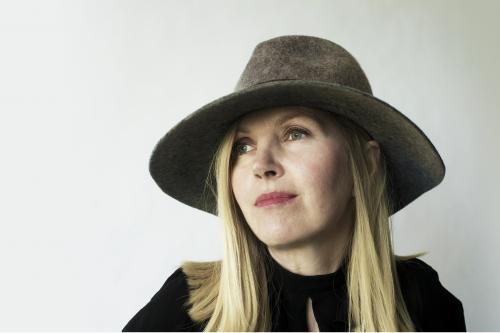 5 July 2015
One of this summer's more pleasant surprises has been Red Kite, the second solo album from Saint Etienne frontwoman Sarah Cracknell. While the trio is known for their cool pop productions that blend past with present—Red Kite is a completely different sort of record. Instead of the coolness of programmed sounds, one finds Cracknell in a completely different place: surrounded by live musicians, with delicate, acoustic arrangements. It's almost a bit stunning to hear her in such a way.
"We knew we were going to have some time off—Pete was working on a score, as well as DJing, while Bob was busy writing books and things—so I sort of fancied something of my own. There were times over the years when I thought of doing a solo record, but then I'd tell myself, 'Well, I just did Lipslide recently, no need to do another one so soon, don't want to overdo it,'" she says, laughing in advance of her next thought. "But then I realized that seventeen years had passed, and I couldn't really use that excuse anymore!"
"I've been making music for a long time now, so I wanted to do something different, something using live instruments, to break away from making programmed music. Obviously I love working with programmed instruments, but I hadn't really worked much with musicians strictly using the real things!" she laughs. "I've always dreamed of what it must have been like, the creation of some of my favorite records from the past, the work involved in something like a Phil Spector or a Brian Wilson production," Sarah smiles. "Now I know! We would sit around with guitars and pianos and hammer out the songs, and then we'd take it from there."
Were you one of those acoustic guitar players, then?
"Oh, heavens no! I'm completely useless when it comes to that sort of thing—can't play a single instrument!" she laughs. "And really, it was an interesting challenge working with real people and instruments. It's so easy to rely on studio trickery and electronic assistance when you're making programmed music, but you really don't have that luxury. And really, it's sort of nice—in its own challenging way—to work in a way that has a lot more variables in it as you work.
"What we did, we did rather quickly, it was still a different sort of thing, and a bit more complex than I'd expected—but in a good way. Working with Carwyn Ellis was a pleasure—he'd done some great things with Gemma Ray and Edwyn Collins, and we got on well; I really love the warm tones he got on songs. He has this way of arranging that's throwback yet still sounds quite contemporary, which is important. Sounding too 'retro,' as it were, can quickly start to sound quite cheap. But what we did, it was a good collaboration, and I'm more than pleased with what we made."
Red Kite features a number of other collaborations as well. "Well, a solo project, it's a good excuse to work with your friends, isn't it? Nicky (Wire, from Manic Street Preachers), he's just got that wonderful voice, and I've always wanted the opportunity to work with him. He's the Lee Hazlewood to my Nancy Sinatra! With The Rails, I've known them for some time now; James Walbourne has worked with Saint Etienne before. One day when we're working on "Take The Silver," I'm feeling it's needing something extra, and I thought of them. They were excited to participate, and I think the results speak for themselves, don't you?"
Yes, quite.
One song, however is a special collaboration; "Underneath The Stars" is a co-write with young folk musician Noah Kelly—who also happens to be Sarah's nephew. "He's always been a budding musician, for years now, and I've always encouraged that. Over the years, he would play songs for me here and there, and he'd always ask me if I'd consider recording it. He has such a lovely voice, so I'd tell him that it was perhaps more right for his voice. He heard I was working on a solo album, and he started asking if I'd do something of his. I didn't want to be the mean Auntie and be stern about it, and i thought, 'Since this is me doing something different, why not consider it?' He would send me songs, and I liked the song when I heard it, and we worked together to make it better, and I quite like how it came out. He's an excellent songwriter and I'm immensely proud of him, as any good Auntie would be, and it was nice to work with him."
With the release of the album, Cracknell's got a few things planned. "Carwyn helped me assemble a live band, and we've played a few times, and so we're going to do some small shows here and there. I don't know how much we'll do; I'd love to do some overseas dates, but that might not be feasible, so I'm going to enjoy it all for the moment. At one of our recent Saint Etienne shows, Pete said to me, jokingly, 'So, how are things going with your other band,' which may have been his roundabout way of saying, 'So, Sarah, isn't it time we started doing something again?'" Sarah laughs the infectious laugh that's punctuated the conversation. "So I think we may just start working on a new album after a bit, then!"
Red Kite is out now on Cherry Red