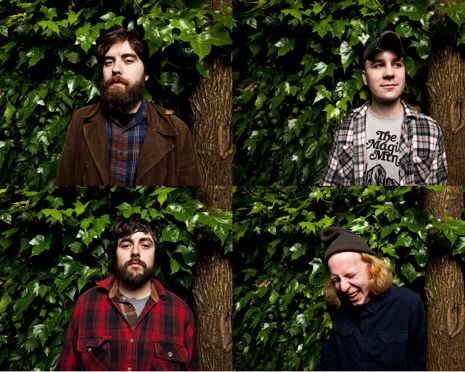 15 November 2010
There's always going to be a smart-ass. In a recent interview, Seattle's The Moondoggies, were discussing what they felt about the comparison to a particularly legendary 70s blues-rock band. "If you don't want to be compared to the Allman Brothers, shave," one quick-witted wiseacre immediately posted.
But for The Moondoggies, such comparisons are easy to make; the three-and-four part harmonies found throughout do help to recall bands of an older vintage, such as Crosby, Stills, and Nash, The Doobie Brothers, Neil Young, and Lynyrd Skynyrd, but their sound is also echoed in contemporaries such as My Morning Jacket, and sort-of label mates Fleet Foxes and Blitzen Trapper, who are signed to label Hardly Art's parent company, Sub Pop. Not that it particularly bothers guitarist and singer Kevin Murphy, though. "'Classic rock' seems to imply to some lacking relevancy; however, time wise, it isn't that old. I think it's just rock music. Whatever genre, the goal of a good song is timelessness, whatever time you live in. The goal is to just vent, and I believe if done honestly, it'll reach people."
Then again, listening to Tidelands, one might expect that The Moondoggies are old pros at getting in the van for months at a time. "We'd been playing for almost 3 years already, mostly small bars and the garage. We're just now developing our live chops, as far as being interesting to watch and not just a band that performs its album. I like the idea of developing into that kind of show; it's just experience over time and growing."
Tidelands does hearken back to the era of live bands releasing albums that are more in tune with their live show, written whilst on the road and made for the express purpose of performing it live, a la Jackson Browne's Running on Empty. Murphy, however, doesn't necessarily agree with that assessment. "That's weird, I thought (2008's debut) Don't Be A Stranger had a "road" feel, and Tidelands has a "sit in your room" feel. "We Can't All Be Blessed" isn't really possible live, and it has to be open to interpretation. I wrote a lot of Tidelands about not wanting to isolate myself too much while buckling down. I feel like Don't Be a Stranger is a lot friendlier. We've just sort of started becoming a consistent touring band so I think the kind of album you mentioned is likely our third full length."
Still, what is obvious is that The Moondoggies' style has matured nicely between album one and two. What Don't Be a Stranger hinted at—heavenly harmonies, tight arrangements, and some fine organ work—simply floods over on Tidelands. Yet Murphy thinks that the difference in recording "wasn't too drastic," other than working with legendary Seattle-area producer Phil Ek and The Fastbacks' Kurt Bloch, as well as with their previous producer, Erik Blood. "The only difference, really, was we knew in advance that we had a label, so we had time to experiment with some sounds and fleshing out a few songs."
Whether you appreciate the band's fresh take on classic sounds, or you find the retro-hippie/Southern rock trend annoying, one thing is for certain: The Moondoggies have hit upon a nice balance of tradition and contemporary influence. Case in point: on their current tour, they have taken to performing Crazy Horse's "Downtown." That the song could easily pass as an original composition could be taken as a sign that they're doing something right; long may their band run.
And as for the sarcastic commentator? Murphy has one thing to say: "Ha! I count one beard in the hotel right now. So take that!"