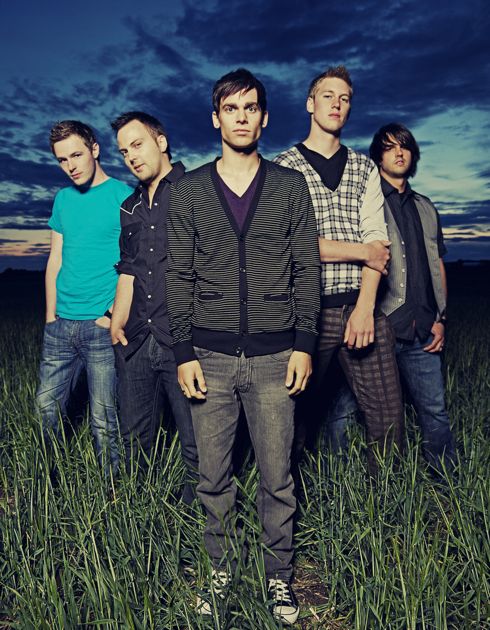 9 January 2011
One of the fundamental aspects of art is the emotional connection one forms in reaction to it. One of the reasons "loud fast rules" has always had an appeal to youth is that fast guitars represent energy, yelling voices represent anger, and mixed together, this volatile mixture helps to recreate (and thus relate to) the experience of teenage life—a mixture of changing hormones, maturity, and passion that is uniquely youthful. The Sky Life is a young Canadian band, and are a young band with a mission. That their records would (and should) appeal to a young audience should not distract for the well-written, thoughtful, thought-provoking and positive lyrics found underneath gray, sometimes melancholy arrangements.
Their debut album, Dimes and Discourses, was released in 2008, and started off as essentially a bedroom band, led by lead singer Justin Carter's discovery of the possibilities for a young musician. Musically, it's not unlike bands like Dashboard Confessional; emotionally heavy songs enhanced by minimal arrangements. "The songs came slowly as i went through various stages of life from school, to military, to travel and personal changes. In the summer of 2007 I was introduced to the recording world. I learned how accessible the recording gear is today. I decided to just jump into it, recording all the songs I'd been working on over the last four years. Dimes and Discourses is a record not only of my thoughts and feelings in song, but also a record of my beginnings in learning production and engineering. This allowed me to have complete freedom to portray the songs just how I would like to."
Since that self-release two years ago, things have happened: they signed to Deep Elm, toured, and went from the bedroom to the world. This change is evident in their recently released second album, Roots and Wings—an album that is louder, more dynamic, and takes the moody tone of the debut and runs it through a Technicolor filter—with the sound taking on a deeper, more atmospheric and more colorful texture, not unlike bands on their label, with a poppy sound that reminds, on occasion, of Travis or Muse.
Though darker in tone, Roots and Wings also serves, in its own unique manner, as a follow-up on the ideas and themes found on their debut. "While the first album was a reflection of my confusion with self, society and religion," states Carter, "this album is a declaration of the freedom found through questioning. It should have a sense of wonder and positive outlook to it. I believe the writing and recording of the first album influenced me greatly, changing my feelings and outlooks on life. Roots and Wings, however, still points towards what's up there, its merely pointing towards the fact that there is much to explore."
The Sky Life, however, have already moved into a new direction, for even though they have only just released their second album, they are currently soon to release their third album, Under These Closed Eyes, out later this spring. "It's more like the first album, it songs a little more bedroom pop like. Its a little more ambient and certainly has an electronica feel to it. At the time of its creation we were really amazed with the new possibilities of technology, we wanted to explore it. As far as message and lyrics go, I feel very, very connected to this album. The lyrics are very intimate, each song pointing to a specific moment in my life."
But, to Carter, that's the point; to him, healing is one of music's many uses. "Music is certainly a way to connect the world in empathy towards one another. A good song will massage the brain, sending vibrations that sync with the emotion of the listener to the emotion of the song. When this happens, a truly transformational experience can take place. Music can make a life changing difference."