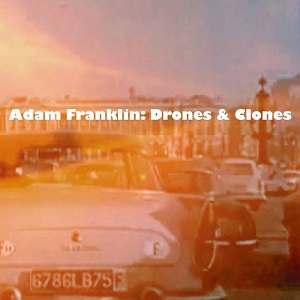 5 February 2020
The Oxford based Swervedriver have continually delivered a delicious blend of grunge-gaze splendor since 1989. Although they took a hiatus at the end of the century, they returned in 2007, and have continued activity since. That is not to say the individual members have remained within the perimeters of the band. Instead, members of Swervedriver have engaged in acclaim-receiving side projects since their reactivation. None more so prominent than guitarist Adam Franklin. 
Since 2007, Franklin has released a number of solo albums, starting with Bolts Of Melody (2007) which also lent its name to his touring outfit. However, it is his fourth, and most interesting album that is getting a much appreciated vinyl release on March 27. The 2013 release, Drones And Clones which originally arrived as a download via Bandcamp, gets a commendable physical format release in the shape of a limited, 140gm blue vinyl Lp. 
This is interesting because it is an album made up of instrumental tracks like the name suggests. Billed as '10 songs, no words', Metal Machine Music this is not, as the album is electrically charged with both energy and melody. The tracks themselves will be familiar to fans, as they are selections pulled from his pre-2013 offerings, which manage to stand on their own merit minus the vocals. In truth, the sound captures the same thematic passions, hurtling it towards the listener and giving a different dimension to familiar sounds. 
Opening with sizzles of strings, "Two Dollar Dress" greases the album's wheels beautifully. The guitar patterns start to flow with an aching positive motion. Following with the cinematic "Lord Help Me Jesus, I've Wasted A Soul". A slow tempo atmospheric assault, which builds in intensity as it unfolds. The minimalist "Mary Gunn" remains methodically lush, relying on some clean-picked chiming to pronounce its beauty. 
The phased guitar crank of "It Hurts To See You Go" becomes more rampant within a playground of ethereal sounds. Becoming something more vicious than in its original incarnation on Spent Bullets. The subtle shoegaze, wah-wah wildness of "Big Sur" gives a nod to Hendrix at times. Though, the selection of these tracks used as an instrumental song cycle becomes more understandable. They simply compliment each other. With guitar assaults followed by blissful constructions such as "Morning Rain", while less in-your-face that the previous there is still plenty of distortion flowing. 
The version of "Carousel City" is wonderfully dramatic as it shifts tempos and breathes passionately. With the closing "Memory Laughter" the listener is given a piece of music that vibrates a stream of unique consciousness. A blend of sci-fi shuttering noise over soft melodies that rise and fall with added instrumentation. Joining together to collide towards the finale. A fitting ending to an album that is something that deserves the organic touch of a stylus needle. 
Tracklist; 
1.Two Dollar Dress 
2.Lord Help Me Jesus, I've Wasted A Soul 
3.Mary Gunn 
4.Walking In Heaven 
5.It Hurts To See You Go 
6.Big Sur 
7.Morning Rain 
8.Guernica 
9.Carousel City 
10.Memory Laughter
For more info and to pre-order;
Bandcamp
Facebook
Website