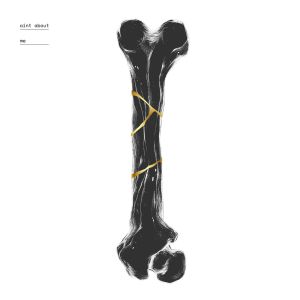 14 December 2020
"As crazy as it sounds / we all made of music." – "when I die play my bones like a balafon arpeggio"
This brief lyrical statement seems to be the artistic vision of the experimental music project Aint About Me. Our existence is a form of music, with thought and language being the expression/translation of all that we experience.
Helmed by wordsmith extraordinaire Lukasz Polowczyk and based out of Berlin, Germany (although Polowczyk used to reside in New York City), this outfit unveiled their meditative, mesmerizing, metaphysical, and poetic self-titled full length at the end of November.
Polowczyk is joined by premier jazz and electronica musicians Tobias Preisig (violin), Peter Eldh (bass, synths), Simon Spiess (woodwinds, synths), Ramón Oliveras (drums, percussion), and Rider Shafique (punchline), with Benedikt Wieland (bass) on cassette format, and with Jan Wagner taking care of music production, engineering, and mixing duties.
The Aint About Me ensemble create an unusual and entrancing stylistic hybrid, melding atmospheric ambient music with jazz and symphonic/classical music accents and a gentle flow of deeply contemplative, trip-hop-derived spoken word.
The vibe is relaxing and restless all at once; soothing and calm on the surface, but searching and urgent underneath.
"I could tell my story in a thousand and one ways / and none of them would be the same / but all of them would be true…" – "let's kiss and forget"
Each composition is an exploration of the thought process through time, finding meaning in daily life ("writing words is like throwing stones at the sun"), relationships with others ("watch my hand move as I pocket the blues you see nothing"), and the inner psyche ("happiness is a long equation").
Polowczyk speaks his truth on this album, sparked by vivid memories, hazy reveries, and concrete experiences. It's a deeply personal journey, but also relatable as he boldly navigates what we all face in life, but maybe don't pay enough attention to.
The spoken word constructs are deconstructions that get down to the elemental of an individual to discover what's at the core (love, curiosity, hope, and wonder in the main) – the universe, the planet, family, and yes, even the self – in order to better understand how to live life in the best possible way.
Soundscapes are ephemeral, amorphous, and expansive, yet lyrics-wise the songs are visceral, rooted, and connected to the bigger picture. This yin/yang balance is delicate, but there is a resilient strength to Polowczyk's rich, calm vocal delivery and resolute viewpoint that is reassuring.
"I woke up from a dream / that was empty of all dreams / and I reassembled my abode / everything glued together with something gold" – "the day I powdered and snorted by black bones"
Polowczyk is a knowledgeable narrator guiding the listener through the mysteries of the human mind and emotions. Supported by the absorbing sonics, he sublimates both the everyday and the intangible into a transporting philosophical experience.
Purchase/Stream Aint About Me at Bandcamp