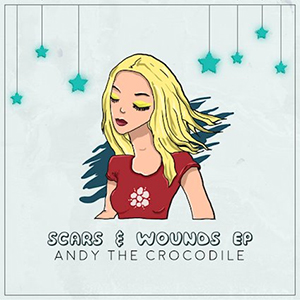 3 June 2019
Andy The Crocodile is the stage name of Anand Manivannan, a singer-songwriter from Chennai, India. Several years in the making, his debut EP Scars & Wounds is an artful and thematic look at the ways in which people leave indelible marks on our own lives. Andy's style is largely a contemporary brand of indie pop, but he gets there in a unique way as his songs are an interesting mix of everything from '40s jazz to '70s hard rock. The backing vocals sound like an old-fashioned barbershop quartet while the guitars often call to mind the guttural swagger of Jimmy Page.
The beginning of the lead single "Hope" sounds as if Jason Mraz had traveled back in time to record an old 78 rpm record, and it contains some wonderfully poppy Beatlesque melodies. "Sleep Well My Child" has a beautiful, lighter than air lullaby quality that is reminiscent of Paul McCartney's early solo song sketches, and "Just Another Love Song" has a similar quality as well. But it is the six minute track "The Whammy Girl" which is the true highlight here. What begins as a quirky pseudo-Country ramble quickly erupts into visceral Zeppelin territory with some fantastic soloing from Andy.
Scars & Wounds, which is out June 8th, is a tiny but wonderful glimpse at a burgeoning new songwriter who has everything it takes to find a completely original voice of his own.