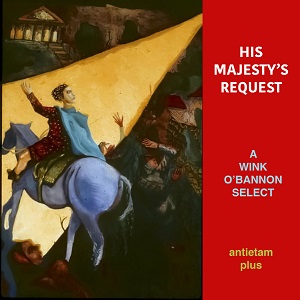 23 November 2021
The late guitarist Matthew "Wink" O'Bannon was best known as axeslinger for nineties rockers Eleventh Dream Day and Bodeco, but there was much more to his work than that. In his hometown of Louisville, Kentucky, he was also a teacher, mentor and archivist, an expert on his city's much-lauded music scene with a personal history going back to the early days of American punk rock. His passing from cancer in 2020 was a major blow to his friends, family and the scene of which he had long been an integral part.
Organized by Antietam leader Tara Key, His Majesty's Request began as a benefit album to raise money for O'Bannon's treatment. But the guitarist died before the project could be completed, and now it exists in support of two music-related Louisville charities: "Girls Rock Louisville":http://girlsrocklouisville.org and "Amped":http://ampedlouisville.org. Consisting of songs chosen from a list of favorites Key extracted from O'Bannon before his death, His Majesty's Request collects recordings made by his friends and students over the last year, with Antietam serving as backing band on two-thirds of the tracks.
Many of the songs seem like obvious choices from a music nerd, especially one with a penchant for the sixties. The record opens with Freakwater's Catherine Irwin and Will Oldham taking on Donovan's "Hurdy Gurdy Man" in an appropriately psychedelic reading; Oldham reappears later with Slint's Todd Brashear for a lovely version of George Harrison's "Beware of Darkness." Tara Jane O'Neil (Rodan, The Sonora Pine, Retsin) croons Burt Bacharach's much-recorded "This Girl's [Guy's] in Love With You," while Yo La Tengo leader Ira Kaplan sings the Kinks' "Tired of Waiting For You." O'Bannon mentees Juanita, a Louisville garage rock band nearing their thirtieth anniversary, stomp faithfully through Tommy James' "Crystal Blue Persuasion." Sue Garner (the Shams, Run On, 75 Dollar Bill), James McNew (Yo La Tengo, Dump) and David Grubbs (Bastro, Gastr Del Sol, Bitch Magnet, Squirrel Bait, etc. etc.) essay The Left Banke's "Walk Away Renee," reportedly O'Bannon's favorite song, and sung with stately beauty by Garner.
But there are some more offbeat choices as well. A Joy Division cover isn't a surprise, but rather than an obvious pick, it's the menacing "Shadowplay," rocked nicely by O'Bannon's old Eleventh Dream Day boss Rick Rizzo. The obligatory Beatles cover isn't one of the (many) monsters, but the A Hard Day's Night gem "The Night Before," given a cheekily reserved take from Tengo's Georgia Hubley. The New York Dolls' "Vietnamese Baby," bashed through by Chip Nold of Babylon Dance Band, sits in for a more prosaic choice. Other punk representatives come the Clash and the Ramones, but, again, aren't what we might expect: "English Civil War," performed faithfully by No Excuse's Carter Suter, and "Commando," blazed by Antietam. "To Hell With Poverty," given a dramatic rearrangement by EDD/Freakwater's singing drummer Janet Bean with Rizzo and Mind Over Mirrors' Jaime Fennelly, might be a standard choice from the Gang of Four catalog, but that band is covered so little it still stands out as unusual.
To really round out the breadth and depth of O'Bannon's taste, the collection includes a pair of jazz tunes. Antietam co-founder Wolf Knapp contributes a beautiful reading of Charles Mingus's "Goodbye Pork Pie Hat," itself an elegy to a fallen musical figure (saxophonist Lester Young), while multi-instrumentalist Douglas McCombs (EDD, Tortoise, Brokeback, the For Carnation, Boxhead Ensemble, among others) lays down a heartfelt rendition of late avant-jazz guitarist Sonny Sharrock's ballad "Who Does She Hope to Be?" The album ends, appropriately, with a composition by O'Bannon himself: the languid rocker "Hundred," from his 1993 solo album Wink, performed by Antietam as if it was written specifically for them.
His Majesty's Request is one of those rare tribute albums that gets everything right: artistically expansive, lovingly produced, respectful towards its subject without being slavish about it. This record is truly a labor of love for all concerned, and that it supports such worthy organizations as well makes it as perfect a tribute to Wink O'Bannon as could be imagined.