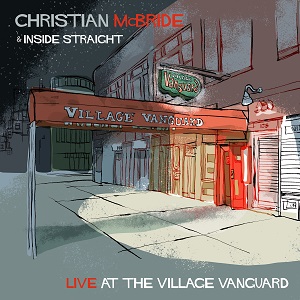 22 November 2021
As musician, composer, bandleader, artistic director of the Newport Jazz Festival and host of NPR's Jazz Night in America, bassist Christian McBride is practically the face of contemporary jazz. He also leads five different groups that range from fusion to big band to experimental jazz, and that's not counting his high profile sideperson gigs. But at least once a year he comes home to swinging acoustic hard bop, leading his four-piece band Inside Straight at the Village Vanguard in December. The appropriately-named Live at the Village Vanguard (his second album with that title) captures a particularly fruitful gig in 2014.
Leading pianist Peter Martin, saxophonist Steve Wilson, vibist Warren Wolf and drummer Carl Allen, McBride kicks off the record with Wolf's "Sweet Bread," a speedy showcase for everyone's chops within a swinging, melodic framework straight out of the mid-60s Blue Note playbook. Indeed, that's pretty much the modus operandi here – gather everyone around a tune, let Allen drive the rhythm, and trade solos. The results are far less prosaic than that clinical description, however. Tracks like McBride's "The Shade of the Cedar Tree" and "Uncle James," Wilson's Maya Angelou tribute "Ms. Angelou" and Wolf's tour de force "Gang Gang" soar on the strength of both the writing – challenging for the musicians, accessible for the audience – and the playing, particularly from Wolf and Martin. The entire band blows it out on "Stick & Move," the explosive closer.
Though he does get to show off on "Stick & Move," McBride concentrates more on his role as band director, rather than lead player, using the musicians as his instruments. The players don't push the boundaries stylistically, but that's also not Inside Straight's job. Instead, Live at the Village Vanguard demonstrates how, in hands as right as McBride's, straightahead jazz can still be as fresh, exciting and mind-blowing in the twenty-first century as it's ever been.