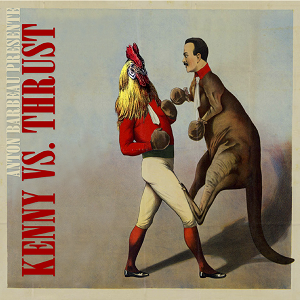 14 January 2020
The right attitude from the musical anomaly that is Anton Barbeau. As always, it is a pleasure to hear new music from this effervescent talent. His latest offering comes by way of Los Angeles based Big Stir Records escapes to audiences on January 24, under the title Kenny Vs.Thrust. The title, as curious as it seems makes sense as the album unfolds. The titled characters- Kenny his backing band in the US, whilst Thrust is Anton's band across the Atlantic in the UK. However, both appear on this album, giving extra scope to the release, and weighing in with different techniques, albeit under the density of some savage synth courtesy of the man himself.  
Remaining relevant in the ever-changing landscape of music seems effortless to this Sacramento styled Julian Cope. He appears to thrive on pushing boundaries, and here Anton has let loose a collection of songs which are not only strong, but reach back to his younger years. Kenny Vs.Thrust . From the outset, and the cracking "Wire From The Wall" the proof is in the assaulting guitar crank. A track which chugs away as if a locomotive managing to stay on the rails. Hunkered in a post-punk world where the vocals of Anton give a dramatic edge of goth to the proceedings. 
Moving onward into the upbeat "Land Of Economy", with a tongue-in-cheek view of modern society, and our impatience to worry about the small things, while trying to avoid wider issues. "Beautiful Bacon Dream" is driven by the simplest of riffs while a full on wall of distortion builds with the vocals, the guiding light of lyricism through this mini-adventure. The clean chiming of "Jingle Jangle" edges close to a commercialism, but only slightly. With its lush arrangement, it manages to break into different textures than preceding tracks. There is a slight air Marc Bolan to Anton's vocals on "Clean Clothes In A Dirty Bag", the acoustic-driven stomper is extremely enjoying. As it flows into "Haunted In Fenland", the melodic urgency becomes ecstatic, without challenging the listener. 
Kenny Vs.Thrust continues with one of the standouts "Popsong 99", the venomous fragility of Anton's voice becomes as addictive as the beautiful power pop that forms the backdrop. Similarly to the Beatlesque, late-sixties thud of the curiously wonderful "Mahjong Dijon". Finishing with "Burning Burning", an eclectic ballad, that is vast in scope, and the perfect finale. Ultimately, Anton Barbeau has kicked off the new year with a solid album, and the use of two bands lends a fine balance, and depth to the overall sound. What is pitted as the first go-to release of 2020 delivers on the promise, and then some. Though, one thing is certain, a year from now this release will find its way into those annual 'best of' lists. 
Tracklist; 
1. Wire From The Wall 
2. Land of Economy 
3. Beautiful Bacon Dream 
4. Jingle Jangle 
5. Clean Clothes In A Dirty Bag 
6. Haunted In Fenland 
7. Back to Balmain 
8. Popsong 99 
9. Tidy Up Yourself 
10. Mahjong Dijon 
11. Burning Burning
To Pre-Order; 
Website
Facebook