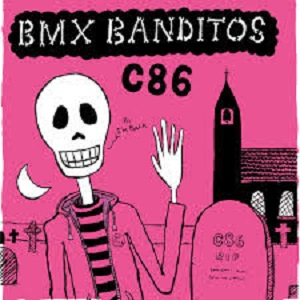 11 March 2020
"If I could be in any other band, it would be BMX Bandits." Kurt Cobain
Unrelenting, unequalled, and wholly essential. The 1989 debut studio  masterwork by the influential BMX Bandits returns for the first time on vinyl since 1990. An epic RSD treat for those seeking quality. C86 has become a cult of it's own brilliance, a record which deserves a celebration thirty-years after its initial release. 

The Scottish
BMX
Bandits' have a refined  sound that exists somewhere between the
Pixies
and 
The LAs
. Melodic attacks with swagger, mixing power pop, punk and alternative rock. All these cohesive styles while remaining in a mode of emotion, with an edge of menace even at their most reflective. A gathering of vicious melodic work against pounding drums, a zeitgeist for grunge, britpop and all the came after. 
BMX Bandits came together in 1985, led by the ambition of songwriter, and lead vocalist Duglas T Stewart from the remains of The Pretty Flowers. Joined by Teenage Fanclub's Norman Blake, and Francis MacDonald. C86 was recorded around the same time as the TFC's A Catholic Education. Two albums which have become recognized as legendary outings, intertwined by a creative prowess which remains stylishly realized three decades later. 

Across the twelve tracks
BMX
Bandits let loose with a driving rhythm, as the melancholic voice of Duglas T Stewart draws the listener in. On playback
C86
is still as fresh sounding as ever, not suffering from aging. Tracks such as "Disco Girl", "Right Across The Street" and "Top Shop Girl" sparkle with instrumentation and dreamy vocals. Whilst ths haunting depth of "Rimbaud & Me" becomes poignantly painful with an optimism pulled from the abyss. This is a pisce of work for lovers of music regardless of genre. 
Tracklist: 
Side One; 
1. Right Across The Street (Duglas & Norman) 3:35
2. Top Shop Girl (Duglas & Norman 2:13
3. Rimbaud And Me (Duglas & Francis) 3:24
4. Yo Yo Song (1969) (Unknown) 0:17
5. Disco Girl (Duglas & Norman) 2:49
6. Disco Daze & Disco Knights (BMX Bandits) 0:35
7. Your Class (Duglas) 2.33
8. Disco Girl II(Duglas & Norman) 2.05
Side Two; 
1. Whirlpool (Duglas & Francis) 3:53
2. C86 (Francis & John) 1:56
3. On Somedays (Duglas) 1:51
4. But Tonight (Duglas, Francis & Norman) 3:41
5. Let Mother Nature Be Your Guide (Norman) 2:30
6. Heaven's Daughter (Duglas & Norman) 3:29
For More Info; 
Facebook
Website