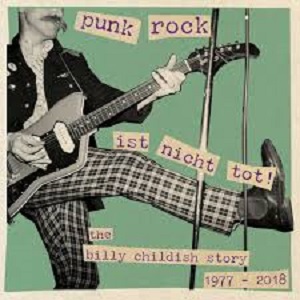 5 July 2019
Billy Childish, perhaps the most underrated and brilliant musician to surface in the United Kingdom since the sixties' heyday of originality. He is the epiphany of what the term 'Punk' meant and continues to inject the most revolutionary music onto airwaves long after the 'Post' word came into circulation. Perhaps he is punk, where others faltered and sought charted activity Childish kept the sensibilities alive. He is Britain's very own Richard Hell, a painter, author, poet, photographer, filmmaker and musician. Which is why this latest 48 track assault is welcomed with open arms. Punk Rock Ist Nicht Tot 1977-2018 is an atomic bomb with detonates from the opening of "Whatcha Gonna Do About It" and sends a shock wave that only subsides at the closing of "CTMF".
With a sound somewhere between The Kinks and The Damned, Childish was the uncompromising catalyst for the Medway sound of music which sprang up in Britain and influenced what became the nineties Brit-pop movement. Here however, on Punk Rock Ist Nicht Tot 1977-2018 is the one stop shop for the very best of Billy Childish adventures and incarnations. A devilish dive into social commentary, like a punk Woody Guthrie Childish does not hold back his angst nor frustration, spewing his clever lyricism with no subtly. Such as the "Brimful Of Hate" and The Buff Medways "Unable To See The Good".
Indeed, almost all of Childish bands and reinventions are Included, the explosive The Milkshakes and The Mighty Caesars to Thee Headcoatees along with his latest project CTMF. But the tracks sail by with intensity, running into one another and highlighting the power behind the eyes. The hate-filled sonic "Kray Twins" by The Pop Rivets runs seamlessly into the melancholy and feedback soaked "Love Can Lose". The machine gun artillery of the fantastic "Joe Strummer's Grave" by The Musicians of the British Empire is one of many standouts alongside the sublime "Snack Crack". Childish has brought the sound and sensibilities of punk screaming into the 21st century. The rockabilly of "Evil Thing" is a harmonica driven slice of pleasure, and "Davey Crockett" with its "Louie Louie" type-structure by the all-female (plus Childish) Thee Headcoatees is brilliant with its nod to The Ramones.
Throughout the pleasures of Punk Rock Ist Nicht Tot are indispensable, hit home with the hammer of noise, though sea shanties in the style of "Muscle Horse" by Childish and Sexton Ming might be a tongue-in-cheek stretch for some. Though the utter brilliance of others such as "The Man With Gallow Eyes" by The Chatham Singers more than make up for any musical deviations. Regardless of the outfit name it is still the same emperor in sonic clothing, always enjoyable and pulsing with the voice of the working man.
Track list:
1 Whatcha Gonna Do About It (Live), The Pop Rivets
2 Kray Twins (Demo), The Pop Rivets
3 Love Can Lose, The Milkshakes
4 I'm Out of Control, The Milkshakes
5 You Make Me Die, Thee Mighty Caesars
6 The Double Axe, Thee Mighty Caesars
7 Come Into My Life, Thee Mighty Caesars
8 Cowboys are Square, Thee Mighty Caesars
9 I feel Like Giving In, The Delmonas
10 Brimful Of Hate, Jack Ketch And The Crowmen
11 Davey Crocket, Thee Headcoatees
12 Girl From '62, Thee Headcoats
13 All My Feelings Denied, Thee Headcoats
14 Punk Rock Ist Nicht Tot, Thee Headcoats
15 An Image of You, Thee Headcoats
16 Evil Thing, Thee Headcoatees
17 Wild Man, Thee Headcoatees
18 Hurt Me, Thee Headcoatees
19 I'm Hurtin', Thee Headcoats
20 Step Out, Billy Childish and Holly Golightly
21 Upside Mine, Billy Childish and Holly Golightly
22 I Don't Like The Man I Am, Billy Childish And The Singing Loins
23 Muscle Horse, Billy Childish and Sexton Ming
24 This Wondrous Day, Kyra
25 Rum and Coca Cola, Wild Billy Childish And The Blackhands
26 Mr Hitler, Wild Billy Childish And The Blackhands
27 Archive from 1959, The Buff Medways
28 Troubled Mind, The Buff Medways
29 Unable to See the Good, The Buff Medways
30 Strood Lights, The Buff Medways
31 The Man with The Gallows Eyes, The Chatham Singers
32 The Angel of Death, The Chatham Singers
33 Medway Wheelers, The Buff Medways
34 You Piss Me Off, The Buffets
35 Joe Strummer's Grave, The Musicians of the British Empire
36 Snack Crack, The Musicians of the British Empire
37 Christmas 1979, The Musicians of the British Empire
38 Polygraph Test, The Guy Hamper Trio
39 We Spartan Dreggs (Be Fine), The Spartan Dreggs
40 Headlong Fly the Achaeans, The Spartan Dreggs
41 A Shropshire Lad, The Spartan Dreggs
42 A Song For Kylie Minogue, CTMF
43 In A Parallel World, CTMF
44 Something's Missing Inside, CTMF
45 All Our Forts Are With You, CTMF
46 Cadillac, The Dear Watsons
47 It's so Hard to be Happy, The Shall I Say Quois
48 CTMF, CTMF