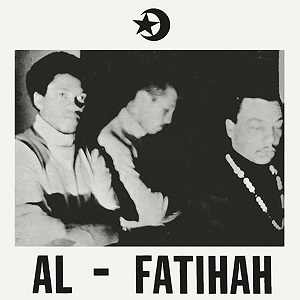 2 December 2020
Private pressings and self-releases have long been a staple of the rock record collector's market. But rock has never been the only genre to contain artists that release a single statement in limited quantities through their own means. Back in 1969, a Cleveland improvisational conglomerate called Black Unity Trio put out what may well be the first avant-garde jazz album released independently: Al-Fatihah, named after the first chapter of the Quran and self-released in an edition of 500 copies. Combining the talents of saxophonist Yusuf Mumin (AKA Joseph Phillips), drummer Hasan Al-Hut (AKA Hassan-Al-Hut or Hasan Abdur Shahid) and cellist Abdul Wadud (AKA Ron DeVaughn, who would go to play with everyone from Frank Lowe and David Murray to Muhal Richard Abrams and Michael Franks, as well as sire R&B singer Raheed DeVaughn), Black Unity Trio leans on the more relaxed side of free jazz.
Dissonance certainly makes itself felt in Mumin's alto sax squeals and Hasan's pulse-light bash, but there's nothing truly aggressive here. Even when the band picks up a real head of steam, as on "In Light of Blackness," it's exciting without being forbidding. Think the Art Ensemble of Chicago (especially in the extra percussion that often provides song intros and bridges), rather than Peter Brotzmann. Also, like free jazz pioneer Ornette Coleman, the group understands that spontaneous combustion does not preclude melody, as Mumin and Wadud are as apt to evoke beauty as chaos in their solos and riffs. "John's Vision" roils like a hurricane about to hit land, but still pulls genuine emotion out of the blend of its twin inspirations: John Coltrane and John the Baptist. "Al-Nisa" goes straight for the heart, with the group's improvisational energy powering a surprisingly lovely ballad. "Birth, Life and Death" stands as the group's ultimate achievement – from the opening bells to Yusuf's supercharged sax to Wadud's atmospheric cello lines, it's ten-plus minutes of avant improvisational heaven.
Religious differences and Hasan's arrest for being a conscientious objector to the Vietnam War put an abrupt and early end to the Trio's career. A shame, that, as the instrumental excellence, unchained spirit and pure soul of Al-Fatihah put it on par with any free jazz classic you'd care to name.
Gotta Groove's vinyl reissue comes from the original master tapes, and uses recycled paper for the original cover design. Black Unity Trio receives 70% of the proceeds from its sale, and GG will also make a donation to Black Lives Matter.
Black Unity Trio at Gotta Groove