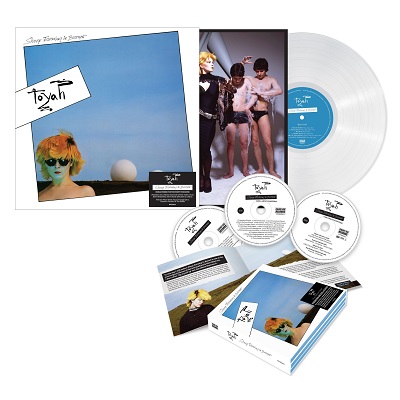 2 December 2020
In recent months Toyah Wilcox has leapt back into our thoughts. The social media videos featuring both the lady herself and husband Robert Fripp have entertained spectacularly. With tongue-in-cheek reinventions of classic tracks, the fun side to Toyah became a light in the darkness of lockdown. Which is why this release, forty-years after it's initial incarnation, is both welcomed as a reminder of that undeniable, musical talent. 
Due for reissue on December 11th, Sheep Farming In Barnet is still an energetic debut by any artist. Toyah injected every ounce of her creative passions, her vision and her personality into every inch of the record. It is that bridge between Punk and New Wave, creating a soundscape and landing zone of influence for those early eighties sounds. Indeed, the album is almost a conceptual piece of work, intentional or not. Tracks such as "Neon Womb" (Birth), to "Last Goodbye" (Death) and "Victims Of The Riddle" (Existence) add to that flavour of darkness to the overall sound. Although Sheep Farming In Barnet started out life as an Ep, before becoming broadened to the full long-player and with this mixture of tracks, the continuity is surprisingly intact.

Of course, as with most reissues there is a noticeable improvement in quality, or perhaps a greater clarity. The meat on the musical bones however is the abundance of extra material (not on the vinyl release). On offer is a white vinyl, remastered pressing of the classic album. Furthermore there is the double compact disc and
DVD
deluxe set (You may find yourself buying both). This includes the non-album double A-Side single "Bird In Flight"/ "Tribal Look", a staggering thirty bonus tracks,  made up of non-album singles, rarities and demos, twenty of which are previously unreleased. Some of this material is made up of the band's first ever, pre-signing 1978 demos. The region free
DVD
contains two brand new features with Toyah, including an interview about the album, a track-by-track album interview, and an exclusive acoustic three-song session of songs from the era filmed in August this year. Along with rare 1979 television interviews and performances, this really is a stunning bang for the buck. 
Most releases such as this contain demos which are disposable, those one-listen and forget affairs. And gladly this does not fall into that category. The second disc opens with "Computers", the early synth driving what is an almost fully realized track. Even at this stage the vocals of Toyah are as steadfast as on the album, her unique vocal lines are something that is one part
Kate Bush
, one part menacing angel. Continuing "Little Boy" sounds joyously energetic, "Watch Me Sane" is a cracking, daunting listen. "Race Through Space" is equal to that of the album version, with the mind blowing keys on full display against the illuminating guitar cranks. The weaker tracks still have an obscure charm, such as "Problem Child", and "Israel". The festive "Christmas Carol" is glorious, and a pretty good insight into the power of musicians
Joel Bogen
,
Peter Bush
,
Keith Hale
(Hawkwind),
Mark Henry
and
Steve Bray
. 
It is the full immersive experience. For fans, it is a moment of excellence that displays how Toyah Wilcox and the band were operating and evolving at that moment in time. For newcomers to the work I do recommend the first disc, the album itself, and the
DVD
to get the full impression of the dynamic, and importance of what was going on. Above all else though, and perhaps the most important factor to take on board, is it is entertaining. Though it is only the beginning of an overhaul of Toyah's back catalogue, albums which were originally released by the defunct Safari Records, so for that reason there is a lot more to look forward to. 
2CD/DVD Tracklist:
CD1
1. NEON WOMB
2. INDECISION
3. WAITING
4. COMPUTER
5. VICTIMS OF THE RIDDLE 
6. ELUSIVE STRANGER
7. OUR MOVIE
8. DANCED
9. LAST GOODBYE
10. VICTIMS OF THE RIDDLE (VIVISECTION)
11. RACE THROUGH SPACE
BONUS TRACKS
12. GAOLER
13. BIRD IN FLIGHT
14. TRIBAL LOOK
15. LOVE ME (DANGERFIELD SESSION)*
16. TRIBAL LOOK (ALTERNATE MIX)*
17. OUR MOVIE (SHOESTRING VERSION)*
18. WAITING (SHOESTRING VERSION)*
19. NEON WOMB (SHOESTRING VERSION)*
20. DANCED (SHOESTRING VERSION)*
CD2
1. COMPUTERS (DEMO)*
2. LITTLE BOY (DEMO)*
3. CLOSE ENCOUNTERS (DEMO)*
4. WATCH ME SANE (DEMO)*
5. JAILER (DEMO)*
6. RACE THROUGH SPACE (DEMO) * 
7. ELUSIVE STRANGER (DEMO)*
8. PROBLEM CHILD (DEMO)
9. ISRAEL (DEMO)
10. CHRISTMAS CAROL (DEMO)
11. RACE THROUGH SPACE (ALTERNATE MIX)*
12. NEON WOMB (NO SAXOPHONE)*
13. OUR MOVIE (ALTERNATE MIX)*
14. WAITING (ALTERNATE VOCAL MIX)*
15. INDECISION (ALTERNATE VOCAL MIX)*
16. COMPUTER (ALTERNATE VOCAL MIX)*
17. VIVISECTION (IMPROVISATION)*
18. LOVE ME (DEMO)
19. TRIBAL LOOK (DEMO)
20. GUILTY (DEMO)
21. THREE-SIDED FACE (DEMO)
DVD
1. THE STORY BEHIND THE ALBUM : 2020 INTERVIEW
2. TRACK-BY-TRACK ALBUM COMMENTARY: 2020 INTERVIEW
3. COMPUTER: ACOUSTIC SESSION 2020
4. NEON WOMB: ACOUSTIC SESSION 2020
5. BIRD IN FLIGHT: ACOUSTIC SESSION 2020
6. RACE THROUGH SPACE: WHAT'S ON 12/04/1979
7. TOYAH INTERVIEW: WHAT'S ON 19/04/1979
8. DANCED: THE OLD GREY WHISTLE TEST 04/03/1980 
9. INDECISION: THE OLD GREY WHISTLE TEST 04/03/1980
NTSC – REGION FREE
For more info & order:
Website
Facebook