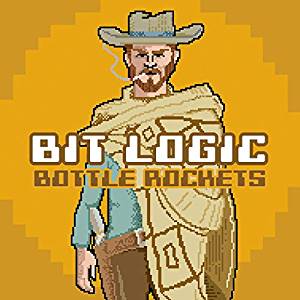 11 October 2018
http://www.bloodshotrecords.com
The Bottle Rockets roared out of the Midwest (St. Louis, to be exact) during the early '90s "roots rock" revival along with bands such as Uncle Tupelo and the first recordings by The Jayhawks but the Bottle Rockets rocked just a wee bit more than their contemporaries, with populist anthems such as "Welfare Music" and "1000 Dollar Car" from their second release, 1995's The Brooklyn Side. Now, nearly 30 years down the road, founding members Brian Henneman (vocals, guitar) and drummer Mark Ortmann along with guitarist John Horton and Keith Voegele on bass take a look at the modern world on Bit Logic.
Long-time producer Eric "Roscoe" Ambel (The Del-Lords, Joan Jett) is back for his seventh time manning the board, and the results are prime Bottle Rockets. Henneman's take on the world around him – from the swampy opening title cut to the laid-back resignation of "Lo-Fi" and the satellite radio hit "Bad Time To Be An Outlaw" shows a man and a band proudly out of step with the events around them, and thank heavens for that. Ain't no Auto-Tune here, just American guitars turned up loud.
In a world going increasingly mad, the Bottle Rockets are a force for all that's good and honest, just like they have been for years. You could imagine Woody Guthrie – or Joe Strummer – sitting in with the group in some late-night bar, three sheets to the wind, Telecasters rockin'. One suspects that's about all of the modern world the Bottle Rockets and their legion of fans need. Praise be.