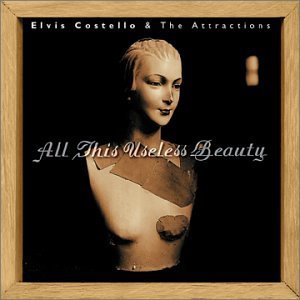 4 October 2018
I've got a lot to say about this one, so buckle up. I'm posting it primarily to honor the late, great Geoff Emerick, producer of this album, who passed away a few days ago. Of course, he's much better known for his pioneering engineering work for The Beatles and for producing Elvis Costello's much better known and appreciated Imperial Bedroom (one of my favorite albums of all-time) back in 1982. This 1996 album, however, was both his last album for Warner Brothers and the last album credited to Elvis and his long-time on-again/off-again backing band The Attractions.
However, drummer Pete Thomas and bassist Bruce Thomas are little heard on here compared to their all over the place work on 1994's also great Brutal Youth, though there are some great rockers here like "Shallow Grave" (a song that went back to the late '80s sessions with Paul McCartney and very similar to their "Pads, Paws and Claws" from 1989's Spike but with better production courtesy of Emerick) and "You Bowed Down," a song originally on Roger McGuinn's 1990 album Back from Rio. In fact, much of this album is comprised of songs Costello originally wrote for other artists, many of which were recorded by said artists. Some were rejected, though, but when you listen to the goosebump-inducing conclusion of "Why Can't a Man Stand Alone?" one must wonder why Sam Moore would reject such a fine song. Or why would Johnny Cash reject "Complicated Shadows?" No matter, though, as Costello's versions of all of these songs are the definitive ones.
So what is this then if not an Elvis Costello & The Attractions album? It's unofficially the first and only studio album that Elvis cut with Attractions keyboardist Steve Nieve. They toured together that year for the first time as a duo and those dates were captured on the Costello/Nieve 5 CD box set later that year and on various widely-circulated bootlegs. It should be stated that Costello is one of the most widely bootlegged artists in history, which was of significance at a time long before YouTube made virtually any live performance accessible afterwards. Nevertheless, Nieve's keyboards dominate this ballad-heavy album, particularly on side 1 stunning "beauty" such as "Poor Fractured Atlas" and the title track. Elsewhere, closer "I Want to Vanish" (previously recorded by English folk singer June Tabor, who also recorded the title track) pairs Costello's stunning vocal and melancholy lyrics next to Nieve's keyboards and The Brodsky Quartet's strings. It was their first recorded collaboration since 1993's full-length The Juliet Letters.
"It's Time" and "Little Atoms" (featuring more wizard-like keyboard work from Nieve) experiment with electronic beats for the first time in Costello's career since his soundtrack work for the 1987 film
The Courier
and also act as a prelude to "My Dark Life' (his collaboration with
Brian Eno
) and his later work on 2002's incredible
When I Was Cruel
. For more of that experimentation, track down the bonus disc version of this album (released by Rhino in 2001 and long out of print, but easy enough to find online) or the CD singles that came out in July 1996 featuring remixes of the album's tracks by UK artists like
Tricky
.
Costello was dismayed back when this album came out that it wasn't more commercially successful, feeling that it was amongst his very best work, a notion that Rhino seemed to share when they reissued it 5 years later on the same day as their 2 CD versions of landmark classics My Aim is True (his seminal 1977 debut) and the aforementioned Spike. He also felt that the fact that it contained mostly older songs given to other artists was over emphasized. So it was probably for the best that this was his last album for Warner Brothers and that later on, his contract with Universal has seemingly allowed him more freedom to work on what and with whom he likes at his own pace. Some of these records (including the just about to be released Look, Now, his first album in 5 years) include both Nieve and Pete Thomas as part of his current backing band The Imposters.