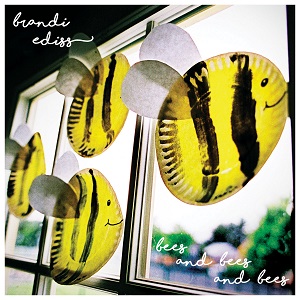 3 May 2020
This is not a pop record. It is a sultry, soulful, and jazz-inspired work of brilliance. The sound of Brandi Ediss belongs in the bygone age of smoke filled clubs, with dimly lit lighting, as the sound projects that slick cool energy. It is not by any means a claustrophobic sound. Quote the opposite, instead it is atmospheric and swings hypnotically. 
The songs on Bees and Bees and Bees, are short, soaked with an edge of wry humour, and fully realized in a modern world. In truth  the Chicago born Brandi has a voice that is unique, well-honed and something of envy as she captures moods perfectly. From the title track the scene is set for the young vocalists' trajectory. A short jaunt before the piano flourishes that summons "Count To Three" (included below). With a flavor pulled from the early-seventies, the track sees the songstress pull out reflective phrases and execute them beautifully. 
The acoustic ode-to-home "Chicago", is a heartfelt reminiscent piece about the city close to the singer's heart, set in a snowy landscape. Followed by the upbeat "Robot Heart", more so an intellectual display of songwriting is wholeheartedly presented. The breezy "Little Tiny" is one of many standouts with good reason. Executing phrases effortlessly with a complicated structure, points to how this is music for a Sunday morning immersion. This continues with the beautiful wall-of-sound "Happy Days", as organic instruments are layered upon each other to build a glorious soundscape. 
There is something very up-to-date about "Stupid Boyfriend", a very indie glazed offering, perhaps more inline with the nineties Britpop movement. The strings of "I'll Keep You Warm" are awe-inspiring. Lifting the themes, and tones of Brandi, a reasoning as to the unique universe this album is anchored to. It is out-of-place in this modern setting, but equally needed due its uplifting nature. With the "Click Of Shutters", a subtle yearning that is pumped to the top with emotion. Closing with the joyful, "Linoleum". Capturing that humor and spinning if into memorable phrases, as the beat drives the momentum. 
Brandi Ediss has released a very enjoyable album. With plenty of dynamics, energy and excellently crafted songs. This is a talent to watch as she continues forward, defying the modern sounds to recapture the magic which becomes a breath of fresh air. 
Tracklist: 
1.Bees and Bees and Bees    
2.Count to Three 
3.Chicago 
4.Robot Heart    
5.I Didn't Try    
6.Little Tiny    
7.Happy Days    
8.Stupid Boyfriend    
9.The Sweetest Words    
10.I'll Keep You Warm    
11.Clicks of Shutters    
12.Linoleum 
For More Info, And To Order: 
Bandcamp