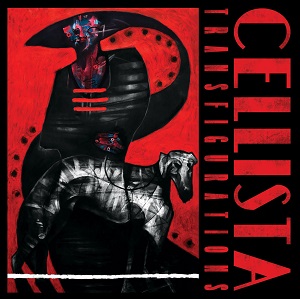 30 May 2019
The collision of rock and classical music has always resulted in releases of a high standard, and unusual quality. In the sixties, folk legend Nick Drake included the track "Cello Song" on his debut album, where the instrument was used front and center complementing his haunting voice. In the seventies the Electric Light Orchestra fused elements of classical including the cello to create some of the most interesting pop songs of the decade.
Skip ahead forty-years and a young, classically trained America cellist known as Cellista has done something similar. Although instead of treading the pop standard, she is fusing that classical sound with a punk attitude, and rap. What may raise eyebrows in disbelief, has in fact produced some of the most original and astounding music you are likely to hear this year, and this is something for music lovers to get excited about.
I am not a huge lover of classical music, the aforementioned acts were perhaps as close as I have gotten to the genre. But, I have to pay dues to Cellista, her forthcoming album Transfigurations has proved there is something else worth discovering away from the mainstream. Classical-based punk and hip-hop, wrapped in a gothic string section that causes hypnotic effects to the listener. In a nutshell that is what this release Transfigurations presents in a tour de force of styles.
The avant-garde, conceptual piece that at times delightfully overpowers Transfigurations , starts with the first part of a repeated signature base in the "Rupture" series. "Rupture" is split into five movements "I, II, III, IV" and "V" respectively. Which all act as a scene setting dialogue for the music that precedes them. The first "Rupture" is a scene setting piece of dialogue which dictates a Black Panther speech . As it segues into the haunting, drum-strike of the melodramatic "Confessions", a soft-spoken piece which delves into the abyss of life.
"Look Homeward, Angel" (Included below), is a striking piece of work. Cellista drives the track with a flourishing piece while DEM ONE (Demone Carter) raps the lyrics and Melissa Wimbish projects her angelic voice, as the soprano hovers over the exquisite strings. This is exceptional, with the beatboxing of Julia Ramos only adding to transcendent, organic sound that Cellista is aiming for. Remensecent at times, of the very instigators of the hip hop movement in the late-sixties, The Last Poets. Indeed, the fuel that is burning is the same, and the lack of electronic instruments is a factor in galvanizing Transfigurations.
"You Can't Go Home Again", again opens with spoken parts, a monologue against a Twilight Zone style backing. Eerie and submerged, a twisted view of life directed into your mind. One of the longest tracks on Transfigurations, the intense "When The War Began", gives the impression of a custom-built vehicle for the late Lou Reed. An almost "Classical Machine Music" styled outing, split into three sections. Whereas "Tzeva Adom" opens with the sound of air-raid sirens and mournful flourishes of piano and strings.
There is something wholesome about a recording when you don't know exactly what is coming next. This album is a precision execution of hybrid-music, by any stretch, not an easy task, but here it is the very talent of Cellista which has brought it all together beautifully.
TRACK LIST
01 Rupture I
02 Confessions
03 Rupture II
04 Look Homeward, Angel
05 Rupture III
06 You Can't Go Home Again
07 Rupture IV
08 Repetitions
09 Rupture V
10 When the War Began i. The Enduring Moments Before Disaster ii.Falling From the Sky iii. Into the Storm
11 Tzeva Adom
Due for release on Friday, 31st of May and in San Jose, CA – Transfigurations the multimedia release show (with Lady Lazarus) at Anno Domini
Check out more via Cellista's own Bandcamp site.
Upcoming Dates:
June 23 Los Angeles – Infinite Noise Outrageous Loud Festival at Coaxial, solo noise set
July 18-Aug 25 San Jose, CA – performing in City Light Theater's production of 'Cabaret'