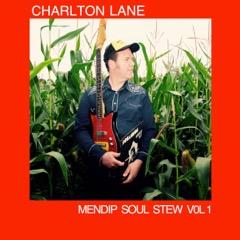 12 March 2022
The section on the musical Venn Diagram where funk, krautrock, soul and 60's garage rock all meet is, to be fair, an extremely tight space to fit a band into. But if you do manage to find this rare and elusive space, put it under the microscope and look very closely, you will see the face of Charlton Lane smiling back at you from within that sonic enclave.
The art of being musically adventurous isn't always about trying to gene-splice sounds or blend styles into whole new genres, the smart music-maker realises that the hard work has already been done and that the answer lies in taking the sounds of the past and making them work in harmony in new and interesting ways. Maybe we can call that forward-thinking nostalgia. Maybe not.
Whatever it is, it is what Charlton Lane revels in and the sounds here may be familiar but the overall result is certainly fresh and strangely invigorating, it takes in existing comfort zones but also teases those sonic safety nets out to their (il)logical conclusions.
Across nine tracks he couples restless and relentless motorik beats with everything from funky basslines to beguiling electronica, raw and raucous guitars, shamanic vibes and gutter grooves. Songs such as "MoonJuice99" are robotic and raunchy, "She's Gone" is dance-fuelled and delicious, "My Name" is fresh and funky and the fantastic "Gimme Gimme" is a strange blend of futuristic synth lines and garage-rock guitars. And then there is the titular playout track which feels like 60's underground rock and 70's soul had a baby and left it on the side of the M4 where it was adopted by a music cult based in the badlands of Bristol.
Mendip Soul Stew is amazing, it is the sound of someone tearing down what you think you know about music and putting it back together in different and disparate ways. It is the sound of familiarity being subsumed by adventurousness, it is glorious, new sonic architecture being built from reclaimed materials, it is comfort zones being squashed together into something altogether unfamiliar, it is the sound of rules being, not so much broken, but certainly ignored. It is the sounds of the past finding a way to be new, relevant and exciting.