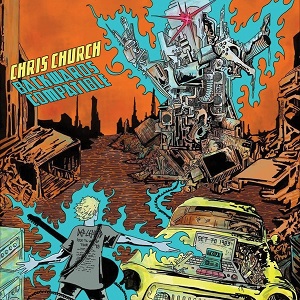 24 March 2020
Since time began, or at least since the sixties. The perfect rock album has always had a perfect running time of forty-five minutes. There are exceptions of course from those Pink Floyd and Led Zeppelin types, but generally that three-quarters of an hour mark is just the right amount of time to fully immerse yourself in something great. Which brings me nicely onto this release by innovator Chris Church. Make no mistake Backwards Compatible falls into that perfect time scale, with good reason. It is a really good album. No-holds-barred dive into riffage, with guitar cranks welded to every square inch throughout. Though it offers something more to the listener, which makes it a fascinating release that aches to be explored. And here is why. 
Backwards Compatible is the intersection where power pop and eighties metal meet, and how these sub-genres have influenced one another. Chris Church is not simply paying homage to his first love, the music he first fell in love with. After all, those first tunes that attach themselves to our soul never leaves us throughout our lifetime. Instead, Chris expands on his youthful soundtrack, forging it in this present age and fusing it with a wider variety of resources. The comic strip front cover, the youth in his Def Leppard t-shirt creating within a mechanical laboratory exudes this idea. As he reaches for the time machine set to 1983 – the year Def Leppard released their US breakthrough Pyromania and Kiss released Lick It Up with Vinnie Vincent. Obvious first loves immediately jump out, and soar majestically, but then hinge themselves in the power of the Knack and Raspberries. 

Now for the music contained within. These twelve tracks are slick, counterbalancing that aforementioned power pop and metal perfectly. What is essential to point out is the extra fuel Chris has poured onto his creative fires. Bringing in powerful backing vocalists to complement and thicken the sound. Such as
Gretchen Wheels
Lindsay Murray
and another fine songstress in
Samantha Morgan
. From the get-go the listener is dragged willingly into the playground of "Someday's Coming Fast". This highlights perfectly that collision of subgenres. An energetic entry which is both melodic and pumping with muscular guitar. This seers nicely into the more seventies orientated "Dumb It Up", which again is an old-school riff-fest. 
The fun is relentless, and that is what this music is. A backdrop of wholesome music with depth. For example "Begin Again" may throw forth shades of Utopia, with a heartfelt approach that separates it from other such outings. But it is remarkable how Chris can switch from that format into the stadium rock of "No Letting Go". With other crackers like "You Are The Thunder" summons that Motley Crue/Kiss appeal, as the man breathes fire through his solos. Flash but with feeling, hitting notes that mean something, similar to the impro-jazz of the sixties. "These Daze" is a similar stylish outing, although he can reign it back in to a minimalistic rocker like "Too Deep". This track actually stroked memories of post-Roth Van Halen personally. "Kiss It Goodnight" is FM radio, summoning open top cars, and open highway driving. Closing with the collage of phased vocals and station twisting before launching into a track that is pure, indulgent power pop. 
Acting as a mixed tape of favourite old-school sounds, Backwards Compatible is a fine album. If Chris Church could fire up a flux capacitor back to 1983 no doubt this would be the record he would create. In 2020 it is a labour of love that strikes a chord with the like-minded, expanding on from the previous Limitations Of Source Tape (2017). One thing is undeniable, this passion injected work is a breath of fresh air far removed from the current monotonous tones that dull the airwaves. 
Tracklist: 
Someday's Coming Fast   
Dumb It Up   
Begin Again   
No Letting Go   
What R U   
You Are the Thunder   
These Daze   
Too Deep   
Left in the Summer   
Coulda Fooled Me   
Kiss It Goodnight   
Pop Dreams   
For More Info;
Website
Facebook