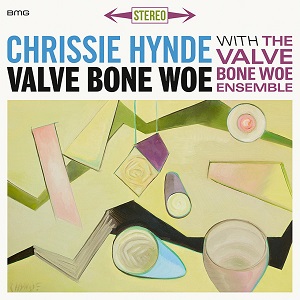 1 November 2019
The Pretenders frontwoman Chrissie Hynde has undone the shackles of her punk-rock style, instead turning her hand to a more melodic and nostalgic narrative. The lady has just released a solo album which is anchored in a jazz-psychedelia sound with sprinkles of electronica. Valve Bone Woe is a curious piece of work containing fourteen covers by a variety of artists from The Beach Boys to Nick Drake, The Kinks to Rodgers and Hammerstein. With such a drastic step comes the immediate thought how this release could sink or swim, though it does neither and simply floats. At times her snarling sarcasm fits perfectly within the subject matter against a backdrop of a large ensemble orchestra (Valve Bone Woe Ensemble). Other times it is what you would expect, and lacks a bite of passion in the directness Hynde is known for.
The album opens with "How Glad I Am", a cover of the track made famous by the late Nancy Wilson back in 1964. It is sultry, and inspired, as Hynde hits the highs and lows on a thrilling vocal acrobatic display, pushing confidently out of her comfort zone into new territory. 

After the scene setting opener the album continues with the
Pet Sounds
classic "Caroline, No". Here it takes on a spacey, trippy-vibe with a sound hinged in the sixties. Hynde manages to capture the magic of the original as she forges the standard into her own shape. It does sound like a track taken from a
Russ Meyer
movie, an excellent experiment which can bury the original. The lounge bliss of "I'm a Fool to Want You" rolls along with originality, as does the
Sinatra
classic "I Get Along Without You Very Well (Except Sometimes)". Of course Chrissie did a duet with Frank back on his
Duets II
album in 1994. Already then the lady showed an interest and a capability to shift into that format. 
Things get really fascinating midpoint with the cover of "Wild Is The Wind". A track made famous by David Bowie in the mid-seventies, re-fashioned with a slight air of Tom Waits styled instrumentation that forms the vibrant backdrop. The voice of Chrissie here is at its most dramatic and intense, delivering with a panache only she can pull off. 

The cover of the Nick Drake classic "River Man" is a personal favourite. A slow reconstruction that retains the haunting quality of the original with the Ensemble providing a cinematic atmosphere. Rolling into "Absent Minded Me", a sweeping jazz ballad which is engrossing enough to remain engaging. However, "Naima" takes it to another level, a fusion of both ambient textures and jazz nuances. Following with the vaudeville landscape of "Hello' Young Lovers", before launching into a reworking of the Kinks "No Return". A playful adventure that is by no means subversive of the original, and steams ferociously along with the vigorous talent the woman possesses. 
Chrissie Hynde always gives the impression that she simply couldn't give a fuck and
Valve Bone Woe
is no different. From the cover to the music within it reeks of a cool nostalgia. It still holds her 'take it or leave it' attitude injected into every inch. That point alone makes it a unique release by one of the first ladies of punk. 
Tracklist; 
How Glad I Am
Caroline, No
I'm a Fool to Want You
I Get Along Without You Very Well (Except Sometimes)
Meditation on a Pair of Wire Cutters
Once I Loved
Wild Is the Wind
You Don't Know What Love Is
River Man
Absent Minded Me
Naima
Hello, Young Lovers
No Return
Que reste-t-il de nos amours ?
For more info;
Facebook
Website