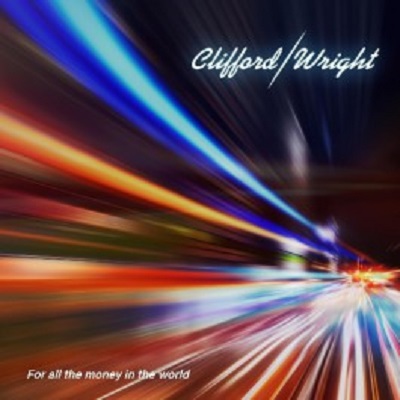 18 July 2021
This is only the start of a much wider project, and it is going to be both vast and fruitful. The legendary Creedence Clearwater drummer Doug 'Cosmo' Clifford has never stopped creating music, even when that outfit came to a halt. In fact, his journey over the years as a producer and musician has led to some outright cracking releases, notably Groovers Paradise (personal favourite) by the late Doug Sahm. But now Cosmo is doing something special, opening his vaults and unleashing the music that lies there dormant. And yes, this is the right time in his career to do so. Already, audiences got a peek at some of these vault releases with last year's acclaimed Magic Window, and as a next phase this album is due to hit the streets on August 27th. 
Titled For All The Money In The World, this is a collaborative album with Steve Wright from the Greg Kihn Band. The much admired, and painfully missed bassist, found a chemistry with Cosmo, and both men sculpted some extraordinary songs together. However they are not alone, and are joined on the eleven tracks by the cream of talent. They include Tim Gorman (The Who) and Pat Mosca (Greg Kihn Band), with a string of spirited guitarists Greg Douglass (Steve Miller Band), Jimmy Lyon (Eddie Money) and Joe Satriani. Along with these is the gravel-soaked vocals of Keith England, at times a man who is underrated and he shines spectacularly here. The title, although a track on the album, I take as meaning – 'for all the money in the world, you would not trade the experience'. To those who are not in the know, this album could come across as a 'greatest hits' set as every song cracks with it's own identity. 
The opening and self-titled track bounces alive with energy. With a slight Americana feel it is upbeat, positive, a song that basks in the sunshine and welcomes you in. The following "I Need Your Love" keeps the momentum flowing, it is a power ballad by any other name. But it is also perfectly produced and the sound is a rich, synth-laden kaleidoscope. Whereas "She Told Me So" is old-school, ass-kicking rock and roll, with a simple but seductive guitar riff which gets the adrenaline pumping. However one of the standouts (there are many) is "Lost Pride Fever", a track anchored in the soundscape of seventies AOR, and a slight vibe of Steve Miller and all that was good back then. 
Continuing, and "I See Your Silhouette" glides along effortlessly. The piano parts are spiritual and uplifting, while the vocals snarl with a subtle menace, and soar with a breathtaking passion. "Real Love" finds us in the midst of stadium rock. With guitar lines, a horn section, and a pounding beat that really knocks it out of the park. And it is at this point you realise how there is no filler, only killer tracks on this set. Further past the midpoint, and the energy does not subside, "You Keep Runnin' Away" is a rhythm driven cracker, and "Just In The Nick Of Time" is lyrically strong, with a more minimalistic approach that fits in with what's around it. Though thanks to the vocals, and talent of the outfit, "Weekends" sounds like a song by the Faces, in fact it is a barnstorming stick of dynamite. 
Towards the end "Lonesome Boy" continues the journey of quality. Not letting up and it grooves as the backbeat collides with a searing solo. To the finale, "You're Gonna Love Again" blasts to close the album with the same flair as it opened. A banging track that combines all the elements of the previous ten songs, and that sublime production meshes the whole thing together perfectly. It may be old school, but it still sounds fresh, and it is complementary to all involved. You may feel- we as music lovers should have heard this before, but as already stated, this project is vast and perhaps as Cosmo slows down he can put it all together at his own level of pace, and with perfection. Then again, it feels strikingly like an inspired labour of love, and a tribute to the sounds we all grew up on. 

Track Listing:
1.For All The Money In The World
2.I Need Your Love
3.She Told Me So
4.Lost Pride Fever
5.I See Your Silhouette
6.Real Love
7.You Keep Runnin' Away
8.Just In The Nick Of Time
9.Weekends
10.Lonesome Boy
11.You're Gonna Love Again
To Pre-Order; 
Website
Facebook