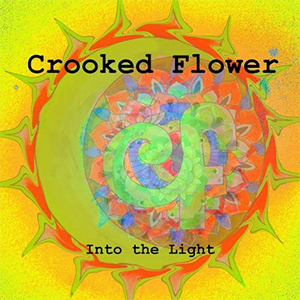 28 October 2018
Berkeley party favorites Crooked Flower are back with another full-length that shows off their spirited mix of '70s psych rock and punk. After marathon recording sessions which resulted in three albums all released in 2016-2017, Crooked Flower certainly don't allow themselves to catch their breath. Their newest record Into the Light is released hot on the heals of this trilogy, and although not radically different, does show a lot of growth. Released on October 17th, the album is an anti-prohibition tribute to Canada Liberation Day, which also helps to explain a lot of the band's ethos.
The band, caught somewhere between the spacey-ness of The Grateful Dead and the moody bite of The Cure, are politically and socially conscious, but at heart they remain a party band that loves improvisational jams and psychedelic tendencies. Nevertheless, they take their music very seriously, and from the topically cynical "Freedom" to the reggae spiritual "10 Million Seeds," the band manages very deftly to sneak in their message, even if it doesn't always seem immediately obvious.
It's difficult to say whether or not their busy recording schedule is a help or a hindrance to their evolution as a band, but one thing is clear: Into the Light shows Crooked Flower with no sign of slowing down and without want of fun or fresh material.