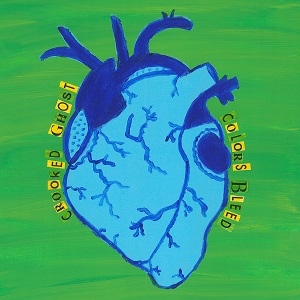 16 September 2019
Following on from Strange Burial Ritual (2017), Crooked Ghost return this September 20 with a new Ep Colors Bleed. Once again the band keep the rich tradition of UK post-punk breathing respectfully. The Ep holds a sound dug out of the nineties, dripping with sexual grace carefully woven within the fabric of a well-pronounced energy. At times reminiscent of Ash, guitar driven melodic explosions counterbalanced by passionately fused vocals. 
From the get-go and the opening "Black Rainbow" (included below) Crooked Ghost nail their intentions to the mast of artistic prowess. A slow, lonesome chiming guitar builds the intensity before feedback screeches, and the full weight of the band rolls into the hypnotic affair. The vocals of Ray Lark have an edge and sneer of Morrissey circa The Smiths era, in truth "Black Rainbow" is an exceptional start. The following "Sinew In Red" (Included below) starts with a distortive foil, a gothic flavor cuts through the dramatic noise-soaked atmosphere. 
A complete turnaround to the opening number, whilst wholly pointing to the same nostalgic influences the delivery is twisted and Crooked Ghost sounds like a different band. That is where their talent truly lies, not being afraid to try something different and make it work, in the same instance the time-heavy "Golden Blue" takes a different, spooky step. Opening with industrial noise, that when comes to life fully is a mix of Elbow meets the Velvet Underground, it really is hard to describe, again a flurry which is worlds apart from where the Ep began, though remaining hauntingly brilliant. 
Closing out the set is the cinematic and beautiful "Bright White Noise", a number slow in tempo but roaring with intensity. The repetitive guitar pattern is a hook that works against the backdrop of spiritual vocal lines. This latest installment by Crooked Ghost proves that while originality in music is fading, the solution is be adventurous, and that sums up Colors Bleed. Taking more advances musically in four-tracks than a lot of their contemporaries manage on a whole album. 
TRACK LIST  
1. Black Rainbow
2. Sinew In Red
3. Golden Blue
4. Bright White Noise
CREDITS
Ray Lark (lyrics, vocals, guitar)
Chris Saldin (bass)
Jon Wyatt (drums)
Charles Reed (guitar)
Alex Cannon (Keyboards)
Produced by Edward Maddill and Crooked Ghost
For more info on Crooked Ghost and to Pre-Order Colors Bleed ;
Bandcamp
Twitter
Facebook
The latest single "Black Rainbow"; 

"Sinew In Red";