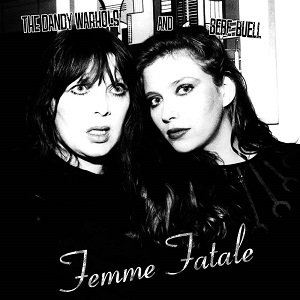 23 October 2020
On October 24th this year, the music world will find itself in another celebration of the original format. All things will turn to vinyl, and Record Store Day, love it or hate it will deliver a host of automatically sought after sounds. Within that plethora of releases, some old and new, there will be a few diamonds to mine. And this release is by all accounts is one such jewel. 
The legendary sons of Portland, Oregon, the Dandy Warhols, come together with the celebrated original rock chick Bebe Buell for something very special. A seven-inch single featuring a studio cover of the Velvet Underground classic "Femme Fatale", a track which is hand built for Bebe, and the Warhols to summon up the ethereal spirit of Nico and Lou Reed. The passionate delivery by Bebe is both an emotional trip, and a nod to her friends who have passed onto another plane of existence. The inspired cover features an image of Nico and Bebe, and on the flip side lies a stripped back, acoustic version of the Dandy Warhols "Killing Me". 
As almost all RSD releases, "Femme Fatale" comes out limited to only 1,500 units. But it is something different, exciting and unexpected. Although both the Warhols and Bebe have performed this track on stage (featured below) in the past, a studio cut featuring both is long overdue, and hopefully not the last collaboration from the artists.
For More Info on Bebe Buell; 
Website
Facebook
Twitter
Instagram
For More Info on Dandy Warhols; 
Website
Facebook
Twitter
Instagram