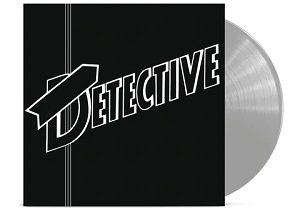 28 April 2022
One of the many journeyman supergroups populating the arena rock circuit in the 1970s, Detective never quite found the success it deserved. Everyone in the group had plenty of experience by the time the group formed in the mid-seventies. Guitarist Michael Monarch played in Steppenwolf before joining obscurity Hokus Pokus alongside drummer/singer Jon Hyde, who became his songwriting partner. Bassist Bobby Pickett had been in "Green-Eyed Lady" hitmakers Sugarloaf, while keyboardist Tony Kaye (who joined as the debut LP was in progress) was a founding member of Yes. Singer Michael Des Barres was fresh from glam rock also-rans Silverhead, who would also contribute Blondie bassist Nigel Harrison and Robert Plant guitarist Robbie Blunt to the musical universe. In other words: plenty of talent but little in the way of stardom.
But that status can work to the advantage of working bands, allowing them to develop organically. While Detective certainly betrays a noticeable Led Zeppelin influence – unsurprising, given their patronage from Zep's Jimmy Page, who signed them to the superstars' Swan Song label – they have plenty of their own personality as well. On the band's self-titled debut – now remastered and reissued on luminous silver vinyl – Des Barres brings a glam flair to his gritty singing that puts him a cut above the usual Robert Plant imitators – even on a dark song like the thudding "Grim Reaper" he conveys a sly wink and a cheeky grin. Monarch sublimates the blues influence de rigeur for all Me Decade hard rockers, making it less overt in order to make the rawk full frontal. (No wonder Detective would later co-headline a tour with AC/DC.) Pickett and Hyde were no Jones and Bonham and didn't try to be, displaying a lighter touch.
It all comes down to songs, of course, and while not everything goes the distance (even four-plus decades later, the use of "lovin'" as a substitute for sex is still cringeworthy), that's more to do with the traditions of the era than this particular band's vision. Still, the grinding "Detective Man," funky "Wild Hot Summer Nights" (take that, Wild Cherry), epic "Nightingale," and brazen "Recognition" (an unabashed plea for same set to a singalong stomp) hold up nicely. There's even a dreamy instrumental ("Deep Down") that's more than just filler. The next time you're looking for tracks for your next classic rock nostalgia playlist that aren't the same warhorses AOR radio has beaten into the ground for the past four decades, Detective's got you covered.