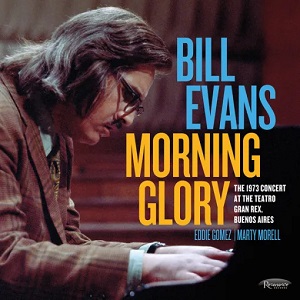 28 April 2022
Over the last few years, Resonance Records has built a mighty catalog of previously unreleased live recordings from the great jazz pianist Bill Evans. Morning Glory and Inner Spirit, while recorded six years apart and showcasing two different iterations of his famous trio, come tied together stronger than most: both were recorded in Buenos Aires, Argentina during times of political upheaval.
Recorded at the Teatro Gran Rex in 1973, Morning Glory features Evans with bassist Eddie Gomez and drummer Marty Morell – his longest standing bandmates. While from the standpoint of the setlist the show seems like a typical set, with Evans' usual blend of originals and standards, the concert is anything but ordinary. Made at a time of violent political turbulence due to the arrival of formerly exiled Argentinian president Juan Perón, the performance delivers a special charge, balancing out the tension in the air with accessible melodies, intriguing harmonies, expert improvisation and steady swing. One of Evans' greatest innovations was his conception of the piano trio as a band of equals, not a rhythm section supporting the star, which means more interplay and spotlights on his bandmates. Gomez in particular rises to the occasion, offering up some stunning solos on "Re: Person I Knew" and "My Romance," while Evans maintains his usual standards of pulling exceptional lyricism out of his lead breaks. Like the best jazz ensembles, the trio moves with one mind and singular purpose through masterful takes on Evans originals "Waltz For Debby," "The Two Lonely People" and "T.T.T. (Twelve Tone Tune)" and favorite standards like the Jerome Kern*-*Leo Robin chestnut "Up With the Lark" and the Ned Washington*-*Victor Young titan "My Foolish Heart." Evans also presents a jazzed-up take on Latin American composer Armando Manzanero's romantic bolero "Esta tarde vi llover." To say the crowd goes wild during the show – in particular after "Waltz For Debby" – is an understatement.
Recorded in 1979 at the Teatro General San Martin, Inner Light showcases Evans' final trio with bassist Marc Johnson (whose distinctive tone gives the arrangements an extra sparkle) and drummer Joe Labarbera. Argentina's circumstances had changed since Evans' previous appearance in the country, with the military coup in 1976 increasing tensions, violence and officially sanctioned murder of dissidents. Into this dark cloud stepped the Evans trio, with a setlist that contained only two tunes in common with the 1973 appearance – "Up With the Lark" and a fairly spectacular "My Romance." The program contains a couple of songs associated with the Me Decade, Paul Simon's "I Do It For Love" (turned into a particularly fleet-fingered ballad) and the inexplicably popular "Theme From M.A.S.H.," but otherwise sticks to Evans' usual style of mixing jazz standards with originals. Of the latter, the lovely ballad "Letter to Evan" – a tribute to Evans' brother – and the marvelous "Turn Out the Stars" shine brightest, while it's continually remarkable how the ingenious Evans continually finds new aspects of such well-known songs as "Someday My Prince Will Come," "Stella By Starlight" and "I Loves You, Porgy," the latter given an amazing solo take. Also, Evans once again pays tribute to his Latin American hosts with a version of Brazilian composer Francis Hime's "Minha." The trio ends the show and album with a magnificent, nearly seventeen minute take on Miles Davis' "Nardis," long an Evans staple.
Presented in Resonance's usual sterling packages, with extensively researched booklets in each, both Morning Glory and Inner Spirit are musts for any Bill Evans fan.