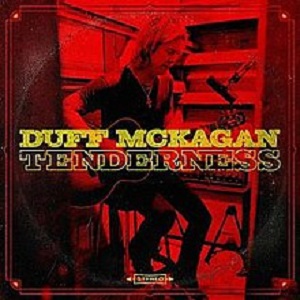 1 June 2019
First thing to take note of when approaching this latest release from Duff McKagan, Tenderness is an album far removed from the sound of Guns N'Roses. Truth be told, McKagan is not a bad singer but here he disembarks from his punk roots and embraces bluegrass ballads with a snarl. What is best described as Americana-Punk is executed with the inclusion of producer Shooter Jennings. The son of the late legend Waylon, has created an authenticity to proceedings, providing vocals and piano he also built the sound from a backing band of the best session musicians on hand such as The Waters and The Suicide Horn Section.
Tenderness
opens with the piano driven, but atmospheric title-track. McKagan's voice is in great shape, emotionally infused as he submerges himself in the sounds of pedal-steel guitars that flow across melodic piano and strings. It is an album by a man looking back over his life, the journey which has led him to this point. "It's Not Too Late", an acoustic ballad with fiddles, steel guitar all under the theme of reinvention. Here, Duff is in full
Tom Petty
mode, the conviction within his voice provides a different aspect to the man whose bass was the beating heart of
Velvet Revolver
. At times, it is undeniable and reminiscent of
The Stones
seventies-musings under the spell of
Gram Parsons
. On "Wasted Heart" the self-loathing of self-improvement for love is examined in full. Augmented by hypnotic-flourishes of sound, a track which rises and falls as if a musical-mood swing.
The soulful spirit of "Falling Down" is a cracker, the track offers a brilliance of musicianship, riding a crest of acoustics with a subtle ambiance. "Chip Away" is a standout track with a nice distorted riff opening proceedings as McKagan delivers some inspired lyrics of his life (Not everybody's). He is cutting with his views of the overpowering media agendas and their enforcement of recent times into our lives: "Talking heads are making dollars, It's like doing crack day after day,". There is something honest and heartbreaking in his voice as he sings "Last September". This is a gritty, domestic abuse tale which delves into the naked truth behind toxic relationships. A track hand built for the style of the album which fits in perfectly to the context of sound.
There is no doubt he is clever when it comes to turning a phrase and delivering it with attitude. Though the album takes a darker-twist in "Parkland", here McKagan visits the Columbine, Charleston and of course the Parkland shootings. Obviously a strike out at the state of America's gun-control. Although the self-belief in what he is singing about may be well meaning, it is still a fresh incident in people's minds. In a way this one track dampens what is a well styled album, and the three-a-half minutes of "Parkland" verges on taste when it comes to getting a point across.
Closing out with "Don't Look Behind You", with an air of the classic rock ballad to it, it lifts the mood perfectly as the album plays out. With the chorus you are transported back to the late-eighties, Duff loses the country twang and goes full on into the territory that had been his skin for thirty-five years. Tenderness is an interesting album that at times reeks with a fascinating brilliance, and provides a follow-on narrative to his 2015 book How to be a Man. In the end it is an enjoyable experience and one which offers a new dimension to the Guns N' Roses bassist.
Tracklist:
1. "Tenderness"
2. "It's Not Too Late"
3. "Wasted Heart"
4. "Falling Down"
5. "Last September"
6. "Chip Away"
7. "Cold Outside"
8. "Feel"
9. "Breaking Rocks"
10. "Parkland"
11. "Don't Look Behind You"