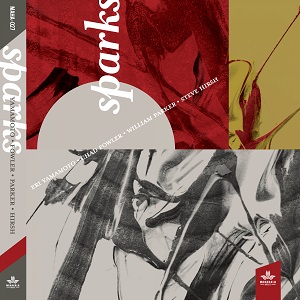 26 April 2022
A lot of music that had its genesis in the pandemic has been tranquil, meditative, introspective – like someone emerging from a long sleep. Some of it has also been the exact opposite – aggressive, explosive, even violent. For the four improvisers on double album Sparks, the desire seems to have been to be both at once. Pianist Eri Yamamoto, bassist William Parker, drummer Steve Hirsh and woodwindist Chad Fowler (here on alto sax variants the stritch and the saxello) congregated to cut loose and see what happened, and what happened was remarkable. Yamamoto and Parker had collaborated several times before this session, but she'd never played with Hirsh or Fowler before; turns out they were natural partners.
The five long tracks on these disks have more of an ebb and flow than the firestorms associated (often incorrectly) with free jazz. "Sparks," for instance, starts out as a balmy blues, with Yamamoto chording in a relaxed manner and Fowler matching her mood, though the rhythm section seems restless. Hirsh and Parker eventually relieve the pressure by kicking the intensity up, leading the pianist and saxist into the fire, where they not only hold their own, but manage to keep their bluesy tone intact. "Taiko" and "Bob's Pink Cadillac" both dig vigorously into the loam of vibrant spontaneity, but both also veer off into sections closer to sixties mainstream jazz than the avant garde – on the former in particular, where Fowler ignores his bandmates' cacophony to simply play like he's in a smoky jazz club at 1 a.m. The hard bopping "The Garden" feels even more like a classic Blue Note session gone kablooey.
Those who like their free jazz to be consistently at top acceleration will be rewarded for their patience by closing track "Real World," which starts with barely organized chaos and ramps up from there over the course of seventeen and a half minutes. It's the logical end to this quartet's journey through the minds of four sympatico musicians united in making free improv as tuneful as possible.