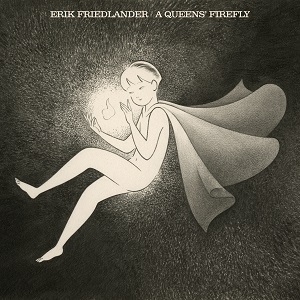 27 April 2022
Cellist Erik Friedlander has been out front of the vanguard of his instrument's potential for decades. Though he's played all kinds of music in all manner of ways, jazz is at the heart of his practice. Joined by his latest band the Throw (Uri Caine on piano, Mark Helias on bass, Ches Smith on drums), he brings a vision of swinging, melodic post bop to A Queens' Firefly.
For a sparkling example of Friedlander's intent, check "Chandelier." The Throw swings hard here, pushing the leader to weave around his melody with the sure touch of a classical player and the bravado of a master improviser. "Match Strikes" and "Glimmer" keep the bop flowing, but Friedlander starts to add shrewd alterations to his fabric. The Latin rhythms that drive "Aurora" and "The Fire in You" push the melodies away from swing and towards a fusion flavoring, while still keeping the spirit of improvisation firmly in the post bop arena. The sweetness of "A Simple Radiance" moves it closer to contemporary classical music, even as the solos stay bluesy.
Indeed, the musicianship itself illuminates what the tracks are trying to say. Caine's brilliant playing maintains the strongest ties to jazz tradition, while Smith swings steadily, keeping the tunes dynamic and on target. Helias becomes Friedlander's MVP, not only nailing all the songs to the firmament, but also providing some spectacular solos – indeed, his thrumming bass is the first spotlighted voice on the opening title track. The leader himself turns in a bravura performance, demonstrating a deep understanding of his instrument's versatility, from arco plucking to honeyed melody to foreboding drone.
No matter in what direction Friedlander takes the music, it always stays accessible, remaining ear catching and commanding no matter what scratches he puts on the surface. That makes A Queens' Firefly not only a great record, but the one to beat for anyone trying to introduce a newcomer to Friedlander's magnificent body of work.