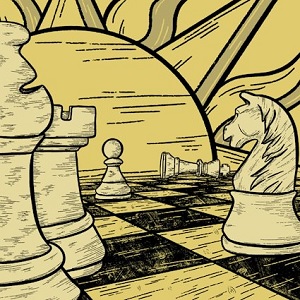 26 April 2022
Mental Fracture are a progressive metal group from Israel who just released their debut album, entitled Disaccord, last month. Influenced by prog classics like King Crimson and Camel as well as later acts like Dream Theater and Porcupine Tree. In a somewhat meta turn, the big overarching theme (as all great prog records have) of their previous EP The Mind's Desire was about creativity itself, but this new release focuses on the effects of cognitive dissonance and coping with it. It's certainly a giant, nebulous concept to tackle, but the band's penchant for grand theatrics is perfectly suited to more than adequately handle it.
On the scale from prog to metal, the songs here land somewhere closer to the former. In some regards the album has all the twists and turns of a rock opera, and the thundering metal licks is only one aspect of what is explored here. "Inception of Fear," for instance, begins with the expected chugging riffs before quickly transforming into something bordering on psychedelica. Other songs like "Summer Dies" and "Hello" are far closer to jazz than anything else, but there are some wonderfully heavy, full throttle moments like the runaway train that is "Clockwork."
Overall, the album leaves the listener with a sensation that can only be described as awestruck. It's amazing the amount of craft and ambition that Mental Fracture have put into the making of this album, and Disaccord begs for numerous repeated listens because there are so many nuances to be uncovered.