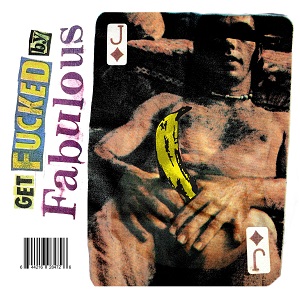 24 June 2022
Unless you were a dedicated reader of the British music press circa 1991-1993, you've probably never heard of Fabulous. Formed by a trio of writers and editors from New Musical Express (singer Simon Dudfield, guitarists Martyn Goodacre and Russell Underwood), the scruffy, glam-damaged punk rock quintet rampaged around the country, courting record companies without getting signed, and earning a press-fueled reputation for chaos, disorder, disrespect, rioting, knee-jerk provocation (just check out the album title and cover) and unrestrained partying. With all that emphasis on attitude over musicality, it's no surprise that the band burned out before releasing anything more significant than a handful of singles. In fact, enough songs were recorded to constitute an album, which Boston-based obscurity specialists Supermegabot have dutifully assembled in order for discerning listeners to determine if, after the short-lived hype and three decades, the music is worth hearing after all.
Let's be honest here: there's nothing here that the Sex Pistols (their obvious inspiration) and the Manic Street Preachers (who beat them to the debut album punch) hadn't done, and likely better. But that doesn't mean the songs and performances here don't pass muster. Burly, catchy and rocking, would-be anthems "Dead Friends," "Contribution" and the riotous "Personality Recession" (an early single wisely chosen to lead off the LP) deliver the goods, all fetching power chord progressions, shoutalong choruses and audible sneers. As songwriters, Dudfield and Goodacre have a habit of borrowing not only well-known song titles ("Bus Stop," "There's a Riot Going On") but even other artists' names ("The Faces," "Lady Day," "Manic Street Preachers"), though the tracks themselves have little or nothing to do with their precedents (except for the good-natured poke at their pals the Preachers) and get through on their own merits. By the time the disk gets to the muscular "Capital Gold," the band shows genuine progression, hinting that they may even be moving beyond meat-and-potatoes punk 'n' roll. Still, if you need only one song to sample before commitment, it would be "Destined to Be Free," the kind of joyful, brash explosion from a young group finally let off the leash that kickstarts careers, however brief.
The dodgy sound quality of the final concert live tracks blunt the impact of what sound like some nicely kickass tunes, but the band sound like firebreathers live. Still, it's the studio work that gives the band its rock & roll credibility. With producers like the Mekons' Jon Langford and the Wonder Stuff's Miles Hunt in their corner, there's little way anything here would suck. (A brief alliance with Pete Waterman of the Stock-Aitken-Waterman hit machine produced no recordings, sadly.) But the band's unashamedly traditional punk attack had little to do with the shoegaze/alt.rock/pre-Britpop scenes through which they rampaged, thus Fabulous faded away before any real success could be had or principles compromised. Too bad – there's enough good stuff on Get Fucked By Fabulous to indicate that, while the band were probably never going to be the Something they hoped, they definitely weren't Nothing.