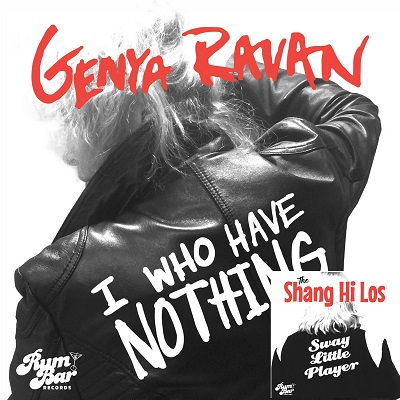 21 February 2021
Technological advances will never replicate the honest sound of Rock Music. And that is exactly what is on offer here. A wholesome split single, which highlights the best of two eras as they collide to create a monumental, musical statement. The artistic equivalent of pulling a pin on a grenade and waiting for the explosion. Leading the charge is the unequalled first lady of Rock Genya Ravan. Beside Genya, and on the flipside (so old-school) is Boston based outfit The Shang Hi Los, together both forge the excellence of sound captured in this very fine moment. 
Firstly, Genya is a music industry all of her own accomplishments. Whereas now the lady spins the most important sounds courtesy of Little Steven's Underground Garage on SiriusXM, her career began in the early-sixties with the influential Goldie and the Gingerbreads. Continuing her musical adventures with Ten Wheel Drive, an acclaimed solo career, and of course as a producer- Dead Boys Young, Loud and Snotty. On this release, she is electric. A version of "I Who Have Nothing", where her voice is alive with a venomous soul, blistering throughout the work of passion, and roaring with confidence. Matched by the raw intensity that exudes from the backing band, truly it feels as if every word is sung is her last, and you feel sorry for whomever the words are directed at. Adding to the energy is the indispensable collaborator Nile Rodgers of Chic, shredding the licks and shifting everything up a gear with his undeniable touch of magic. 
On the other side of the flip side, The Shang Hi Los add to the pleasure and scope. The track "Sway Little Player" thunders along, erupting from the drumbeat creating a wall of addictive sound. In some respects, an edge of nineties, alternative rock meshed with some exquisite dual vocals becomes a foot-stomping tour-de-force. All this creating a perfect partner to the effervescent Genya. On the digital release, fans get the extra slice of joy with Genya joined by Jen D'Angora on the luscious "I'm Shakin'". All in all this is a release which offers bang for the buck, quality which is carefree but professional, a rarity in the modern era.

To Order: 
Bandcamp
Tracklist: 
1.Genya Ravan – I Who Have Nothing (featuring Nile Rodgers on Guitar) 
2.The Shang Hi Los – Sway Little Player 
3.Genya Ravan w/Jen D'Angora – I'm Shakin' (bonus digital track)